If you're like me you were a little like a deer in the headlights when I saw all those buttons. This is for all of us pressure cooker  beginners! Whether you own an Instant Pot, Fagor Lux, Power Pressure Cooker XL, or another electric pressure cooker, it can be a little daunting to know how to proceed from knowing nothing, to getting some delicious food on the table!
I'm here to share some tips for the pressure cooker newbie, and you'll be making some scrumptious meals in minutes in no time!
*Before you do anything – read the manual and learn how your cooker works. Double check that you have all of the pieces!
1. Start with a water test! This will help you learn how your pressure cooker works and how long it takes to come to pressure.
This is super simple- making sure the inner pot is in the cooker, add 2-3 cups of water and lock the lid in place. Make sure your valve is in the sealed position, NOT the steam release position (check your manual to see how this works for YOUR pressure cooker) and you're ready to set the time. Using either the manual mode or choosing a button with a short cooking time (rice or fish work well) set the time for around 5 minutes. Now sit back and watch your pressure cooker do it's thing! You'll first see your cooker working to heat the water and build pressure. The timer won't start counting down until pressure is reached – then you'll see the time counting down. Once the timer is done, it's best to leave the valve in the sealed position for about 10 minutes to relieve pressure naturally. In recipes, this is called a natural pressure release. In the next tip I'll talk a bit more about the different ways to release pressure in your cooker.
The water test is a great way to catch any problems right away – you want to be sure the seal is tight and that the pressure releases properly. It's a safe and easy way to get started learning the ins and outs of your cooker.
2. Learn the difference between natural pressure release and a quick pressure release.
This confused me at first – what was the difference and when should I use what? Okay, so a natural release is basically when you just leave the valve in the sealed position and just do nothing for about 10-30 minutes after your timer is done. This allows pressure to release naturally and more slowly. Usually your electric pressure cooker will automatically switch to the "keep warm" setting during a natural release.
You will want to use a natural release in a few different circumstances – if you are making anything that has quite a bit of liquid (for example, soup) you can avoid liquid splattering through the valve with a natural release. Also, if you are cooking anything that produces a lot of foam, like pasta or oats etc. Another instance where you would use a natural release would be if you're cooking meat that would need to rest before you slice into it.
If you don't want to wait for the pressure to completely release naturally, you can simply wait for 10 minutes, then move the valve to the venting/steam release setting to release whatever steam is left. It works well!
A quick release is when you move the vale to the venting/steam release setting immediately after the timer is done, quickly releasing the pressure. You would use this method whenever you are cooking anything that you wouldn't want to overcook – vegetables, rice, anything like that.
3. Don't change the valve with your bare hands
For safety reasons, it's best to always use a utensil or your hand in an oven mitt to change the valve to release the pressure. You can avoid steam burns this way!
4.  Don't get confused by the settings
Most pressure cookers all cook the same way – you simply choose the length of time. The preset buttons are simply just different programmed time settings. It is helpful to click on the different buttons to see which times each one is set for, so when you find a recipe you want to try and it calls for you to cook for a certain number of minutes, you know which button comes closest to that time, then use the manual button to adjust. I hope that makes sense!
The number of minutes will be how long the cooker will cook once pressure is reached – so if it takes your pressure cooker 3 minutes to reach pressure, and you've selected a cook time of 7 minutes, and you need to use a natural pressure release  – you are looking at a total time of closer to 20 minutes rather than the 7 minutes the recipe mentions. Always keep in mind the few minutes it takes for your cooker to reach pressure as well as the pressure release time when figuring out how long it will be for your food to be on the table.
5. No Liquid = No Pressure!
It's important to follow recipes very closely to ensure you have enough liquid in your cooker to do the job. Pressure cookers cook with the power of steam so liquid matters!
6. Don't overfill!
It's important to never fill past the maximum fill lines in your pressure cooker. And if you are cooking liquids, don't fill past 1/2! What happens when you overfill? Well, it's like when your pasta water overflows except it's shot out of the pressure valve and everywhere into your kitchen. Yeah, messy business that you want to avoid. Follow your directions for your pressure cooker!
Okay, you've learned the basics – you've tried the water test, and you're ready to make something you can eat!
We are going to make something that will blow your minds – hard boiled eggs!
In my family, we have an entire dozen eggs always boiled and in the fridge to pack in lunches, have as a snack, or whip up some deviled eggs in a hurry! But boiling eggs has always been a finicky business – timing it right, over or undercooking, and the peeling…..OH THE PEELING!
When I heard you could make a LOT of boiled eggs in the pressure cooker – and that they peeled like a dream – I was skeptical. I've heard all the tips for getting easy to peel hard boiled eggs and, honestly, they came up short over and over again. You guys – this is the real deal! Okay, I'm going to show you how it's done.
Pressure Cooker Hard Boiled Eggs
Grab your pressure cooker and some eggs. Make sure the inner pot is in the cooker and put in a rack. Add in all of your eggs – you can do 2, a dozen, or more all at once. They ALL cook the same and are amazing.     

Set your cooker for 6 minutes. You can use the manual button, or choose a food that is close and manually adjust. I have the Power Pressure Cooker XL and when I selected the "Fish" setting, it was exactly 6 minutes.

Pour in 1.5 Cups of water

Close the lid, and make sure the valve is moved to the sealed position. Watch your beautiful cooker do it's thing!
Do a quick release when the timer goes off (move the valve to the steam/vent position) and when the pressure is released open the lid. Most electric pressure cookers will not open until the pressure is released – talk about super safe!
Put those little eggies in an ice bath for about a minute, or until cool enough to handle.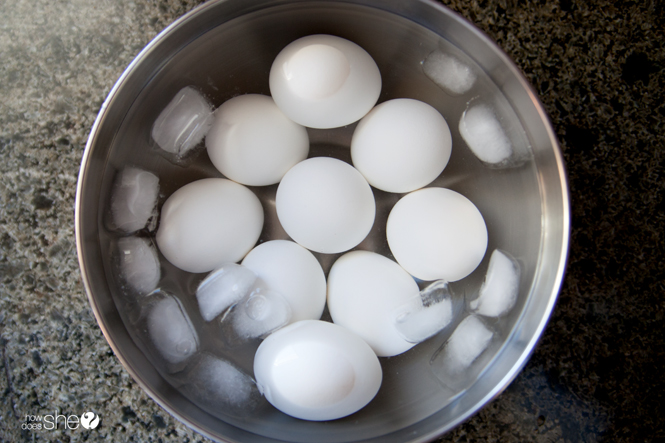 Now is the magic moment – peeling time! I could not believe how easy the peels came off – I couldn't get them off fast enough! I called my husband over to show him and had my daughters peeling with glee! Seriously, the best, perfectly cooked, easy to peel hard boiled eggs ever!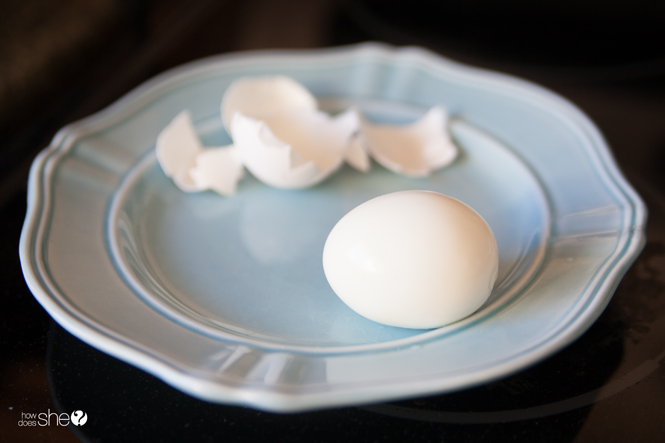 These eggs are perfection – every time. You'll never boil eggs the old fashioned way again. Now we can make all the deviled eggs we want in mere minutes – and not waste any on eggs that won't peel!

*To make these easy deviled eggs, simply cut the boiled eggs in half lengthwise, mash together the egg yolks with some miracle whip (I prefer this to mayonnaise, but it's really what flavor you prefer), a small amount of yellow prepared mustard, and salt & pepper to taste. Fill the hollow egg whites with the yolk mixture and sprinkle with a touch of paprika. Yummy! Adjust amounts to the taste and texture you prefer.
For some easy recipes you can try with your electric pressure cooker today – check these out: