remember this post?…
How Does She help her kids feel
EXTRA special
on their first day of school?
Many of my friends and I have adopted Emily's
BIG COOKIE
tradition from when she was a little girl so here she is to tell you all about it…
—————————————————–
Summer is almost over, and that means school is starting!
New Teachers,
new classmates,
new school supplies,
new school clothes,
and even new schools!
No matter which grade your kid is going into, the first day always seems to be
a little scary, mostly fun, and always a big deal!
At my house, when I was a kid, the first day of grade one* was the biggest deal of all!
This is because my mom made,
The Big Giant Cookie!
(Insert by Missy: I had to throw this one in – check out this bike!!!  I want it. And Emily looks cute.)
I can't believe that I'm willingly showing you that picture,
but it really was cool coming home from my first day of school to my very own
"Big Giant Cookie!"
After watching my three older brothers get their grade one cookie,
it definately was everything my little six year old self could have dreamed of!
Actually, let's be honest, I didn't really remember my older brothers getting their grade one cookies,
but I had seen the pictures!
Now that I have kids,
I think my mom was actually celebrating that
one more of her little tykes was going into
FULL TIME SCHOOL!
At least that's what I was celebrating when I did it for my first kid.
When Missy asked me to do this post with her I thought-
"But I don't have a first grader to make the cookie for!
My mom only did it when we went to grade one!
I can't break the tradition!"
Then I decided it could be fun to do every year.
But I still wasn't sure,
so we pretended to make one for my daughter,
who isn't even in Kindergarten yet.
This cookie recipe is the best one I have!
Mostly because it is really delicious, but also because of the story attached to it. We call them "Creepy roomate cookies" because my husband (boyfriend then) had this roomate who made them almost every day to lure young ladies into his trap!  He wouldn't let any of the boys have any, but whenever I came over he would force the cookies on me. I shouldn't really say force. It shames me to admit it, but they were so good that I was nice to my "almost husband's" strange,  personal space invading, over cologned, creepy  roomate just so I could eat them! So yada, yada, yada… he gave me the recipe as a wedding gift, and I was actually excited! So enough with the hype, here is the recipe to my husband's
Creepy Roommate cookies
2 sticks butter
¾ cup brown sugar
¾ cup white sugar
Mix, then add-
2 eggs
1 tsp vanilla
1 tsp water
(I don't know why a tsp of water would make a difference, but creepy roomate did it, so I don't mess with it!)
Mix, then add-
1 tsp salt
1 tsp baking soda
1 ½ cups flour
2 cups oatmeal
½ bag chocolate chips
(or 3/4 of the bag, or the whole thing. You know you want to!)
-Dough will be very sticky!-
plop onto pizza pan
Spread out evenly onto a round pizza pan
Bake at 350  for ten minutes and check every two to three minutes after, until golden brown.

Trick for writing on the cookie:
put frosting and food coloring in a plastic bag and smoosh til blended, then snip off the corner
and write!
As you can see, she loved it, and when my boys got home they loved it too!
What's that?
Why don't I just do it every year you ask?
Well, I just might,
but then how will I commemorate the momentous occasion of
full time school?
Regardless of the reasons,
going back to school traditions can be a lot of fun!
Here are two more fun traditions to start with your kids on the first day of school:
#2 bomb the bus
with water balloons!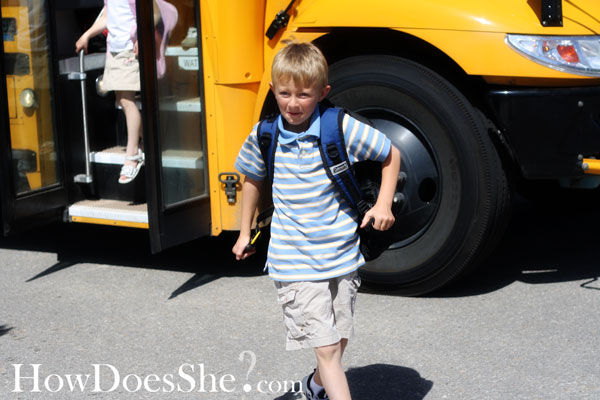 RUN!
You might want to make sure the kids are entirely off the bus to avoid angry bus drivers!!! Hindsight is always 20/20.
#3 measure you're little one's growth
Whatever you do, just don't let it pass you by!
Think of something fun to do and then make it a tradition.
When I was a kid it sure made me feel special!
*My husband just reminded me that Americans don't say "grade one,"
so please forgive the Canadian words/phrases."
I have to properly introduce Emily.  You vaguely know her from the rainbow polka dot party and angel wings posts.   She has flown under the radar for long enough, it is time you meet her.
Five Fun Facts:
1. I like to talk, a lot, except when I'm supposed to, then I'm way nervous!
2. I'm a Canadian living in America, and my Mom's an American living in Canada.
3. I always make the person that I'm talking on the phone to say goodbye first. I don't really know why, I just refuse to do it.
4. I love to read good books.
5. And now for the most important thing you need to know about me, the older I get, I like peanut butter less, and dark chocolate more!
Super Hero Power wanted:
If I could have any super power I would want the ability to always know the right answer. Then I would never have to second guess myself… and I'd always be right, which really does sound like a LOT OF FUN DOESN'T IT?
Thanks Emily!
You are always answering my HowDoesShe questions and this was no exception.
My kids LOVED their BIG COOKIE!