Remember the giddiness you felt around this time of year, anxiously awaiting school to start again, and with it a new grade, new teacher, and new classmates?  Back to School time was so exciting, and I just couldn't wait to go shopping at the local K-Mart (aka our small town's "mall") for new clothes, a new back pack, and of course, a special new lunch box that I could proudly swing back and forth, ensuring that the eyes of every kid (at least every girl) in the lunchroom were glued to my shiny New Kids on the Block lunch box.
This year, some of you will be packing your child a lunch for the first time (sniffle, sniffle), while others of you are veteran lunch box packers.  Either way, you can give your child a little piece of you while they are away, using some creative inspiration.  Here are 8 cute ideas to become your kid's lunch box hero.
1. Creative clips
Make some cute sandwich bag clips using clothes pins and already painted wooden figures that you can find in any craft store.  I love these things; check out what I did with them in this post!
Just hot glue them onto the clothes pins for quick, adorable clips.
Use them to secure trail mix, raw almonds, fruit slices, vegetable sticks, and other snacks.
2. Portable smoothies
Get containers like the one below to freeze your kid's favorite smoothie in.  Just take the container out of the freezer and pack it with their lunch.  By lunchtime, they will have a delicious smoothie!  Plus it couples as an ice pack to keep the lunch cold.
3.  From plain old pb&j to PB&J-Wow!
Transform that boring pb&j by using cookie cutters to make fun designs, like the flower below.  The possibilities are endless!
Add a few vegetable garnishes to really glam it up.
3.  Add unique notes
If mushy smooches and hugs are just too "embarrassing" for your child, you can show your love discreetly by packing a unique note with their lunch.  Print out plenty in advance and have them on hand to slip in on hectic mornings.  Here are some ideas:
Encouraging words, jokes, riddles, random facts, a quick note to recognize one of their strengths or accomplishments, a lunch survey they take about their day and share with you when they get home, a snapshot, or a hand-drawn comic strip.
Get some FREE ones from HDS, HERE!
4. Rocky Road Pudding Cups
Give the mundane pudding cup a twist by simply including a small container of nuts and marshmallows, along with instructions to add and stir.
5. Funny Fruit
Add googly eyes and a pipe cleaner mustache to apples, pears, or bananas.  Adhere them with small dabs of honey.  Make eating those fruits and veggies fun!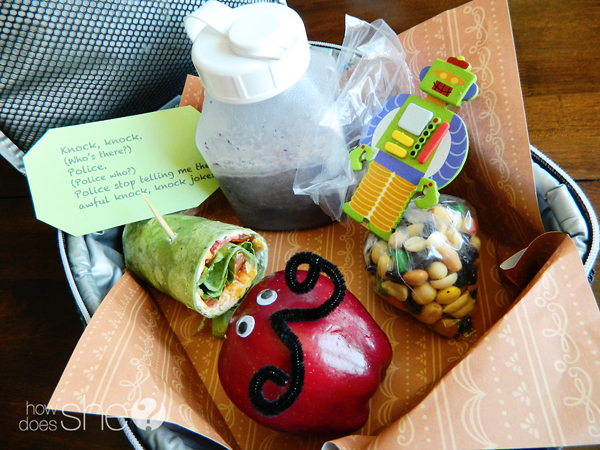 6. Variety is key
No one wants the same old, same old every single day.  If you are stuck in a lunch rut, instead of sandwiches, try pitas stuffed with turkey, cheese, and lettuce, or peanut butter, honey and bananas.
Wraps and roll-ups also give much needed variety.  Try spreading cream cheese on a colorful wrap, topped with ham, lettuce, and tomatoes.
* free printable love notes above found, here.
7. Kabob it!
Let's face it, anything on a kabob becomes a lot more appealing to eat.  It's incredible how my kids won't touch a red pepper when placed on their plate, but when skewered on a kabob with string cheese cubes, they munch it right up!
Put fruit, vegetables, and cheese on a kabob.  The more colorful, the better!
8. Some more S'MORES please!
Instead of processed granola bars and pre-packaged cookies, give your kiddos a fun treat that is super easy.  Get creative with s'mores by spreading graham crackers with some of my favorites:
Cheesecake S'more: strawberry cream cheese, jam, and blueberries (or any berry)
PBB&H: peanut butter, honey, and banana slices
Apple Nutella: chocolate hazelnut spread, apple slices
Yum!  I end up making extras for myself, they are such a delicious snack!
Send your kids off in style, knowing that you've given them a fun, healthy lunch, plus a little piece of you to power them through the day.