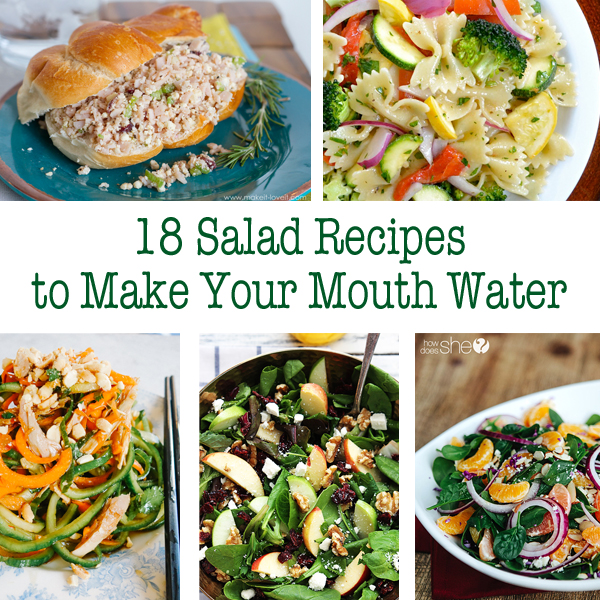 18 Salad Recipes to Make Your Mouth Water
When I think of salads, it's the usual stale lettuce salads that come to mind. I'm trying to eat healthier so I'm thinking there's got to be some better salads out there to try. I kinda hit the jackpot looking for delicious salad recipes. My mouth is watering now, and I've got to go and make myself a salad. So while I go do that I hope you enjoy looking at these delicious recipes and find some that you can try!
1. One of my favorites, this Asian Ramen Noodle Salad is sure to be a hit!
2. Mexican Grilled Chicken Salad. This one has got to go on the menu agenda asap!
3. Apple Cranberry Walnut Salad. Reminds me of a favorite salad from a favorite restaurant!
4. Southwest Pepper Jack Salad. I think even my kids would like salads after this one!
5. The perfect way to use up your garden vegetables, this summer vegetable pasta salad looks amazing!
6. Grandma's cucumber salad. Gotta love this delicious way to eat cucumbers!
7. This wild rice salad looks like it would make everyone happy!
8. Have you ever tried a Thai Chicken Salad? It looks like THE perfect way to enjoy a salad!
9. I'm thinking this Fiesta Ranch Chicken Salad would be so delicious at our summer family reunion!
10. This low carb pad thai salad is a great way to eat healthy and still have it taste delicious!
11. Roasted garlic pasta salad. Perfect way to eat those yummy cherry tomatoes from the garden!
12. Fruit salad with honey lime dressing. Perfect for summer barbecues!
13. The perfect layered salad has the perfect layers for a delicious meal!
14. I really loved to learn the taste of Avocados when I lived in Africa for awhile. I'm wishing I had know about this Avocado Chicken Salad years ago!
15. This BLT in a bowl is a delicious way to have a BLT without the bread!
16. Grilled Ginger Sesame Chicken Chopped Salad – looks amazing!
17. This Winter Citrus Salad has just the right amount of sweetness to satisfy your sweet tooth!
18. Perfect for your holiday guests, this turkey & cranberry salad looks amazing!