This Whole Grain Fruit Salad is amazing! It may not look like much, but it is the kind of recipe that you can't help but rave about once you've tasted it. Packed with whole grains and fruit, then topped with a healthy sweet dressing, this salad not only tastes good but is also a dish you can feel really good about eating!
 This time of year, fresh fruit and berries can be found in abundance and this incredible fruit salad will help you make the most of your ripe summer produce. Adding cooked spelt berries and red quinoa makes this a hearty, filling salad that can double as breakfast or lunch!
 The secret to this salad's delicious flavor, the reason you can't help but scarf down a whole bowl after you've taken just one bite, lies in the dressing. The dressing, a combination of flax oil, olive oil, honey, and golden balsamic vinegar gives this salad a sweet tang without detracting from the healthiness of the grains and fruits.
Flax seed oil contains fiber, omega 3 essential fatty acids (the "good" fats), and has even been shown to have a protective effect against several different kinds of cancer. So, putting together a salad with Flax Oil on the menu is really good idea!
This recipe is also flexible. I've called for peaches, blueberries, strawberries, mandarin oranges, and bananas, but you can easily improvise based on the fruits and berries you have available. Replace the peaches with apples if you like, throw in some pineapple if you've got it – this salad has a lot of room for experimenting with your favorite summer fruits!
 Once you've tried this salad, and fallen in love with it like I did, you'll see why this recipe makes a great big bowl! Not only will you want a second helping, you'll also really want to share – it's that good! I'm taking this healthy fruit salad to all of the summer gatherings and picnics I get invited to this year because I'm sure it's going to be a big hit. Enjoy!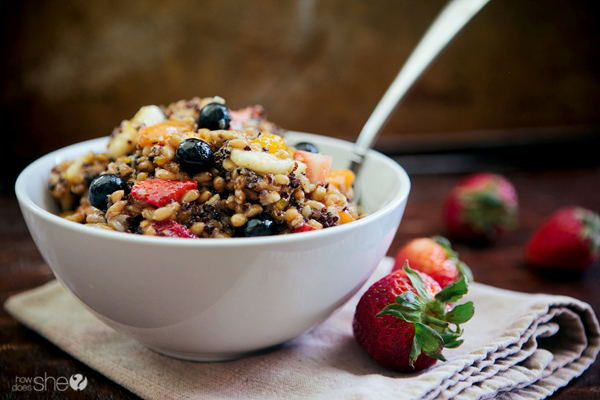 Whole Grain Fruit Salad
Ingredients
2 cups cooked red quinoa
4 cups cooked spelt berries (or barley)
1 cup fresh blueberries
1 cup fresh strawberries, hulled and sliced
3 cups sliced peaches (or apples, pears, apricots)
2 small cans mandarin oranges, drained
2 bananas, sliced
1 cup pecans, coarsely chopped
Dressing:
1/2 cup flax oil
1/2 cup olive oil
1/2 cup honey
2/3 cup golden balsamic vinegar
1 teaspoon cinnamon
1/4 teaspoon nutmeg
1 tablespoon fresh grated ginger
a dash of salt
Instructions
In a large bowl, combine all of the salad ingredients and toss lightly. Whisk together all of the dressing ingredients and pour over the salad. Toss until well combined. Serve immediately or refrigerate until ready to serve. Salad tastes best on the day it is made.
Notes
Recipe adapted from Chef Brad