**This post is sponsored by Kohl's and ShopStyle. All opinions are my own! I was SO impressed with what we found!**
If you have a tween, you know what a headache finding clothing for them can be! I have twin (tall!) 10 year olds, and let me tell you, it's been a nightmare back to school/Fall shopping. There's just this gap in the market (at most stores) where you go from puppy dogs and Disney princesses on t-shirts, to crop tops and shorty shorts.
My girls don't want to dress like "little" girls any longer, and heaven knows I don't want them dressing like they're 21. (And can we PLEASE be over the crop top trends!?) That's why it is so refreshing to walk into a Kohl's store, or look around online and have options that will work for them (and their mom)!


I know I'm not the only one with this issue, as I've talked to many other moms who share my struggle.
That's why I'm so excited to show you the fun things we found at Kohl's!
All were super affordable, especially when you factor in a few promos.
Kohl's always has excellent sales and coupon codes to help you save money!
For example, right now, you can use the code "FAMILYSHOP" to save 20% off!

The best part?
I was able to find a few pieces that were almost all interchangeable!
These girls love to swap clothes so I like to stick with things that are easily mixed and matched.
Fall is always fun when it comes to rich color schemes, layers, and a few fun textures!

We first looked for "dressier" look. And by dressy, I mean acceptable for church OR school.
My girls call it "casual dressy".
We paired a basic white tee with a jean jacket and a rust orange colored corduroy skirt.
I feel like the jean jacket is a Fall wardrobe staple. I mean, what DOESN'T go with a denim jacket?
This skirt adds a fun pop of color and texture. As the temperatures drop, layer over a pair of thick tights for added warmth.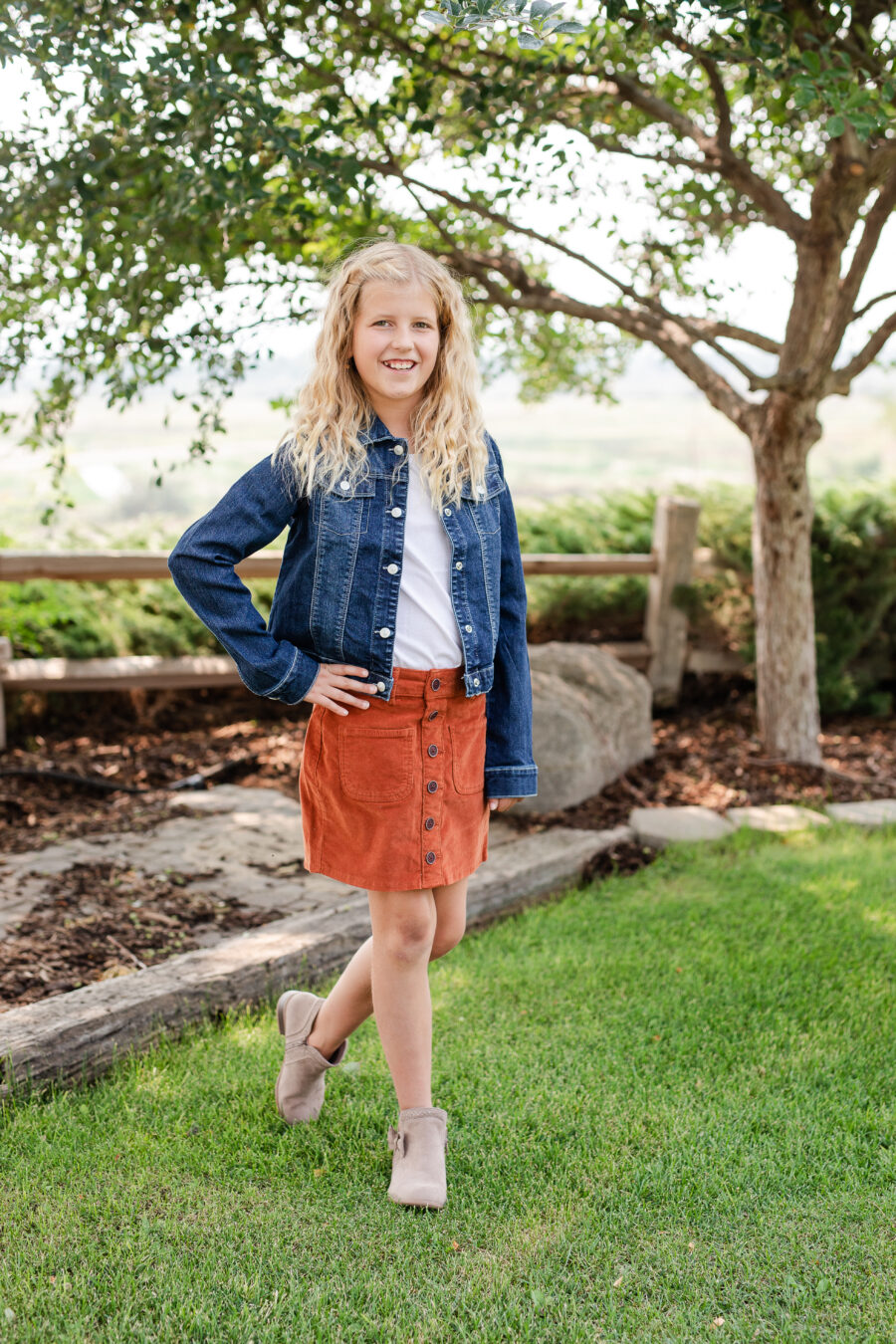 This sporty dress is also a winner!
It's basic, but still trendy with the athletic stripes on the sleeves.
Not to mention, it comes in a TON of colors! Sticking with the Fall color theme, we choose an olive green!




Here are two more looks we had to snag!
(Did I mention we literally kept EVERY. SINGLE. thing we ordered? Usually, I'm returning things because the sizing is wonky or quality is subpar. NOT the case with this Kohl's haul. Everything fit. Everything was GREAT quality.)
How darling are these overalls? I want them in my size.
The distressing is just enough, and paired with the camo ringer tee?
Perfection – just like this cute girl of mine!


I have to call out these little booties too. Do you spy that bow? Such a fun detail! And we know, "it's all in the details!"
Right?


Last up in probably my favorite combo. That could be because I own almost the same exact outfit!
My daughter was especially ecstatic about the jeans! She loved the high rise button fly, and commented about them being actually comfortable!
The cardigan is super cozy and comes in a variety of colors! This red reminds me of autumn blaze leaves.
She's growing out of bows and opting for these knot style headbands. I think this style of accessory looks SO darling on her!



And don't forget about THESE boots. I love the strappy look combined with the rich brown color! They will go with just about any Fall outfit.

---
Can you believe all this tween goodness?
I honestly have NEVER had so much success when it comes to shopping for these two girl – well at least not since we hit the "Big Girl" section!
I was so impressed with the options, the fit, and the quality of everything we purchased!
Kohl's is a fantastic place to not only shop for tween clothing, but also things for me, the men in my life and my home! I love their selection, and of course finding all the great prices!