**This post is sponsored by Shutterfly and Shopstyle. All opinions are my own.**

As I'm thinking about gifts for different people on my list, I often think about where that person can be found.
Do they spend a lot of time on the basketball court?
In bed reading a book?
Shopping for the latest fashions?
It helps me to think about that person's interests and how their time is spent.
One place many on my Christmas shopping list like to spend time is in the kitchen!
It is, after all, the heart of the home and where so many of us enjoy spending time preparing food for our family and friends.
I wanted to find unique, maybe even personalized gifts that would fit well into the heart of the home – the kitchen!
I knew Shutterfly would have JUST the items I was looking for and once again, they didn't let me down!
Can I show you a few of our favorite gift ideas?


1. Gallery of 2 Mugs

A mug is a classic gift choice for a reason. They actually get used!
I just adore the gold detail on this gallery mug! It looks so beautiful.


You can customize with your own photos of course. Now every time grandma drinks from her mug, she'll get a reminder of her favorite people!





2. Moroccan Christmas stainless steel water bottle

The patterns and prints on these wide mouth water bottles set them apart! They're gorgeous!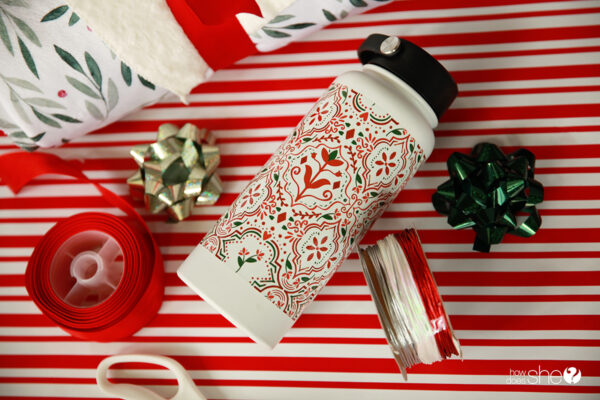 They'd make the perfect gift for a teen. I love that the stainless steel is easy to clean and doesn't absorb any stains or stinky smells. It holds 30 ounces and keeps drinks cold for a long time.
It might even fit in a stocking!




3. Gallery of one large tote

I'm always needing reuseable bags to carry in groceries, trash from the car,or kid "stuff". These gallery totes are simple, but they're so useful.



I loved that the photo just added the perfect touch and way to make it yours!
Plus, the quality was on point. It printed so bright and clear.

4. Grid Collage Monogram tea towel

These tea towels will be a treasured procession! They hang for all your holiday guests to see.
You can choose several different pictures to add to the collage.
Wouldn't it be cute to fill it with faces of family and gift to grandparents?


5. Stately name wood utensils
If you're gifting a home chef, these might be used on a daily basis!


I think they're so classy! A great gift idea for a couple!

6. Flourish cutting board

And know what pairs perfectly with those wooden utensils? This personalized wooden cutting board!
The design is so intricate and beautiful. I'm honestly not sure I'd have the heart to use this. I would just set it on my counter to display.


7. Photo gallery pot holder

Know a baker? A pot holder is an essential, yet rather boring kitchen tool. These are not your ordinary pot holders though! They have photos!




Now every time you pull out those cookies, you can remember those cute faces you love.


8. Mistletoe and red berry cloth napkins
Do you or someone you know love to host? A set of cloth napkins is a necessity!
I adore the print on these. The mistletoe and red berries are subtle, but still very holiday appropriate.



I think I'll gift a whole basket of Shutterfly "kitchen" goodies.
The prices are right, quality is fantastic, and I love that so much of it is personalized!




Use code SHOPSTYLEANDREA and get an additional 5% off your whole purchase!
HERE.

Happy Gifting!