Whether you're a committed healthy eater, trying to lose those few extra pounds, building muscle or are just a tired mama trying to feed herself a healthy, quick breakfast (Raises hand!), protein shakes can be the best thing ever!
Now before you get scared away, let's just establish 2 things.
I am no fitness buff.
I have never found a protein shake/powder I REALLY loved…until now.
Most protein shakes taste like chalk.
How's that for honesty?
That almost chemically after taste is too much.
I can barely choke many of them down. Plus, even if I AM able to choke it down, I'm starving a couple hours later and end of snacking on LESS than healthy things.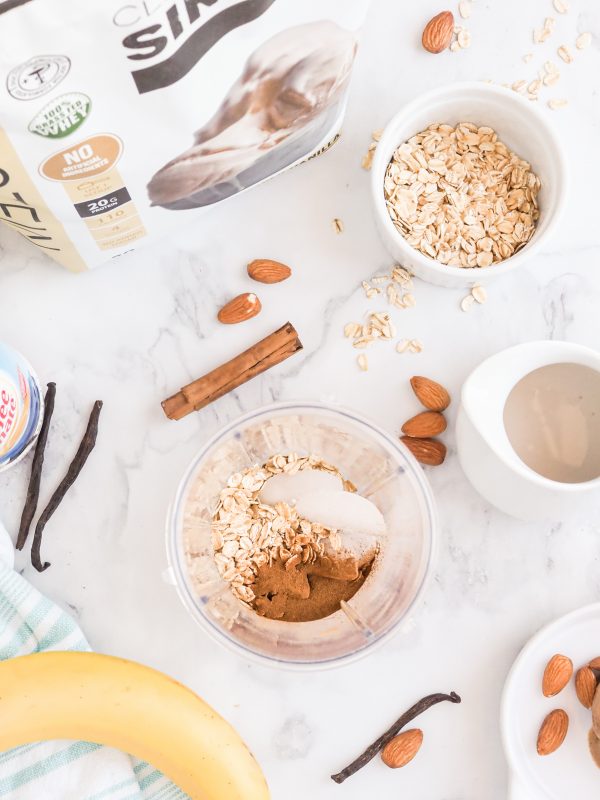 A few months ago, I saw a friend's pantry stocked full of Clean Simple Eats Protein.
I was really curious when she claimed it was the best tasting protein powder she'd ever tried.
I snagged a bag of "brownie batter" protein just to try – with low expectations in check.
It was love at first taste.
I mixed a cup of almond milk, half a banana, some ice, a splash of vanilla, and a scoop of protein.
I could not believe how yummy it is.
No strange after taste.
No chalky mouth.
I was FULL for hours.
With no added sugars, and 30 grams of protein per serving, it's been doing awesome things for my body!
And maybe this is TMI, but it didn't mess up my digestive system like some proteins have. (I'm guessing that's because of the digestive enzymes included in the powder!)
I was sold for life.
A couple weeks later, my sister in law came into town.
I laughed out loud when I saw her unloading her suitcase full of Clean Simple Eats protein powder and all the ingredients to HER favorite shakes.
We hadn't even discussed my new found obsession, but she was FULLY on board as well.
It's not just me that is in love!
Since then, I've been wanting to try ALL the flavors. We're talking things like Bananas Foster, cake batter, and chocolate peanut butter! They often release limited time flavors that sell out SO fast. The cult following is REAL.
One of the number one questions I get about the protein is "What kinds of shakes do you make?"
Each time you order a bag, they have a solid recipe on the back. ALSO, often CSE will email you free recipes with purchase. I love trying new shakes, but you can also use the protein in baking and protein balls if you're adventurous.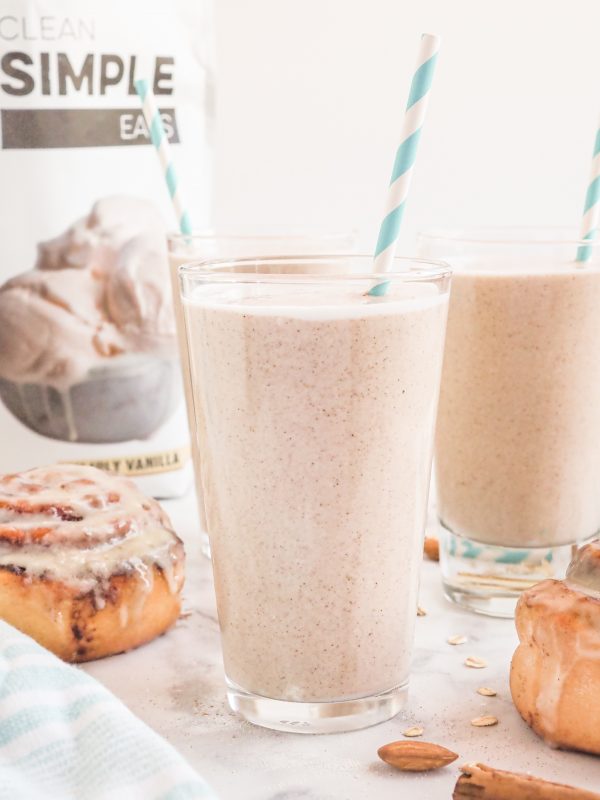 I thought it would be fun to share one of my MOST favorite shakes so you can try it too!
Meet the Cinnamon Roll Protein shake.
If you like the taste of a warm gooey cinnamon roll, this is going to be right up your alley!
Not only will it fill you up, it will also curb that sweet tooth!
Ingredients
1 banana (frozen if possible, if not no biggie)
1 scoop vanilla

protein

powder
2 TB Almond Butter
1 tsp cinnamon
Handful of Oats
1/4 cup almond milk
6 ice cubes
1 TB Vanilla Coffee Creamer (Poured over top of finished shake). I use coffe-mate coffee creamer, but not brand specific. Put in a blender and mix! Voila!
So simple, and SO yummy.
This is such a delicious and healthy way to start your morning. I also LOVE my shakes in the late afternoon. I always start craving things around 2 or 3 pm, but I've replaced handfuls of chocolate chips for a shake and it's been wonderful!

There are tons of different CSE flavors to try. I recommend starting with the brownie batter or vanilla (as used in this recipe). I feel like these 2 are the ones I use the most because they're so versatile. That being said, I'm also obsessed with the chocolate peanut butter and limited time Smore's flavor. Remember, they're often releasing "special", limited time flavors so you'll soon be stocking your cabinet with ALL the awesomeness.
I can't wait for you to try this protein powder. So many of you already are and share my affection. It's so good!
Enjoy!