Thanksgiving Mad Lib!
You're hosting Thanksgiving dinner this year and as guests start to arrive, you do a mental rundown: turkey's in the oven (check), rolls are golden brown (check), the table setting is Pinterest worthy (check).
But the gravy still needs to be made and the pies baked.  There's whipped cream to "whip up," and the baby is still in his pajamas!  How do you keep family and friends entertained while the finishing touches are put in place?
Da, da, da-Dah!  Our new exclusive Thanksgiving Mad Lib printable!  Get ready for some fun times and laughs ahead.
Free Thanksgiving Printables for Kids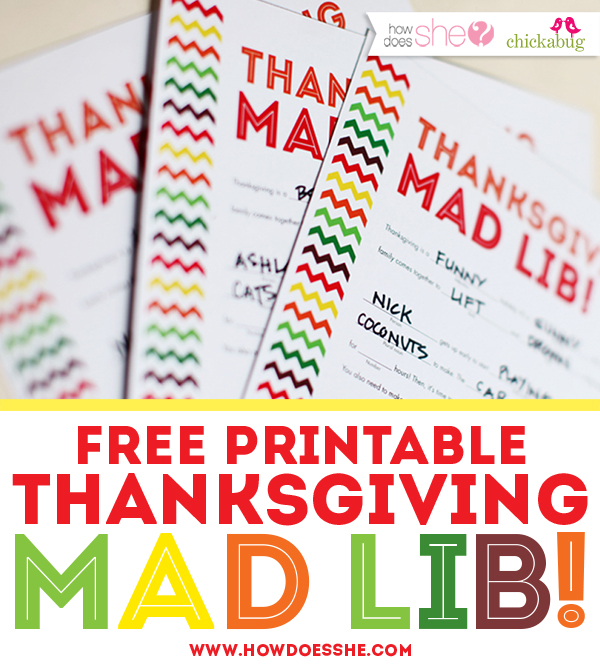 —
We've once again teamed up with the talented Chickabug to bring you this fun, interactive Thanksgiving mad lib that all guests can enjoy.  So, grab the kids AND the adults because everyone's input will create the perfect mad lib.  For HowDoesShe email subscribers, this printable is FREE, so if you haven't yet subscribed to our weekly newsletter, don't wait any longer!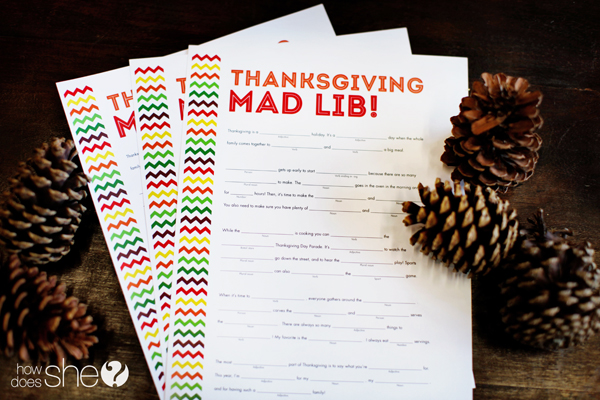 You'll be able to download and print this one-page mad lib for each guest once you've subscribed!
 If you're attending Thanksgiving elsewhere, help the hostess out by bringing this game along.  Not only will you score major bonus points, but you'll get the party started in a fun and festive fashion!
Display them in the entry-way with a mason jar full of pencils that guests can grab as they come in.  Or set one at each place setting and use them as conversation starters.  You could also use them after dinner while everyone makes room for your prize-winning pumpkin pie!
Great!  Enter your email address below and then click GO!
Simply sign up for our mailing list, and this set (along with all of our other FREE printable sets) will immediately be sent to you.
—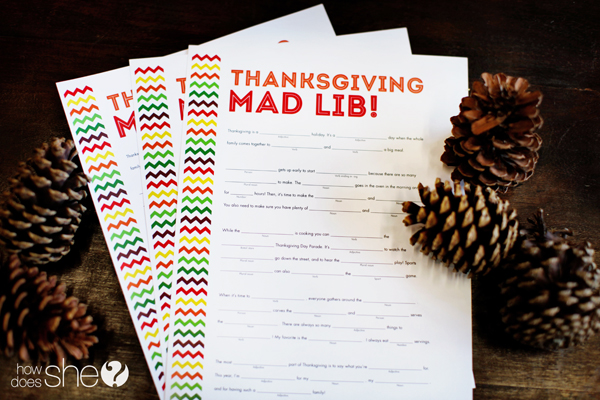 If you're already a HowDoesShe email subscriber, thank you!  Check your email for our latest newsletter which will include the link and password for this new Thanksgiving Mad Lib.  And make sure to read each week's newsletter for more freebies and great ideas!
We've created quite the collection of exclusive free printables over the past couple of years.  We hope you are enjoying them all!  The one and only Chickabug designed every last set and we simply love her.  We are so lucky to have her on our team.
—
Happy Thanksgiving everyone!!!
Here is to making some hilarious mad libs and some lasting memories!
Free Thanksgiving Printables for Kids