Hi HowDoesShe Gals!
I'd like to take a second out of our regularly scheduled programming to thank our amazing sponsors, and YOU! Your support makes every day like Christmas  – full of good things!
First Our Top Three Posts!
These posts caught my eye right away, and obviously I wasn't alone! If you haven't had a moment to check these out, there's not better time than now!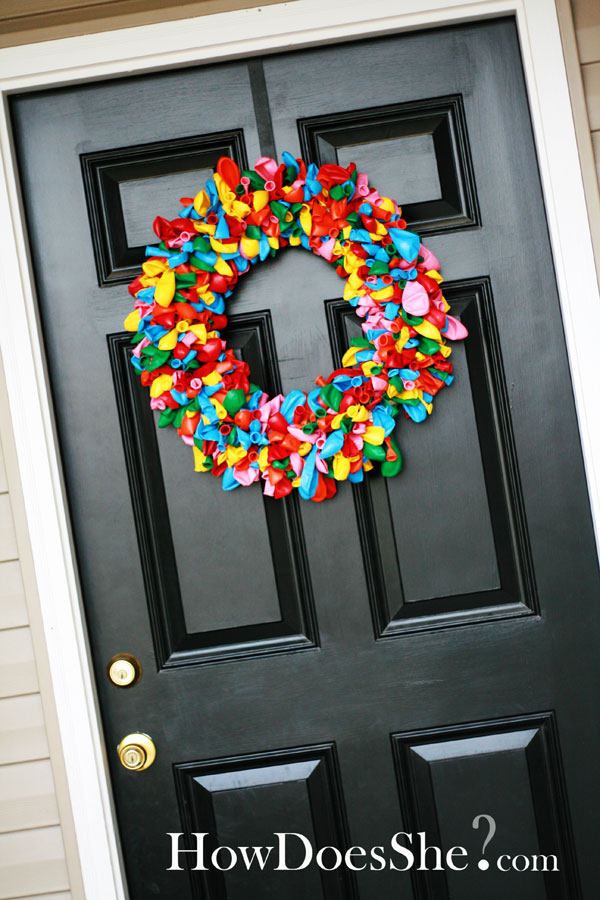 I love ANY idea that does NOT involve me blowing UP the balloons and still looks this dang cute. Apparently you all agree!
These spooky treats have obviously caught your eye, and I can see why! They are super scary in the drooling-all-over-the-place-licking-up-every-crumb way. Not only a cute project, but actually DO-able.
You know when you see one of those brilliant ideas that you just KNOW is going to catch on? This one almost made me want to have another baby. It's THAT good.
On to our Top Referrers!
2. One Pretty Thing
AND our Sponsors!
We only allow top notch sponsors to advertise in our 'Ad' spots and we truly believe in every single one. Have you checked them out? Get ready to be amazed. I want to be like these guys when I grow  up!
First of all…could their NAME be any cuter? No. No, it can't. They make the MOST exquisite handmade bath and body products that are so…stinkin' sweet! Go on and say hello!
Stop the presses!!! Do they even use presses anymore? Hmmm…. point to ponder. Anyway, THIS Raggedy Ann centerpiece from Heavens to Betty sucked me right back in time to when I was 7 and playing with my Raggedy Ann and Andy paper dolls. Seriously, it almost made me cry! In a good way, people, I had nice parents. This site is a must-see for all things vintage. It will take you on a trip down memory lane, I guarantee it.
Rusty Cricket
Oh.My.Heart. Please, PLEASE stop whatever you are doing (oh, wait, you're reading this….no worries, we aren't going anywhere) and stop by Rusty Cricket to check out their amazing prints. This butterfly caught my eye right away, but there are so many. Oh, butterfly, how I love thee…let me count the ways…
Do you want your house to scream "originality"!? You must visit this site. It's absolutely gorgeous. I'm talking FULL of eye candy for the home. They make HAND-PRINTED linens. I've got my sight set on this gorgeous cushion cover. It's calling my name….
This is an adorable shop where you can buy custom invites, stickers, printables and MORE. This stuff is seriously cute and easy on the pocketbook. You can easily wow your friends and earn some bonus points with your kids' school teachers with these fun designs. And just in time for Halloween! Adorable!
Chantelle Nicole Designs
These gorgeous hand-crafted goodies make my heart melt and my purse strings loosen. Always a bad combination where my husband is concerned. Good thing he is an enabler where beautiful jewelry is involved.
Expressions Vinyl
With the amazing silhouette giveaways, you'll be looking to purchase some vinyl so you can be as fabulous as we are (ha ha). Look no further. You won't find a bigger selection, or better prices than you will here. It's a one stop vinyl shop!
Vinyl Wall Expressions
If you really want to POW your vinyl projects, PUHLEASE stop by and visit this site. It couldn't be easier to create custom vinyl projects. I mean it. *I* can do it, and that means it's easy enough for anyone and their dog (if their dog can spell).
This is a wonderful company who has been helping moms like us start their own businesses and WORK FROM HOME! Nice. I sure could have saved a lot of headache talking to these ladies before starting my Photography business. Check them out!
Another fabulous idea to bring in some income while having the luxury of staying at home with your children. YES! It's possible. Check the link – you'll be amazed.
It's ALL about presentation, and this site makes it all look so easy. Take a moment to stop by and say hello! We'll wait for you!
Silhouette
I'm in love with this machine. Need I say more? My husband is lucky he is so cuddly and doesn't come with sharp cutting blades, otherwise his spot on the bed might be in jeopardy! I'm joking, of course (no, I'm not). If you don't know about this machine (hello, have you been on mars? Welcome back to earth… now go get a silhouette!). Now that it is officially Mac compatible, there are no excuses! Go, Go, Go!
This is your one-stop show for all sign making, sign supplies, and vinyl banners, etc. So much to see!
A rainbow of strings. What more can I say? Let your fingers do the surfing and your imagination do the creating. I'm sure the combination will be explosive.
Photo54
As a fellow photographer, I can honestly say that I wish I could back in time and have them photograph my wedding. Is it weird to say that I want to be like these guys when I grow up?
Amy has made it her life's ambition to make me (ahem..all of us) look absolutely brilliant. Any ordinary party will become extraordinary by simply visiting her site and letting her printables and party ideas get those creative juices flowing. I love this site!
So, once again…THANK YOU, THANK  YOU, THANK YOU! We couldn't do what we do without YOU!!
If you are interested in becoming a sponsor, email us at howdoesshe at howdoesshe dot com for more information.