Our most popular printable of all time is making a come back with NEW UPDATED BINGO CARDS for more reading fun! This updated kit even includes a blank BINGO board to fill in personalized reading locations.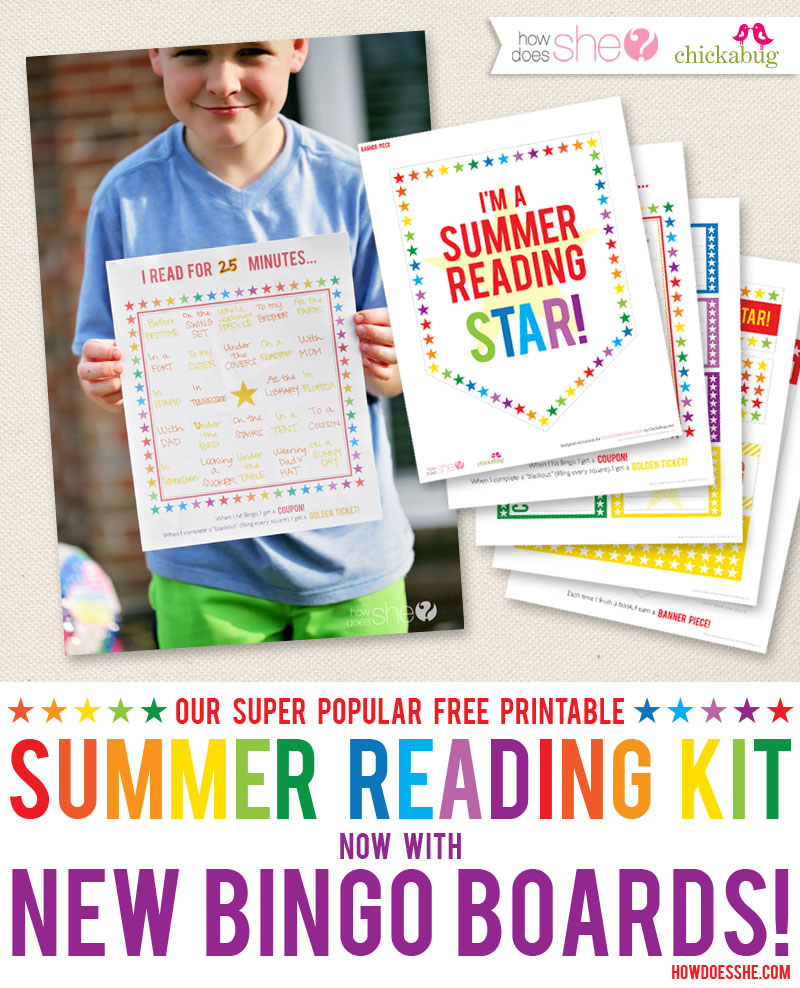 That's right, don't let Summer Mush Mind set in during their break!  Keep those little minds learning with our FREE Summer Reading Star kit.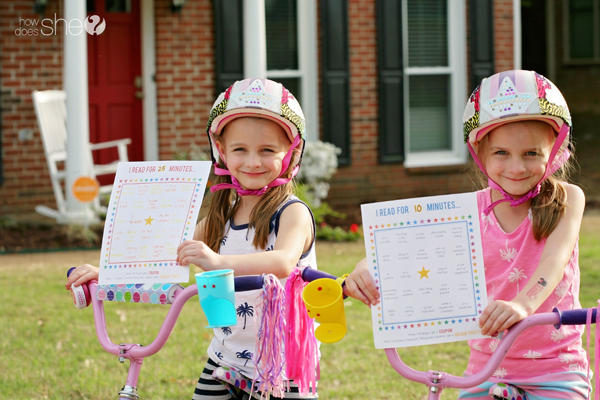 So how does it work?

1. Set a reading time goal for each individual child.
2. Decide on coupon 'prizes'. Make sure the 'Golden Ticket' is a BIG/FUN one!
3. Start reading and crossing off spots on the BINGO card!
  4. A "BINGO" wins a coupon and a BLACKOUT scores the GOLDEN TICKET!
* As a bonus, a Summer Reading Star banner is included! Once your child has finished a book, have them illustrate their favorite parts of the story on a blank pennant.
Easy, Fun, and NO SUMMER MUSH MIND!   
—
Our complete HowDoesShe collection, (which is now huge), has been completely designed by the one and only Chickabug.  Simply put, her talents are simply amazing. If for some reason you haven't discovered her yet, don't wait a second longer. Chickabug specializes in personalized paper and printable items. She has currently made over 25,000 customers happy and is seriously a dream to work with. You'll see…
—
SO, HOW DO YOU GET YOUR HANDS ON THIS FREE SUMMER READING STAR KIT?
If you are a HowDoesShe email subscriber, simply look for the direct link and password info from the last weekly email we sent. If you aren't a part of our email list, it's about time you joined us! The printables (along with access to all of our other FREE sets) will automatically be sent to you.
We send an e-mail once a week updating you on our creative posts. Don't worry, we treat our e-mail subscribers right. We pinky promise to never EVER sell your e-mail address.
If you are already on our list and are having trouble accessing our last email, please leave a comment or email [email protected]
—
Now hurry and grab the kids and have them watch this quick HowDoesShe video clip on how the Reading Star Program works!
And you're ready! Happy Summer, and HAPPY READING!