He's my retirement. Her training is an investment. There's no need to save for college, my kids are going to get scholarships. These seem to be the sentiments of many starry-eyed parents standing on the sidelines of any sports field. And, why not? As a parent, you should support your child. It's practically your job to cheer on your little athlete. It is expected that you will hope for the best in whatever your child pursues. So why not aim to raise a professional athlete? But before you go putting your child's athletic career in the hands of coaches & trainers remember most of what will determine your child's success comes from the home. Because young athletes are supported and raised by their parents in the first place.
Yep, there's only so much money can buy when it comes to sports success. Obviously, genetics play a huge role in athletic ability. There are countless studies speculating the extent that nature effects athleticism. You can find them littering the web-the point is, it does. But there are other factors, factors you can manipulate within the walls of your home to build a better athlete.
As a professional therapist, wife of a retired professional athlete, and mother to three young jocks sports psychology fascinates me. I have always analyzed the players, coaches, and parents-from the sidelines of my youngest's t-ball, my oldest's club soccer, my husband's college career, & his time in the NFL. Sorry guys, it's habit! What I've witnessed has driven me to study this topic on end. These are the tried and true methods & methodologies I've compiled from various coaches, parents, and athletes at the highest levels of several games. And, of course, I made sure to verify every tip on how to raise a professional athlete with my favorite retired football player I happen to have at my finger tips.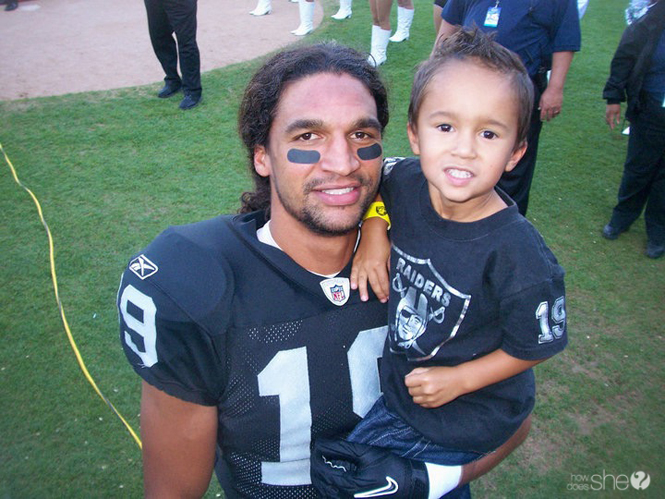 Tips to Raise a Professional Athlete
1. Have post-game & post-practice reflections:
Ask your child for their take on how things went. Make them aware of the experiences at an early age. What was performed well? What could have been better? How did he feel about his performance? Did she have fun? Be sure to compliment your athlete for any positive play you noticed. Youth sports are the best way to understand your child's interests. There is a variety of sports, know which one your child loves.
2. Let him lead:
If he wants to try a new sport, take a break, add additional training, let him gain new skills, or make any other athletic adjustments let it be not only his choice, but also, his suggestion.
3. Keep it fun:
Isn't that the whole point in playing a game? If she isn't enjoying the sport it's probably time to move on to another activity. You will never raise a professional athlete if they despise the game.
4. Foster internal motivation:
A successful athlete plays for himself, not for his parents, his coaches, his teammates, or his fans. Let him be a firm believer in what he chose.
5. Let him be his own worst critic:
You want your child to be able to self-reflect. You want her to judge her play fairly and strive to do better on her own. He will get life lessons to be a better player in the long run.
6. Encourage a desire to always improve:
That's pretty much the ultimate goal here. Whether it be sports, academics, arts, or any subject you want your child to strive to do her best and find ways to continually improve.Additionally, keep giving positive feedback to encourage their spirit.
7. Teach him to be a good teammate:
Team management is an important thing. Let your take part in team sports. Teach your athlete to encourage, support, and cheer for his team.  Sports aside, you are trying to raise a good person.
8. Teach her to listen to her private coaches:
Your child should trust, respect, and obey his coach.
9. Encourage team bonding:
How your child plays with his teammates off the field will often determine how they play together the field. Try to get the team together beyond practice to further nurture positive relationships with teammates and build lasting friendships at a young age.
10. Make it fun:
Take your athlete to the park and challenge him to a one-on-one, play a game of horse, or have a family shoot-out. When you make practicing at home a way to have enjoyable quality time together you will be amazed how much your child's skill and love for the game will grow. You don't have to be skillful at the sport. Just make it fun. Or better yet, ask your child to coach you! These free plays require physical activities that are effective ways to develop your child's health.
11. Play various sports:
Study after study has shown the positive effects of multi-sport athleticism. Sports scientists, medical experts, & elite coaches (Urban Meyer, Tony Strudwick, and Tim Corbin-to name a few) all agree on the various longterm benefits of multi-sport athletics. Bottom line, if you want your child to be a professional football player it can't hurt to sign him up for a few seasons of soccer, gymnastics, or even tennis. Let him try a few different activities that interest him. So don't get stuck with a single sport. Early specialization decreases the chance of self-realization. Hey, you never know what might come out of it. At fourteen my husband was determined to become a professional soccer player. He played his first season of football that year and it led him to six years in the NFL.
12. Keep the competitiveness minimal in the younger years:
Keep a less competitive environment. Research has shown that young children learn skills better and foster a more positive attitude towards sports when competition is not the focus. Competition comes after skill and a love for the game are already instilled.
13. Hold pre-game pump-ups:
This is the time for positivity! There's no room for warnings, reminders, or any other possible negativity before a game. Remember, your young athlete's emotions are already high, this isn't the time to strategize, coach, or put too much pressure. Simply, remind her how awesome she is & let her do her thing. Be sure to keep your emotions in check. If you are feeling anxious or jittery chances are you athlete will pick up on it & mimic those same emotions.
14. Speak Kind Words:
Do you best not to criticize the coach, the officials, or other players in front of your child. Role models are important for your child's spirit. You player needs to have faith in his team and in his coach and in the officials. Any questions or concerns should be addressed without your athlete around. You set the tone for and build the expectation of good sportsmanship for your athlete.
15. Focus on the skill no the score:
 If you want to raise a professional athlete then you need to keep your focus on development and not game results. The goal should be for you child to improve, and that isn't always reflected by goals, baskets, or times. Win or lose make the post-game chat about the performance.  By playing and through deliberate practice your child will gather different skills eventually.
16.Be a good fan:
When you are on the sidelines you should be a composed example of positive encouragement. This is not the time to critique, coach, or complain. Remember, what you say will affect what your child thinks.
17. Encourage accountability:
You want your child to be accountable for his performance. Taking accountability for their play and not putting blame on teammates, coaches, or officials help athletes be more motivated to learn more, try harder, and play better the next time. For example, share your thoughts at the dinner table while having dinner.
18. Instill a love for the game:
What drives a child to learn more, practice harder, and continue to play for years is a passion and enthusiasm for the game she plays. And in the end, this will determine how long and at what level your child decides to play. She will only pay attention and go through hard work only if she finds positive experience in her sports.
Chances are, you are not going to raise a professional athlete. The odds just are not in anyone's favor (1 out of 4,233 high school football players will go pro. 1 out of 11,771 men's high school basketball players play beyond college. And 1 out of 13,005 women's high school basketball players will go pro.)  But if you follow these tips you will raise a well-rounded child who have a love for and have a chance to play in international tournaments. And shouldn't that be the ultimate goal in children's athletics..
Looking for more inspiration and helpful parenting tips? Check out these other great posts:

7 Ways To Be Like, the Most Embarrassing Parent Ever
Is My Kid Just Hyper or is There Something More?