Do you remember my pantry re-organization when I opened up a whole closet worth of space? I still LOVE my organized panty, but notice at the bottom left corner…see all the cans? This system of stacking with cardboard worked pretty well, but I found a product that made canned food organization WAY better! I love it when you find products that solve your problems for you.
Your Canned Food Organization Problems Solved
Problem: Hard to find cans and expired canned food because I can't see what I have.
Solution: Can Organizers
These things are awesome! You just put your new cans in the top and when you need a can, take it from the bottom…automatic food rotation!
I especially love them for wisely using the space on shelves that are hard to reach and see what you have, like the very top…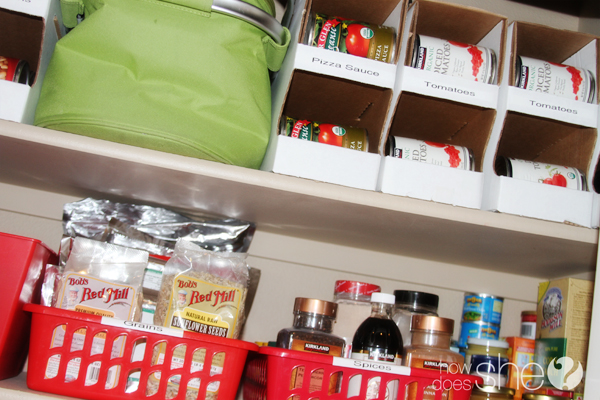 and the very bottom shelf.
With the height of my shelves, I still had a little space on top to store some paper products.
I am super impressed by how sturdy they are and now I always know what I have at a glance…Love it!!
Don't have a pantry?
No problem.
Shelley doesn't currently either – she ordered the smallest size and they fit perfectly in her cupboards.
Need some canned food organization in your life?
AND…not so related but also sold by CanOrganizer.com…I have their 72-hour kits and I LOVE them! The backpacks are super nice and sturdy and I really like what they have included in the kit. If you have been on the fence about ordering these for your family – I can vouch for these...and you can't beat the price. If you are not sure why you NEED a 72-hour kit, read about it in my post, here.
What do you think – how do you organize your canned food?