*We are thrilled to partner with Little Tikes and share one of the most treasured toys of quite possibly all time. Of course this opinion is entirely my own, but I'm betting a lot of you agree!
About eight years ago I left my job as a high school English teacher and took the very scary jump into working from home. I had two small children at the time, both practically babies, and soon enough those babies multiplied by two and I quickly found four little humans buzzing around my legs at all times.
Working from home with young children comes with its challenges. The major one being this: How do I actually get stuff done? I know the need to check off a huge to-do list, while still giving my kids the fun they deserve out of childhood. There is a solution! I attribute much of my productivity and a ton of their fun to one simple little parenting hack.
My #1 Parenting Hack:
The Cozy Coupe Keeps Kids Creatively Occupied in Quiet Fun While Mom or Dad Works
I've realized that "perfect" quiet blocks of working time will not happen for me any time soon. In order to get anything done as a parent, you've got to be able to do it with kids around. So in order to meet a deadline, crunch out work obligations, or catch up on household chores, I resort to only the greatest toy on the face of this  Earth—the Cozy Coupe.
My number one parenting hack—the one I use time and again for every single child—is to get out the Cozy Coupe. If you've got young children or grandchildren and need to get stuff done, the Little Tikes Cozy Coupe always works for me. I can take it to the park where my kids will happily play with their Coupe and I can get some work done on my laptop.
The Cozy Coupe Grows Up with Your Child
If someone told me I could only keep one toy for my kids and have to toss the rest out, it would hands down be our Little Tikes Cozy Coupe. It has been the sweetest toy my kids have owned. Our first Cozy Coupe came as a gift from grandma when my daughter was two years old (she's now 9!). I've witnessed the sweetest creative play happening between my children and their Cozy Coupe. They'll take it to the "car wash" using my dish towels as wipers.
My son (shown below and now 8-years-old!) used to get out his tools and prop the Cozy Coupe up on two blocks to change the oil, just like Daddy. I've listened as my little ones have taken their Cozy Coupe through the "drive-thru" in our kitchen. One will pedal their tiny feet up to the pantry door where another will poke her head out and say, "What can I get you sir?"
All four of my children have grown up with this beloved toy. Going through old photos and videos of them, I can literally see them growing up with their Cozy Coupe. Our little red car pops up in so many family videos and photos and I get emotional thinking that one toy can carry a child throughout the most precious years of their life.
Every Kid Deserves a Cozy Coupe
If you only have one toy for your children or grandchildren, make it the Little Tikes Cozy Coupe. Not only has it allowed me to get a ton of work done while allowing my kids to flex their creativity, but without even knowing it, our family has created many beautiful memories. One toy has brought my family closer together.
Did you know the Cozy Coupe has been helping parents get stuff done since 1979? It was officially inducted into the Little Tikes Hall of Fame as one of the most beloved toys of children everywhere for nearly 40 years. And now there's a fun NEW generation of the Cozy Coupe!
Have you noticed the Cozy Coupe just got a new look?It's the same favorite car but with new cute googly eyes, updated wheels, and a new handle on the back for pushing your little one around. If you don't yet have a Cozy Coupe, get one now! It makes the best gift for kids, grandkids, nieces, nephews, and friends.
You can also get the Princess Cozy Coupe and the Cozy Truck. This is the one toy you will never regret getting.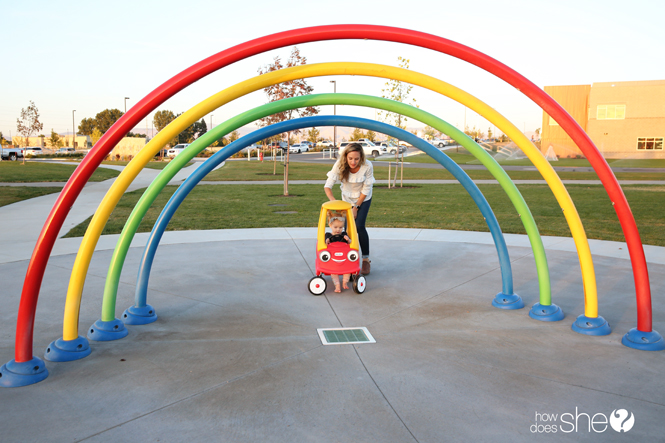 So if you have little ones and need to get stuff done, use the #1 parenting hack: the Cozy Coupe. Take it to the park, play pretend with it inside, or take it for walks outside. It truly has been my children's favorite toy and watching them grow bigger and taller with it makes my mom heart ache just a little bit.
Little Tikes creates special first memories and helps us relive those memories with the next generation.
Because no matter how old you get, you always remember your Cozy Coupe.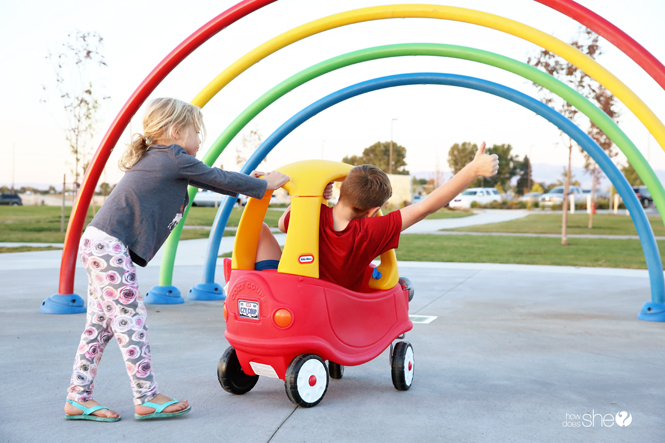 —-
Have some Cozy Coupe memories of your own?
We'd LOVE to hear them—please share below! And you can go through your camera roll or Instagram feed and share your OWN precious pics of your kids in their Cozy Coupe! Make sure to use the hashtag #littletikes and tag @howdoesshe! We'll post some cute ones like these adorable ones from reader Naomi:
"This little Coupe nugget is now 17 years old!"
"Omg, I just found this pic of my first son in the Coupe too! This dude is 20 today. TWENTY! How?
My mom bought this Cozy Coupe for my boys when they were little and put it in my grandma's backyard."