Birthdays are always a blast, and it's safe to say we parents love them as much as our kids do.  When their eyes light up , we relive the magic of our own childhoods.  Birthdays are special days.
Since watching "Monster's University" this summer, my son has been obsessed with monsters and requested a Monster's bash for his birthday.  We had fun making monster cupcakes together and filling monster party favor bags with monster finger puppets and treats.  Juicy Juice boxes were perfect for the party because they currently feature all our friendly monster friends from Monster's University, and they are a nutritious beverage for little ones.
If your little guy or gal would squeal for a monster bash, today could be your lucky day!  Enter the giveaway below for your chance to win an amazing Monsters themed dream party kit from Juicy Juice with all the fixin's you need for a perfect party!  Balloons, streamers, cake mix, cute monster plates, monster gift bags, party games, and fun party favors.
How do you host a great party?
From start to finish, planning a birthday party can be quite a bit of work. Here are a few tips to making a great party.
1. It's their special day.  Don't plan the birthday party on their actual birthday.  Instead, plan it a day or two after.  This way you can focus entirely on your child for his or her special day instead of running around crazy with party plans.  Let them wake up to balloons all over their bedroom.  Make them a special breakfast or take them out for a surprise breakfast.  Let this day be entirely about them.
I let my kids pick one special outing on their birthday.  Sometimes they choose the zoo, the water park, or a special play place.  This year my son wanted to go to the car wash.  Ha!  I gladly obliged, and he felt so special using the big vacuums.
2. Include them in the party plans.  So many times we take the reins with elaborate party details and we forget who the party is actually for.  Include the birthday boy or girl in the planning of friends to invite, type of invitations, cake, games, etc.  Including them not only lets them feel special, but teaches them how to plan and execute.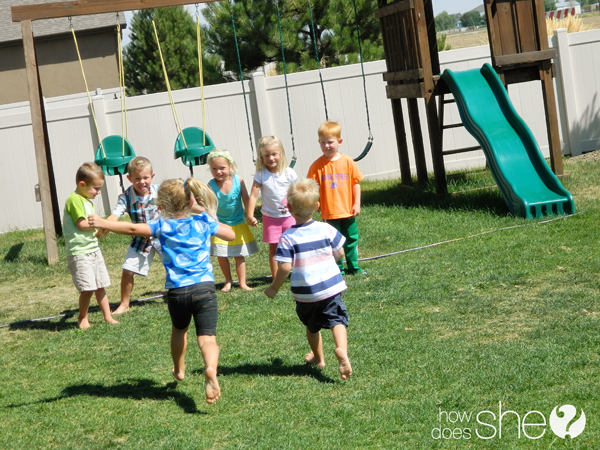 3. Plan appropriate party activities.  No one wants a dull moment at a party, especially when lots of young children are involved.  Plan two or three age-appropriate games that all children can enjoy without getting frustrated or losing interest.  Honestly, the oldies are still goodies.  Kids love red-rover, pin the tail on the donkey (check out the adorable monster version below!), and duck-duck goose.
4. Provide beverages and snacks for busy bodies.  With all the running around they will be doing, make sure kids have plenty to drink.  Juicy Juice boxes are perfect for parties because they are super convenient, refreshing, and provide kids with at least one full serving of fruit and 100% of their USDA recommended vitamin C.  
These easy Mike-inspired cupcakes were a hit!  They are a vanilla cupcake with green frosting drizzled on top to make a shaggy look.  The eyeball is a large marshmallow cut diagonally with an M&M candy stuck (with frosting) on top.
5.  Party favors.  They're not a must, but it's nice to have a little something fun for guests to take home as a little "thanks for coming!"  No matter what you choose, kids love the surprise and the fun of party favors.  These monster finger puppets were fun favors and the kids loved putting on a little show with their new friends.
So how do YOU throw the perfect party?  Make sure you entered above for your chance to win a monster themed dream party of your own.
We've been loving Juicy Juice's Monster-sized Instant Win and Sweepstakes Giveaway.  Each specially marked package featuring our favorite monsters from Monster's University  contains a cool prize, like free movie tickets, posters, and digital books!  Just enter the unique game code on your package HERE  to redeem your prize, and for a chance to win one of ten $5,000 scholarships!  The grand prize winner will receive a behind-the-scenes tour of Pixar Animation Studios in Emeryville, CA, a private screening of Monsters University, AND a $5,000 scholarship!  *See Official Rules for how to enter for free and for full details here.
Stay tuned in October for the Monsters University Blu-ray DVD release!