I have this great skirt that I absolutely love… this mini skirt from Forever 21.
Doesn't it look itty bitty on the model??
Ever since I saw Sydney in her striped skirt, I knew I had to get my hands on one! And I did…for $7.
BAM!! Scary face. And awkward puckering. And whoa! It's longer than the one on the model?
What the what???
The skirt has a fold-over waistband which the model folded over and I didn't. Modesty problem solved! I also got my skirt a couple sizes bigger so it would reach my knees but there was all that puckering business! I didn't ask for this!!!! So I took matters into my domesticated hands.
I made my husband pin the sides to get it nice and tight. I figured since it was made of jersey it would just stretch out anyway.
And it does…until I wash it and dry it again. It's a sick cycle.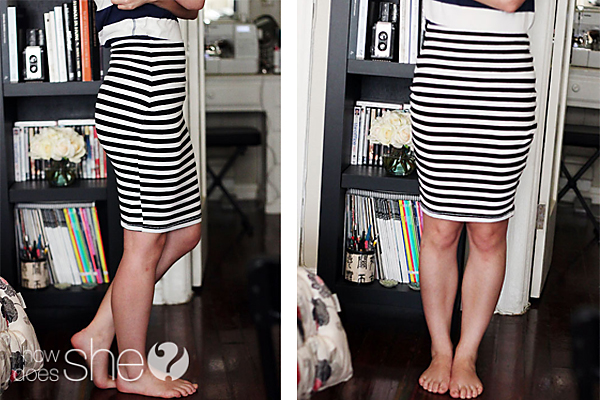 Lesson?
A lot of stores out there have some tiny skirts.
Check to see if they have a fold-over waistband but don't fold it over!
Get it in a couple sizes bigger and take the sides in to make it fit your hot bod.
Now go rock the mini skirt with a bit more modesty!
Visit me at my blog, Clothed Much!