Tostadas De Tinga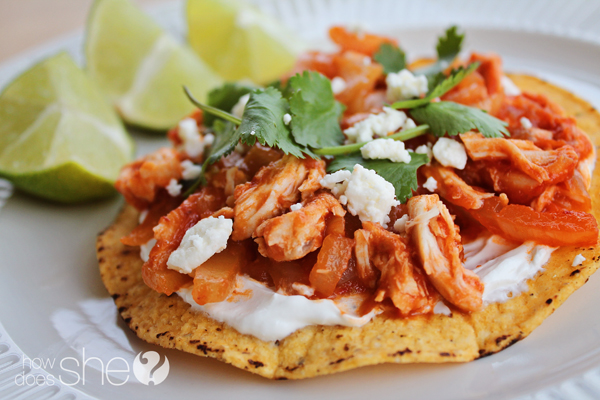 Tostadas De Tinga :  Tinga, tinga, tinga. Isn't that fun to say? Tinga is the Andy Bernard of Mexican food. Under-appreciated, yet ready to take center stage at any moment. Its primary flavor component is chipotle chili which is quickly becoming a very popular ingredient north of the Mexican border. Tinga is a great dish made of a yummy chipotle sauce, sautéed onions and shredded chicken, all piled up on a crispy tostada. It's basically the Mexican version of a BBQ beef sandwich. Tostadas De Tinga
I use whatever chicken I have on hand. Whole chickens or breasts will give you the most tender meat but I don't think it's worth the trouble. Rotisserie chicken meat is a really great option.
This recipe takes 3-4 onions so make sure you have some goggles on hand. You may get laughed at but it's better than having mascara streaked cheeks!
Slice enough onions to fill a large sauté pan. They'll really cook down so don't stress!
Puree the tomatoes and chilies together in a blender. I used one and a half chilies for this batch and it didn't overpower the dish. If you like heat you'll want to up the ante a bit. It's all up to you; I take no responsibility for your tingling tongues!
Add in the sauce and let it simmer. I keep the chicken back until the bitter end to avoid over-cooking it. You can add chicken broth as necessary to keep it at the desired consistency. Think BBQ beef.
Alright, time to serve up. Take the tostada, smear it with sour cream generously, scoop on the tinga chicken mixture, top with cilantro and a sprinkle of cheese. Purists will reach for the Cotija from the Mexican cheesy section. I used feta because the flavors are similar, especially up against the powerful chipotle.
Then finish with a squirt of delightful lime and sit back and enjoy your meal with the satisfaction that you're at the front of the Tinga bandwagon. It's almost as cool as being one of Justin Bieber's fans before he had millions of views on YouTube.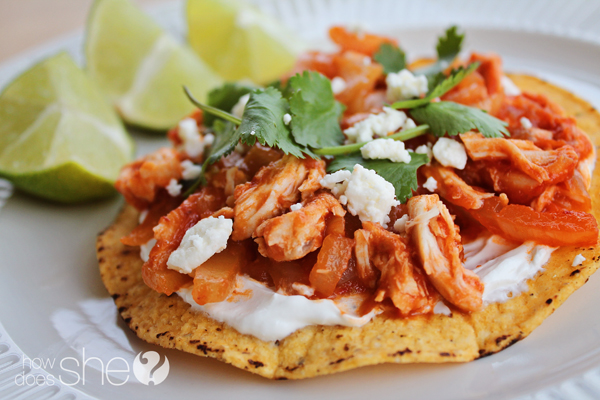 Ingredients
4-5 chicken breasts
3 large or 4 med yellow onions
2 cans diced tomatoes
1-2 chipotle chilies plus adobo sauce
2 bay leaves
salt
chicken broth as needed
For Serving
tostadas
sour cream
cilantro
cotija or feta cheese
lime
Instructions
Boil, cool and shred chicken.
Slice onions (1/4 inch thick) and sauté over in a large frying pan over medium heat for 30 minutes or until translucent.
Puree tomatoes and chilies.
Add sauce and bay leaves to cooked onions and simmer over med-low for 20-30 minutes, adding broth as needed to reach desired consistency.
Add shredded chicken and salt to taste.
Cook until chicken is warmed through and mixture is well combined.
Serve with tostadas, sour cream, cilantro, cheese and lime.
https://howdoesshe.com/mexican-tinga-tostadas/
Tostadas de Tinga