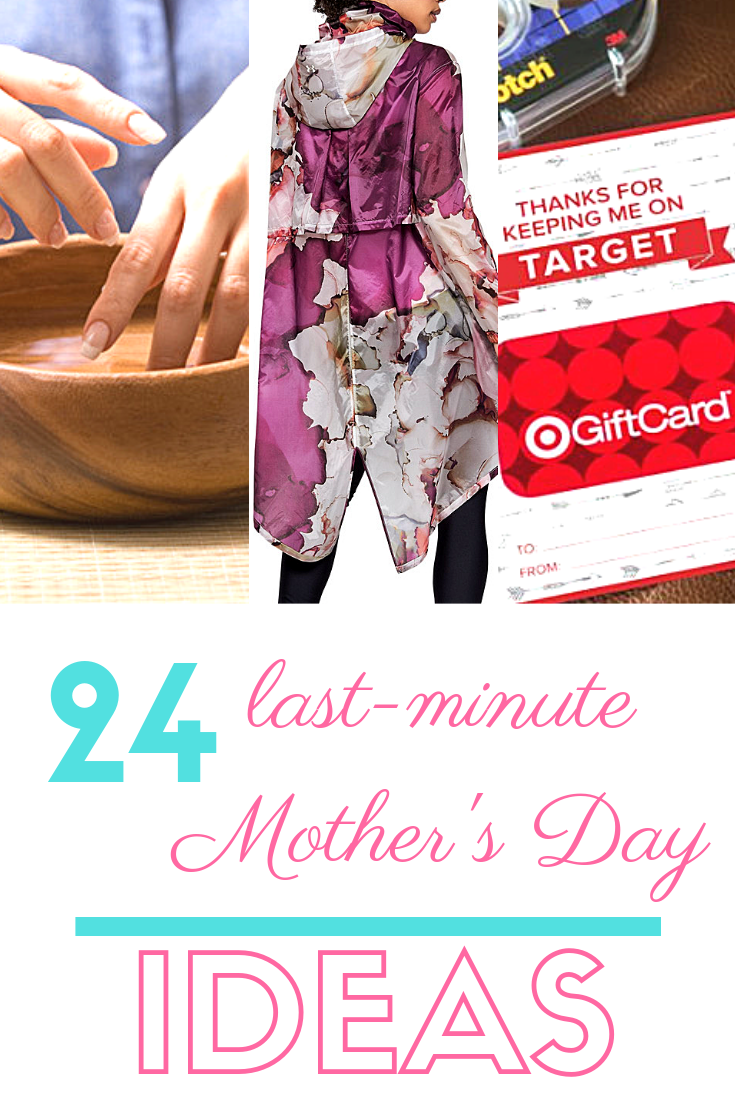 It's just days before the main event and let's face it, a lot of procrastination goes into finding the perfect Mother's Day gift. If it's the eleventh hour and you're still in need of ideas as awesome as mom, is here are some easy-peasy gifts that you can pull off last-minute.
24 Awesome Last-minute Mother's Day Gift Ideas
1. Massage: Stop by a local spa and purchase a massage for mom. Make sure to pay the tip in advance.
2. Gift card: It's not a cop-out…a gift card is always a great gift. Especially if it's to her favorite store.
3. Take her out to lunch: Anytime the mom doesn't have to cook is a win.
4. Sunglasses: Stop by her favorite department store and pick up a new pair of sunglasses. It's a sure bet that her pair from last year have been manhandled or lost by now.
5. Storyworth: One of the coolest last-minute gifts out there. Storyworth will email your mom or grandma one unique question a week. (i.e. Did you ever pull a prank when you were younger? How did your husband propose?) She writes her response and at the end of the year, Storyworth sends her a beautiful hardcover book with all of her stories and memories. It is a great life history!
6. Hotel room: No offense, but what a busy mom really wants is a day off from being a mom. Gift her a hotel room alone for the night and she will love it.
7. Groupon: For great last-minute deals on things like beauty treatments, check Groupon. They'll email mom her gift so you don't even have to buy postage.
8. Manicure/pedicure:
You can't go wrong with gifting mom a mani/pedi. Check Yelp for great salons near you and stop in for a gift card.
9. Facial: If mom has never had a facial before, she's in for a treat! This is one of the most relaxing, pampering hours she'll have in her life.
10. Handbag: Another gift you can never go wrong with. Moms and bags just go together, and with all those fishy cracker crumbs and old receipts, she's probably due for an upgrade.
11. Flowers: There is something about a bouquet of beautiful flowers that brightens up the whole day. Flowers are a great last-minute gift that will make mom happy.
12. Fitness pass: Give mom the gift of trying out a new fitness club or class. Popular ones right now are F45, TRX, Orangetheory Fitness, and Cyclebar.
13. Professional house cleaning: Give mom the month off with professional cleaning services.
14. Best-selling book: A book is one easy and safe gift that you can stop by pretty much any store and grab.
15. Breakfast in bed: It doesn't even need to be in bed, but starting Mother's Day off with a special breakfast will go a long way. Here are some of our favorite breakfasts to try!
16. Cookbook: For moms who love to cook, give her a beautiful new cookbook for inspiration.
17. Magnolia line at Target: In a last-minute pinch? Head to every woman's guilty pleasure—Target. Grab something/anything from the Magnolia line by Joanna Gaines and you've got a perfect Mother's Day present.
18. Fleece blanket: A mom can never have too many fleece blankets. When in doubt, give her something to snuggle up in.
19. New gym shoes:
Another favorite…gift mom a new pair of athletic shoes. Whether she's running or running errands, she'll wear them all the time.
20. Apple Watch: It's the greatest mom-tool of our generation. Use it to call, text, listen to music, track your fitness, check your calendar…the Apple Watch is everything a mom needs to function.
21. Apple AirPods: These are game-changers. Mom can listen to podcasts, music, and audiobooks hands-free and chord-free to excellent sound quality.
22. Jewelry: When you're struggling last minute to find a great gift for mom, opt for jewelry. It's a great accessory that matches everything mom has.
23. Anthropologie volcano candle: If you have an Anthropologie nearby, stop in and get a Volcano Candle for mom. It's the most amazing smell in the world and mom will think of you every time she lights it.
24. A new outfit: Lastly, treat mom to a new outfit. It will make her feel special and put an extra zing in her step. If you're not sure what she'd like, opt for a gift card or buy her a Stitch Fix subscription. It's a personal styling service that sends mom a hand-picked outfit each month.
Some friendly advice: what NOT to get mom last-minute
Desperation + poor planning = no good.
Don't land yourself in the doghouse. Avoid gifts that are:
Too practical. My grandma still talks about the time my grandpa bought her new toilet seats for the house. Don't. Just don't.
Cash money. In theory it sounds great, but mom will most likely end up spending the cash on everyday items like groceries or piano lessons for the kids because that's the nature of a mom.
Occupational expenses. Gifting mom a car detailing because her car is messy seems like a good idea, but really it's not. Her car is messy because of all those kids she's always taking to school, practices, and heaven knows where! Things like car detailing, and carpet cleaning are like business expenses. Do them, but don't gift them. After all, you'd never give your boss printer paper, right?
Wishing you all a Happy Mother's Day!