With back to school and Fall fast approaching, I thought I would share one of my favorite up-cycling tricks for little girl jeans! We all know nothing screams "girly" more than lace and frills, and this includes both! With a little trim and a bit of styling, your little girls will be rocking these cute lace pants! Try it on shorts and skirts, as well! This is a classy look that is bound dress up any outfit!
The supplies you will need:
Jeans
Lace Trim
Thread to match the stitching on the jeans
Rope (optional)
You can find colored rope and lace trim at most fabric stores. Take the pair of jeans you are planning to use and hold the lace behind the waistband to see what looks best! Then match the thread to the stitching around the waistband.  I used a heavy weight thread, but you can use all-purpose thread and it works just as well. Measure around the top of the jeans to determine how much lace and rope you will need.
These days most toddler and baby jeans have these awesome cinch elastic bands in the waist. If the pair of jeans you are working with has this feature you will want to undo the buttons and pull the elastic through the waistband until it lays flat.
Like this!
Measure the lace around the waistband and trim to fit. Then roll the edge of the lace over and stitch to create a clean edge. This will prevent the edges from unraveling and looking tattered.
Start with the overlapping button and pin the lace every inch or so. You can pin it so more lace is visible or less lace is visible, based on what you buy and what style you would like!
Begin sewing right on the top line of stitching in the waistband. Go slow, denim is thick and can break your needle. Make sure to back stitch at the beginning and end.
When you get to the belt loops, continue and sew directly over them. It may take slowing down even more and doing a little hand turning.
Trim any remaining threads and you are done! Easy–peasy–lemon-squeezy!
These jeans work perfectly for any season! They can be paired perfectly with a tank and sandals in the summer or stripes and sweaters in the winter!
There are some tricks I have learned over the last 5 years that have really helped when it comes to dressing up my kid's outfits! It is all a about presentation. You can have a darling outfit, but without styling it, it may not look as amazing as the potential it has! Here is an example. In the picture on the left you have jeans and a tee shirt. On the right you have the same outfit, with the addition of shoes and a headband, but the biggest difference in this outfit is the way the jeans are styled. Cuff the bottoms and tuck in the shirt! It changes the entire outfit! For little kid style I think the biggest tricks are layering, cuffing and tucking. Layer two tee-shirts on a little boy and cuff the sleeves to give it more pizazz! I cuff my kids shorts, jeans and shirt sleeves on occasion and it makes a world of difference. Play around with outfits you have at home and try out these styling techniques to really make the outfits pop. Take pictures when you put together a perfect outfit so you can remember for later! Adding an accessory or two can really vamp up the cuteness as well! We love hats, beanies, bows, tall socks and scarves! It is fun to dress them up a little when you have a dinner or party to go to!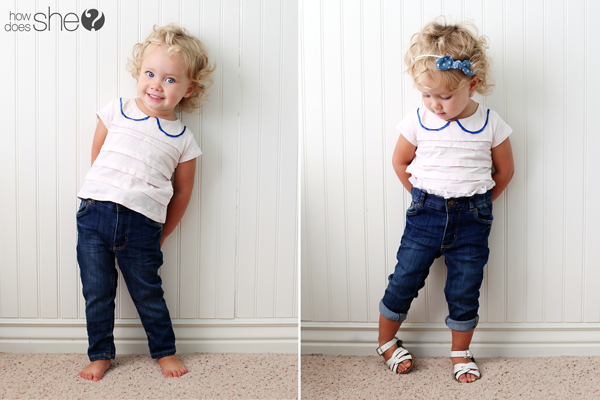 The best part about these jeans is how versatile they can be! By simply tucking or un-tucking the shirt you can choose to show off the lace trim or leave them as an everyday pair of jeans!
Another fun way to embellish a pair of jeans is to add a little belt. I used a cotton rope for this pair of jeans. Simply fray the end of the rope a little and flatten it, then stitch close to where you frayed it. That will prevent it from fraying anymore and still gives it that cute tufted end!
Tie it in a knot and those jeans get even cuter!
What are some of your favorite ways to dress up you kids outfits and up-cycle clothes?