*All patterns are now available by download in the HowDoesShe Store HERE!*
—
Remember the days before smart phones, when kids had good 'ole fashioned fun?  We want to help bring it back!  This secret project has been over a year in the making. We teamed up with Chickabug, and have created, quite possibly, the most darling quiet book ever.  The patterns, OH THE PATTERNS! {Squeal!}
FELT QUIET BOOK
 The owl family page is my favorite,… oh wait,… maybe the cupcake shop,… but then there is the Pizza Parlor.  Okay, I can't decide.  The best part, they are super EASY to recreate and if you can sew a semi-straight line, you are officially in the Quiet Book Club.  Each pattern has easy CLEAR instructions on how to tackle each page in no time.
So often children are in need of a little "quiet entertainment".  At church, in the car, doctor's appointments, airplanes,… lots and lots of places!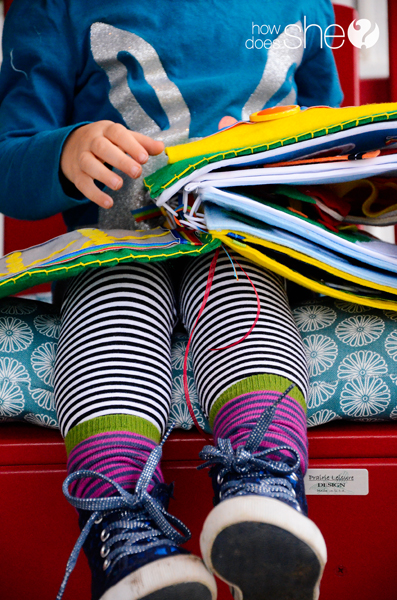 Okay, here is a sneak peak at all the pages.  Try to pick a favorite… I dare you.
—
 ROCKET SHIP
This hands on page has Alien finger puppets that tuck into a space ship.
$3.99
—
  TIC TAC TOE
I mean, who does doesn't like a friendly game of Tic Tac Toe?  The X's and O's tuck safely away in an envelope until play time.
$3.99
 —
CUPCAKE SHOP
Debatably my favorite page.  Darling cupcake tops button on both cupcakes and storage jars.  Why are little fingers learning buttons so darn cute?
$3.99
 —
OWL FAMILY
Oh wait, I forgot about this one.  THIS might be my favorite!  Momma and baby owls are finger puppets that velcro onto branches or tuck away in their nest.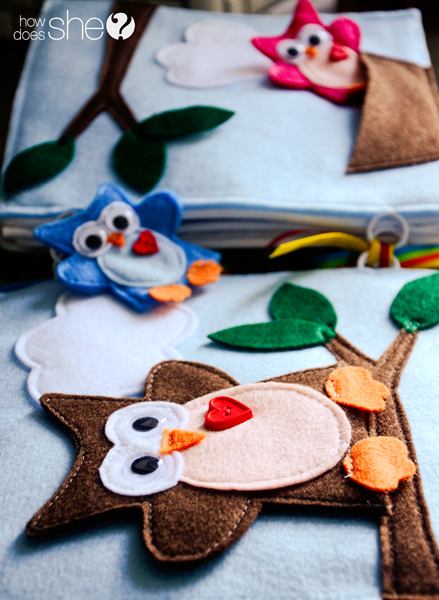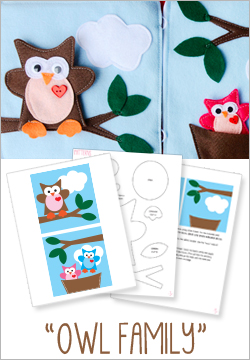 $3.99
—
FIND THE SHAPES
 A fun peek-a-boo flap game of find the shapes!
$3.99
—
FRUIT MARKET
An orchard full of fruit!  Peel fruit and pick apples off the tree to fill the basket.


 $3.99
 —
ART CLASS
Learn colors with velcro crayons and a paint palette with a real paintbrush!
$3.99
—
IN THE GARDEN
Make the flowers grow and watch the bees fly by!  BUZZZZ!


$3.99
—
COUNTING TRAIN
Learn to count with this fun chugga-chugga choo-choo!
$3.99
—
  PIZZA PARLOR
These pizza toppings make me hungry.  The toppings tuck away in 4 storage spots until your chef is ready to create a pizza masterpiece.
$3.99
—
QUIET BOOK COVER
Obviously you're going to need one of these. This easy cover pattern holds all the pages in place.

$1.99
—
 THE COMPLETE QUIET BOOK
So you are in love with the whole dang thing. (Ya, so are we). You can download ALL of the patterns at once for a discounted price.
$26.99
You can also see ALL of these patterns in our HowDoesShe Store!
*PLEASE NOTE: THESE ARE DIY PRINTABLE PATTERNS AND NO PHYSICAL ITEMS WILL BE SHIPPED – NO REFUNDS WILL BE OFFERED.
—
We hope you love these as much as we do.  As you make them (or gift them), please share pictures with us on instagram and facebook using hashtag: #hdsquietbook