Why did the chicken cross the road?
To get to the other side, of course.
How to Raise Chickens for Beginners
Who knew chickens could be so hip?  Let's talk about How to Raise Chickens for Beginners.
I was born and raised in Idaho. Even though I did not grow up on a farm, my aunt did.
 I remember we would get baby chicks and my mom would make us take them to Aunt Ella's farm.  I always wanted to have my own chickens and fresh eggs in the back yard.  When I moved to Las Vegas I never thought I would be able to make this happen.
Boy, I was wrong.  In the past year a lot of my friends became chicken owners and are loving it.   My girlfriend has the most beautiful coop and I really wanted one like hers.
Unfortunately, it wasn't in the budget.
 I finally was able to talk my husband into buying me chickens and a coop, but I promised to do it on a budget.  He was at Costco about a month ago and sent me a picture of an adorable coop.  I couldn't believe it was under $200 and held 4 chickens.
He bought it that same day and we started calling all the local farms to buy our own baby chicks.  Who knew that being chicken owners could be so popular?  The farms were completely sold out and waiting for more to arrive.  After waiting patiently for 5 days we finally were able to go to Cal-Ranch and pick out the chickens.  I have never seen my kids so excited.  It was better than going to Disneyland.  And way cheaper.
On a side note I need to tell you all, I am learning about chickens and I am not an expert.  I am a beginner, just like you.  So this is what I have learned, so far.
BREEDS
Ameraucana
My girlfriend has told me she loved the Ameraucana breed because the chickens will lay eggs that are blue and green.  I thought that would be fun for my kids to get eggs that look like Easter eggs.  They are typically medium-size eggs and they do well in the winter.
Rhode Island Red
The Red Island is a good pet to keep.  They are among the best laying types of chickens.  They can lay 250-300 large light brown eggs a year.
Leghorn 
Leghorns are fantastic egg producers, laying around 280 white eggs a year.  They are known as the ultimate egg machine by breeders and is one of the most common used by commercial egg industry.  They also do very well in the heat.
Black Sex Links
Black Sex Links have a dual purpose: egg laying and meat production.  They produce large brown eggs and the egg production is very good.  They are also gentle, friendly, and affectionate.  But the cons are they are very vocal, bold, and loud.  We got one.  I hope he isn't too loud.
These are just a few chicken breeds that we chose – to learn more read here.
Meet Cherry.  She is an Ameraucana chicken.
My friend has 8 chickens and she gets about 40 eggs a week.  They love to eat eggs so this is the best case scenario.  Some of my other friends sell their eggs at local farmers markets, or just share them with their friends and family.
Here are some reasons to raise your own chickens:
1. It is healthier.  You know exactly what you have fed them.  There are no chemicals being passed on through the meat and eggs.  It is way more natural.
2. Raising your own chickens can lower your grocery bill and you can save money.  Especially if you start selling them at a farmers market.  You can make some extra money.
3. My friend says fresh eggs are way better than store bought.  She gave me some of hers to try and I believe they were better and more fresh.
4. It teaches your children where their food comes from, and they can appreciate it more when they eat it.  They see how much work we are putting into the chicks now and they can't wait for 6-8 months until they are laying eggs.
Here are some things you will need to get started.
1. Heat lamp.  Each week you have the chickens they need less heat.
It has less to do with the light and more to do with the temperature.  It can take 4-6 weeks until a chicken is fully feathered.  They typically need 95 degrees the first week. Thereafter after you should drop the temperature by 5-8 degrees per week.  You can switch the light bulb or move the heat lamp further away.
We bought ours from Cal Ranch.  When the chicks are young they prefer a 250 watt bulb. As they grow older, switch to a 125 watt bulb.  The source of light should be 24 hours.
2. Water.  They have been drinking a lot of water.  So much that I must refill their water bottle at least twice a day.
3. Food.  You can buy chicken starter at the farm or ranch where you buy your chicks.  They will eat this for about 20 weeks or until you get the first eggs.
4. Plastic bin or box to keep them in for the first couple of months.
5.  Straw to put at the bottom of the bin.    They told us straw is better because it is cleaner and softer.
I can't wait to start getting my own eggs.  I will keep you updated as I go on this new chicken adventure.
I would love to hear from you. Do any of your good advice for raising chickens?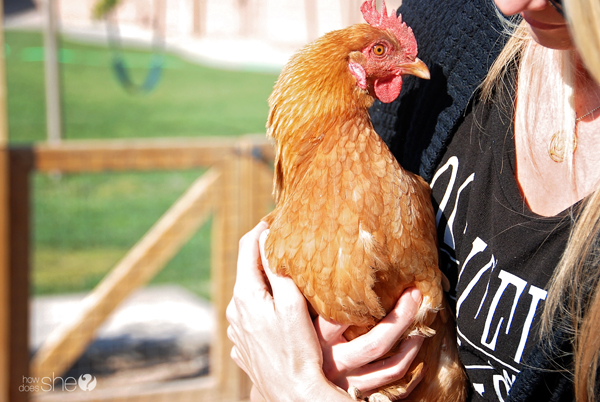 Are you crazy for chickens?
Or, are you just chicken?