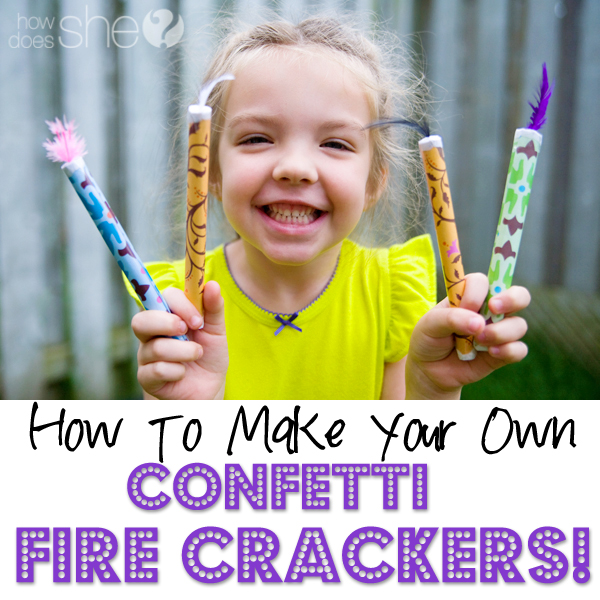 Yesterday Bobbi-Jo shared some awesome Craft & Project ideas we can all use to celebrate the 4th of July or adapt to fit a celebration for our own countries.  Like Bobbi, I'm Canadian, so we'll be celebrating on the 1st!
Whatever country you're from… It's time to have fun with being patriotic!!
…the perfect time to share a super fun
Confetti Fire Cracker activity with you!
I've seen confetti poppers in stores before & I know there's a way to make a spring loaded one on your own, but I wanted something a little more simple, so that my kids could help make it and we could make lots of them for company or for a party!
Today I want to show you what we came up with!

Here's what you'll need:
(everything on this list could be found at a dollar store!)
– scrapbook paper (any paper will work)
– a balloon pump
– clear tape
– scissors
– a funnel
– confetti
– tissue paper
– a pencil

Start out by cutting the scrapbook paper into 6×6″ pieces.  Then put a piece of tape along one side.  Roll it up (try to make the tube just big enough to fit the end of your funnel & pump into) so that the tape seals the tube.

Then cut a round piece of tissue paper (you can double or triple layer this if you want) and tape around the edge, to seal one end of the tube (tape along the side of the tube- not over the top)

Insert the funnel into the open end of the tube, poor some confetti into the funnel and let your kids stuff the confetti down with the pencil.  This worked really well (I actually tried doing this part by hand without a funnel first- it took forever!)

Seal the open end with tissue paper (just like you did the other end).  You can poke one end with a short piece of a pipe cleaner to make it look like a fire cracker (we didn't have any pipe cleaner, so we improvised with small craft feathers).
They look cute now, to put on display at a party or to present to your kids!

When it's time to set them off, pull out the decorative feather or pipe cleaner, and open the hole.  Then puncture the other end with your balloon pump.  Give it a good pump & watch the confetti fly!  You can re-stuff them to try again, or just make lots of them ahead of time for more fun! 🙂
I hope you'll try making these at home and have some fun celebrating the first week in July!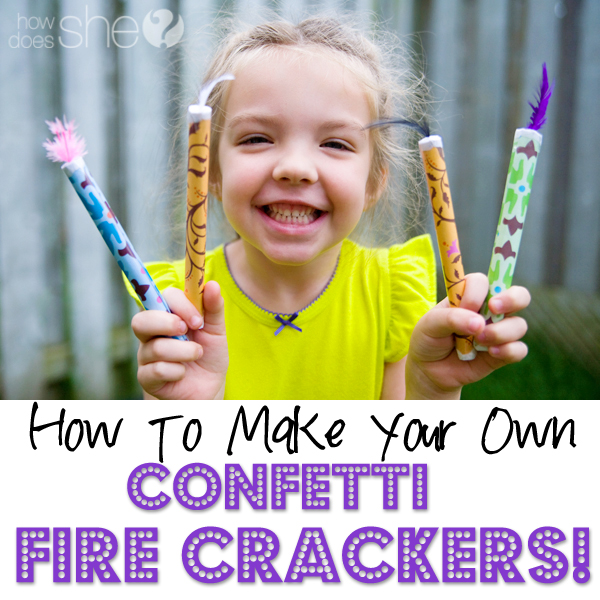 ——————————————–
If you'd like to get to know me better or see some of the other fun things we're doing,
come see us at the Raising Memories Blog- we're always up to something!