Men are not easy to buy gifts for!
With LOVE day right around the corner, I am guilty of STILL not having a gift for the man in my life.  Yeesh. Don't hate 🙂 Thankfully, Heather shares this surprisingly easy and brilliant idea for not only our sweethearts, but also our friends, children, and others! I know you'll love this idea as much as I do! Take it away, Heather!
My dad has always had the same list of things on his wishlist. It includes black clip boards, black note books, black socks, nuts, and a few other very practical items that aren't too exciting to give. (He always makes a good show of shaking the box and being excited about receiving them though!)
So this year he asked for blue socks (he's recently retired & finds himself wearing jeans more often and suits less often) and with no other ideas, I went out and bought a bunch of blue socks. But I wanted to make them more fun to receive, so I had the idea to create a sock bouquet!
You could use this for a guy who wants socks, or you could make a more colourful one for a little girl who's getting a practical item for a gift- or you could use it for a baby shower (so many fun reasons to roll socks! ;))
Want to try it?
Here's what you need:
– Socks
– safety pins
– wooden dowels or skewers
– a vase
– a ribbon
Start by laying your sock out flat (see the pictures below for a visual) and:  1. Fold the end up.  2. Start rolling, keeping it tight on one end and loose on the other  3. When you get to the bend of the sock, fold it over as shown, to make it straight 4. Keep rolling  5. Fold again as needed, to keep things straight (the folds just make your flower fuller)  6. Voila!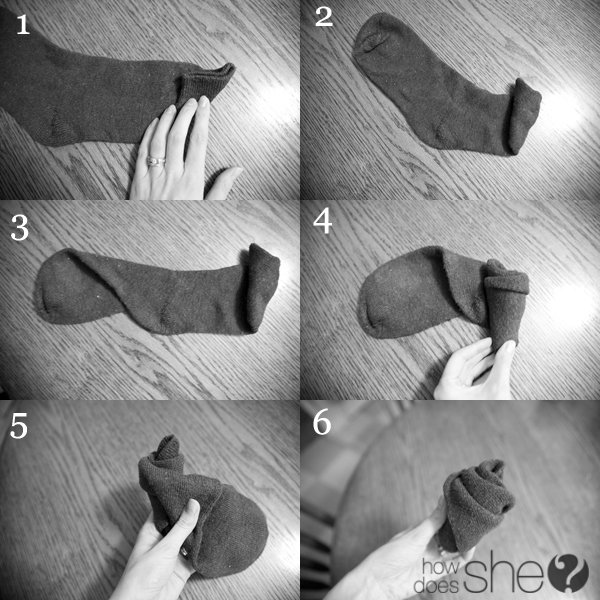 When you've created your flower, grab a safety pin to secure it and push the dowel or skewer into the bottom of the flower, to make your stem: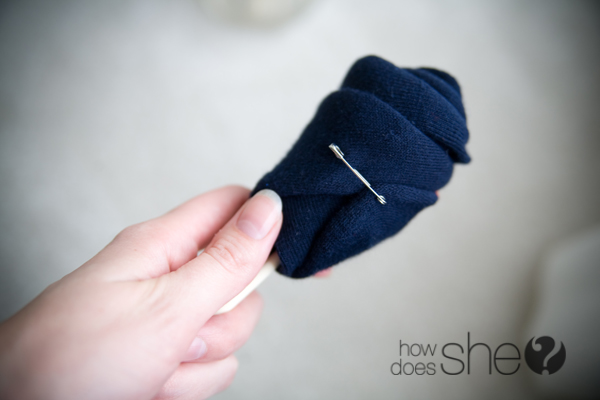 When you've completed all of your sock flowers, arrange them in a vase & tie a ribbon around it: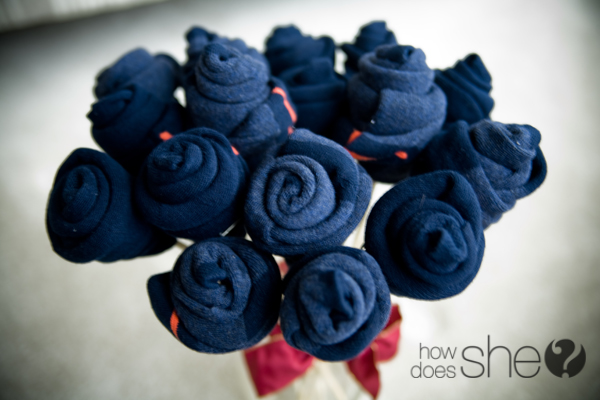 You're done!  Simple, Cute, Fun, & Easy!  Your kids could help with this, too.  My girls loved watching Grandpa as he discovered what his bouquet was made of- we all got a good laugh! 🙂

Come see us over at the Raising Memories Blog for more fun- we'd love to see you over there!