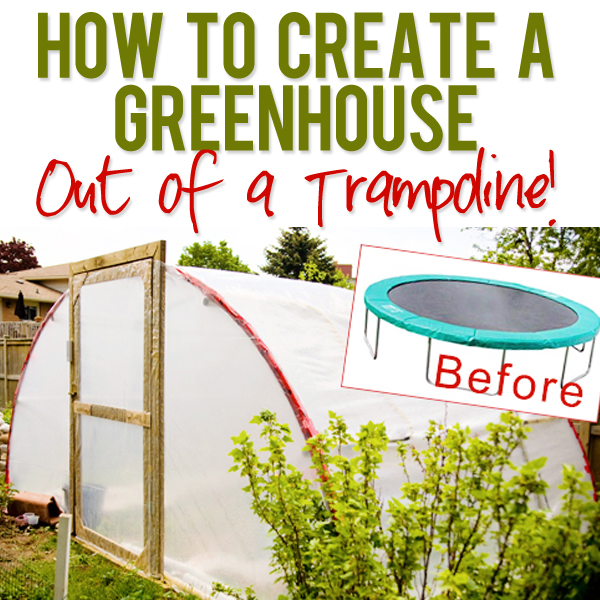 Hello Ladies!  Today I'm excited to tell you about the most creative DIY gardening project I have seen.  I think it's so neat when people think of ways to turn something old into something new, and I was amazed when I heard about my mother-in-law's plan to turn their trampoline into a greenhouse!
She told me that they were planning to get rid of their (aging) trampoline but she just kept feeling like there must be a way that she could use the galvanized steel frame for something.  She was right- check this out!
So, today I'm going to tell you how my in-laws created a greenhouse out of a trampoline for about $100!
Here's what they used:
– Trampoline Frame
– Piping ($2/tube, they bought 10)
– Wood ($20)
– Thermometers ($2)
– Red Tape ($11 for the roll)
– Plastic ($60)
– Screws ($5)
(That's a grand total of $98!)
In the photo below you can see how they screwed the pipes/tubing onto the trampoline frame with an electric drill.  They bought central vacuum tubing (it was cheaper than plumbing pipes).  They were probably about 2″ screws.
In the photo below, you can see how they used half of the frame for each side/end of the greenhouse.  No cutting of the steel required- just pull the frame pieces apart so that you've got 2 halves of the frame, and you're good to go!  Turn them so that the "legs" of the trampoline point toward the inside of the greenhouse, and that gives you something to screw the tubing to!
My father-in-law built the frame for the door out of wood and screwed it to the frame of the greenhouse:
(There is also a small window on the opposite side of the greenhouse.)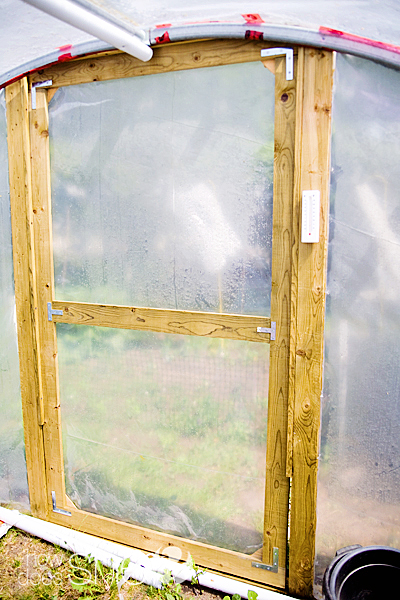 They attached the plastic (which you can get at Home Depot and is technically called 6mm Poly Film)  to the outside of the frame with red tape called "Sheath" or "Sheathing Tape":
Note: My mother-in-law suggests repurposing the mat from the trampoline, using it as a floor for your greenhouse.  Unfortunately theirs got thrown out, so they're going floorless for now. 😉
They tried using some caulking that was supposed to work for metal & plastic to secure the plastic to some other parts of the frame, but it didn't work.  They did find a good use for the caulking gun though- it's great for propping the window open for air flow! 😉
After having the greenhouse assembled, we had a really windy couple of nights.  Windy enough that they woke up one morning to find that the greenhouse had been relocated- right over their little pond!  To prevent that from happening again, they bent some rebar, and anchored the bottom of the frame to the ground like this: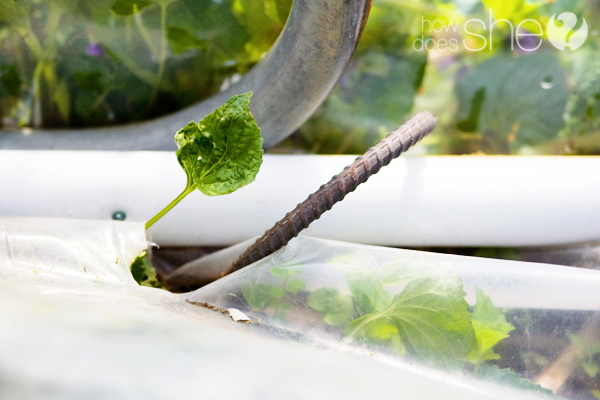 Now for the inside of the greenhouse!
This is the first summer of the greenhouse, so everything is still experimental.  This is what the contents of the greenhouse look like at this point:
That little table that they're using to keep their plants on?  They repurposed the frame of an old futon to make that!  And they've got some pieces of lattice that they're planning to use to make another one:
Did you notice the black jugs on the ground a couple of photos up?  Those are bleach jugs that have been spray painted black.  They've got water in them.  During the day the water heats up, and during the night, they create extra warmth inside of the greenhouse!
This "press 'n seal" plastic wrap works as a way to seal in moisture for some of the plants: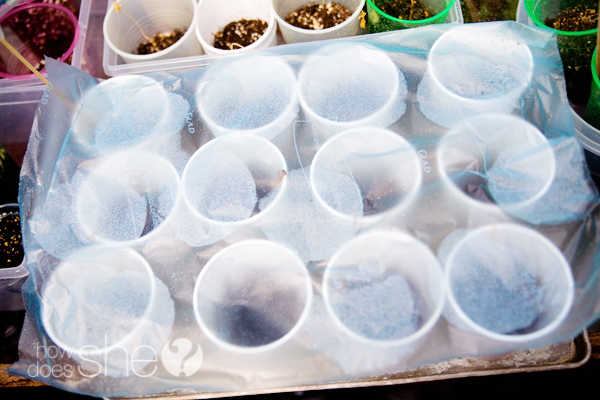 And these indoor/outdoor thermometers (that were 99 cents each) show the difference in temperature on the inside compared to the outside of the greenhouse.  Here's what the temperatures were when I was over there:
I'm totally impressed with their creation and excited to see how this first Summer goes!  They're still learning things as they go (for example, they're thinking they may need to add another window for more airflow).
The finished creation is about 8 feet by 12 feet.  The trampoline they used was a 15 foot trampoline, so it was 7.5 feet high, but they sort of squished it to get a bit more height. 😉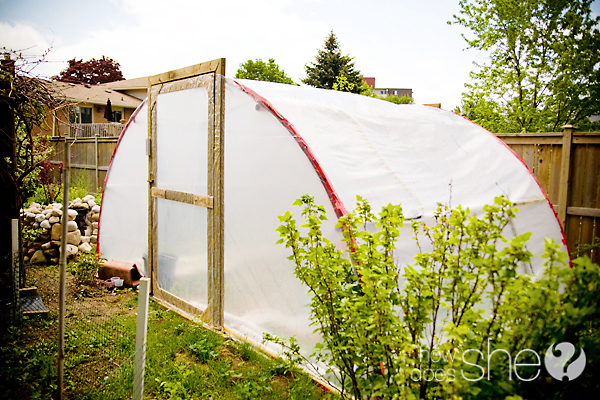 Have you ever repurposed something old into something really cool & new? 🙂
What's the most creative gardening project you've tried or seen?
I hope this post got some of your creative juices flowing and gets you excited to think about more gardening ideas!

I'd love for you to visit me over at Raising Memories this week to see what fun things we're up to (but you won't hear about gardening- I'm afraid I have very little garden space after a failed attempt last year because of not enough sun in our little yard… that ended in laying sod over our poor little failed garden!)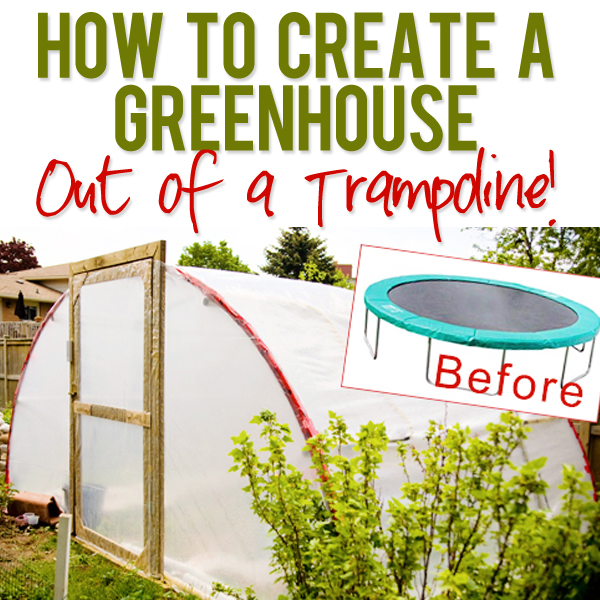 Disclosure: This post may contain affiliate links. This means, we may receive a small commission if you choose to purchase something from a link we post (including links to amazon.com because we are a participant in the Amazon Services LLC Associates Program. Don't worry, it won't cost you anything. This small percentage just helps us keep the power on and the Diet Coke stocked. We appreciate your support!