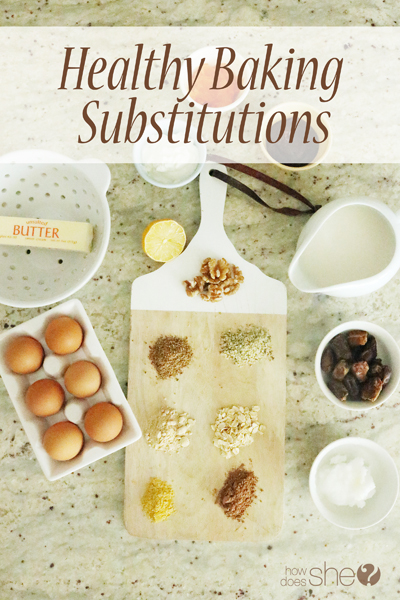 Healthy baking substitutions
Healthy baking substitutions:  Tis the season for baking…and weight gain!  But you don't have to shun away favorite recipes if you are trying to eat clean or have allergies.  Instead use healthy baking substitutions.  I'm here to say to you that with a few tweaks to your favorite recipes, you can still indulge in cookies, muffins and pies.  One of my favorite pumpkin pie recipes I tweaked and posted last year–made it a dairy-free, gluten-free, sugar-free healthy but still yummy pumpkin pie.
Here is the basic cheat sheet of healthy baking substitutes.  I will go in more details below, but you can print that image and keep it with your baking recipes so you are not scrabbling at the last minute.
Gluten-Free Flour Substitutions:
To make gluten-free flour, you need to combine a few different ingredients.  Make a flour blend prior and store in a container in a dry place until used.  Gluten-free flour reacts differently in every recipe but start out as a ratio of 1:1.
All-Purpose Flour Blend (double or triple as needed)
1 cup brown rice flour
1/4 cup white rice flour
1/4 cup tapioca starch flour
1/4 cup potato starch
Dairy-free Milk
Milk substitutions are a 1:1 ratio.  Replace 1 cup of cow's milk with one of the following: soy, rice, fruit juice, water, coconut milk, goat milk, hemp milk.  To make buttermilk, replace 1 cup with 1 cup soy milk, or rice milk + 1 tablespoon lemon juice or 1 tablespoon apple cider vinegar.  Let it stand until slightly thickened.
Yogurt–replace 1 cup with 1 cup coconut yogurt or 1 cup soy sour cream.  Applesauce or fruit puree works good too.
One large egg can be replaced with one of the following:
-3 tablespoons of applesauce (or fruit puree) + 1 tsp of baking baking powder
-1 tablespoon flax meal + 3 tablespoons of hot water. Whip until you have formed an egg consistency.  Let it stand for about 5-10 minutes.
Replacing refined white sugar is a step toward losing weight.  Here are the ratios for sugar substitutions:
Honey 3/4 cup for every 1 cup
Maple Syrup 3/4 cup for every 1 cup
Brown Rice Syrup 1:1 ratio
Coconut Sugar 1:1 ratio for brown sugar
Turbinado 1:1 ratio
Dates can substitute 1 cup of sugar.  Puree 1 cup of dates with 1/2 cup of  hot water until a thick paste is made.
Stevia 1 tsp for every 1 cup
Butter
Replace same ratio with coconut oil.
6 tablespoons of applesauce + 2 tablespoons of fats.  Avocado substitutes half the amount of butter–make sure its mashed.
Greek Yogurt use 1/2 cup for every cup of butter
Red Palm oil works great with vegetables
I always tell my kids that baking is a science project!  So, take your favorite baking recipe and make substitutes for a healthier version.  I'd loved to hear what kind of successes you have had.  And if you know any baking substitutes that I missed, please share!  Healthy baking substitutions
To see more of my posts, head over to my blog: