***This post is sponsored by Kohl's. All opinions are my own!**

I get to clothe 6 children.
And though I'm grateful to do it, it can be overwhelming at times.
These kiddos grow like a weed, which means we're constantly growing out of and transitioning clothing.
This means time, and money!
I've learned to depend on quality, but affordable brands because I know they will last and be able to be passed down if needed.
A newer (to me) clothing line that I am absolutely LOVING is Little Co. by Lauren Conrad, and found exclusively at Kohl's.

It will have you jumping for joy!


These styles are easy and breezy and remind me of a casual day in California.
One thing I love in particular about the line is the quality of fabrics. Some of the softest materials are used and I love knowing my kiddos are reaping the benefits of comfort!
Not to mention, everyone loves Kohl's!!! They have THE best member rewards, and I can almost always find a coupon or promo code to use on top of their already affordable prices!
Did you know you can order online and pick up in-store? This is a huge time saver for those of us with busy schedules!
Kohl's has just about everything you need for the whole family, and your home. I love knowing I can do all my shopping at one place.

I know there are others looking for affordable, but darling clothing options for their littles. Little Co. is the answer!
They just released a ton of Spring items, and I spent way too long this morning shopping instead of preparing this post! Wait till you see it all HERE.
I wanted to share a few items we picked up this month!

Let it first be said, this 3-year-old of mine is a comedian and serious photos are rare.
Just go with it.




I'm a sucker for matching, so when I saw these tees, perfect for Valentine's Day (and beyond), I had to grab them for both kiddos!
I love how subtle they are. No loud prints or colors, but still totally on-trend.
They come in kiddo sizes HERE, and toddler/baby sizes HERE.

They're also SO soft. They almost have a worn- in feeling and I'm here for it!

I love the slightly distressed look and wash of these toddler jeans. They're under $20, but look much more expensive in my opinion.
The waist is adjustable which is a requirement for jeans in our house!




My first grader is excited to wear this get-up to her Valentine's party!
I also snagged her these jeans!
I like that they're not super skinny so she can move at recess when she's playing b-ball (her favorite sport!).
I do feel like they run a tick big. We sized down one size and that was perfect.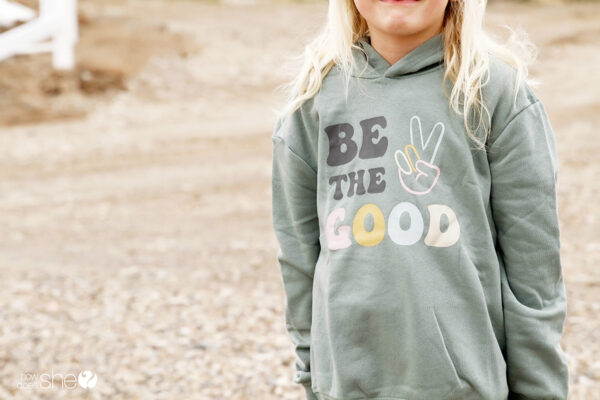 I also love Little Co.'s graphic hoodies. I feel like they always have a positive vibe.
She paired this hoodie with the same jeans, and my anti-coat child is a little bit warmer.
Again, this hoodie is so soft and easy to wear. No stiff fabrics and it washes beautifully.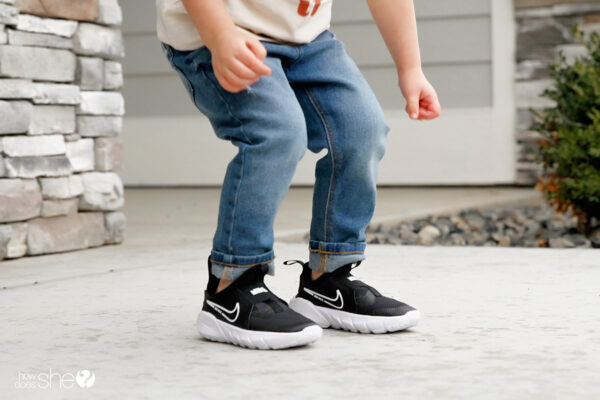 Sidenote: SHOES!
I can always find the best brands, and best prices on shoes at Kohl's.
I often find brands there that I can't find on sale anywhere else.
I love these Nike Flex tennis shoes for my kids. They're so easy for them to slip on and off and I've been purchasing them for years.

These Chelsea boots are the SO brand at Kohl's, and also a go-to for our family. They are frequently marked down to under $20, and all 3 of my daughters own a pair!
That glitter side panel just makes me smile!

Sister is always wrangling in her little brother it seems.
The kid is ALWAYS moving.
So it's important to have clothes that he can move in AND that can stand the test of a rowdy boy.

These waffle sweatpants have a little bit of a "harem" style. They're looser allowing for better movement…and boy, can this kid move.
Here's a super flattering action shot to show you what I'm talking about.
I love the effortless and "cool" vibe they're giving.




I also grabbed a simple long sleeve henley that paired perfectly.
It comes in many prints and colors and will only set you back $10!



So cute right?


I LOVE this sweater so much!
It comes in several colors and is marked down to only $19 right now!!!
It's warm but also lightweight enough to be worn into Spring.
And is that mint color not perfection?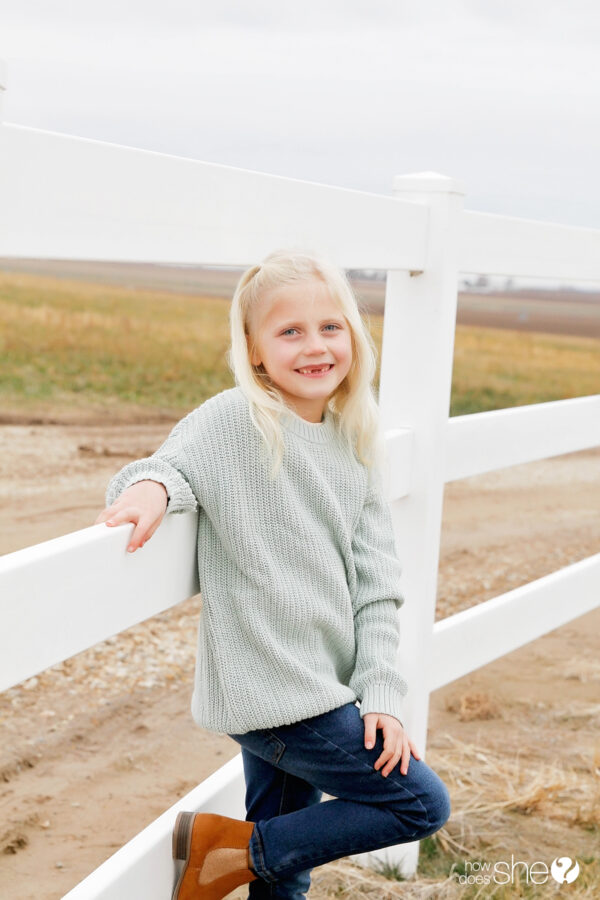 I'm a HUGE fan of our Kohl's haul.
Want to know another perk?
Everything fit!
No need to return due to sizing or quality issues. Everything was perfect which means less effort and time on my part.

I love shopping at Kohl's and love this Little Co. line.
You will too!