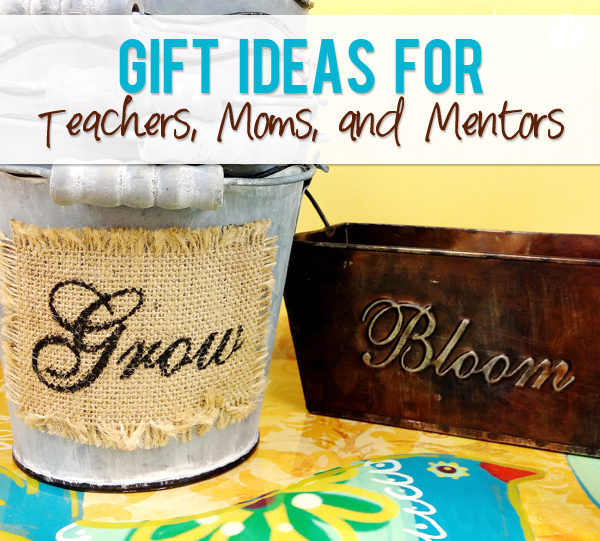 We owe a great deal of gratitude to the people who nurture us and help our minds, bodies, and spirits flourish; that's why the following gift ideas share the theme: "Thank You for Helping Me Grow!"
With Teacher Appreciation Day and Mother's Day around the corner, as well as the end of the school year fast approaching, you might just find a way to put one of these ideas to use 🙂 .
Idea #1 – Journal and Flower Pen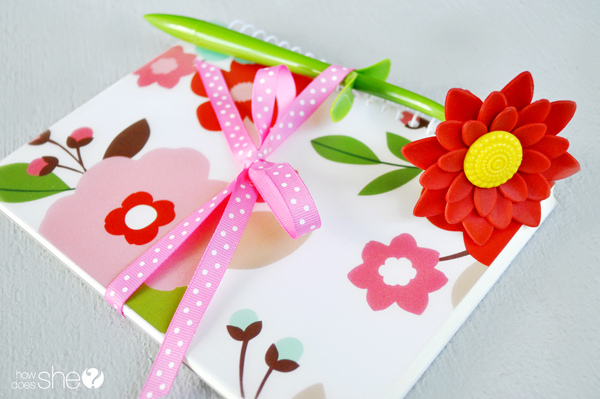 Any floral, leaf, or garden print journal will work with this theme.  I found the cute flower pen at the Dollar store and the journal at Target.
Idea #2 – Stationery or Cards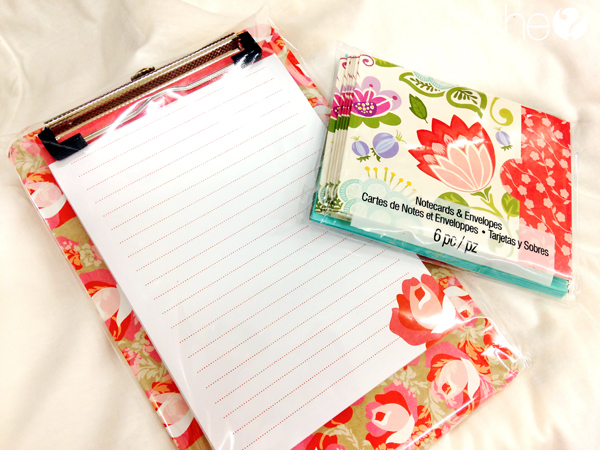 Who can't use extra paper or note cards?  I'm always needing a note card in a pinch to go along with a gift, or to write a note of thanks.  You can pick up either of these floral embellished paper goods at Michael's craft stores for under five bucks!  To make your own clip board decoupaged with scrapbook paper, be sure to see Alison's fun Clip Board Tutorial.
Idea #3 – Mug and Seeds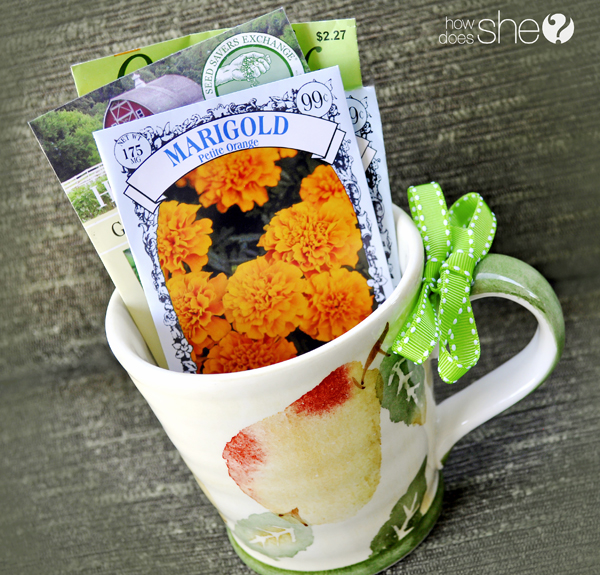 This would make a great gift for someone who is an avid gardener.  Whether the intended recipient has a flower or food garden, you can choose seeds accordingly to fill the mug.  I chose a mug with a pear and leaves on it to further emphasize the theme of growing.
Idea #4 – Flower Pot and Pens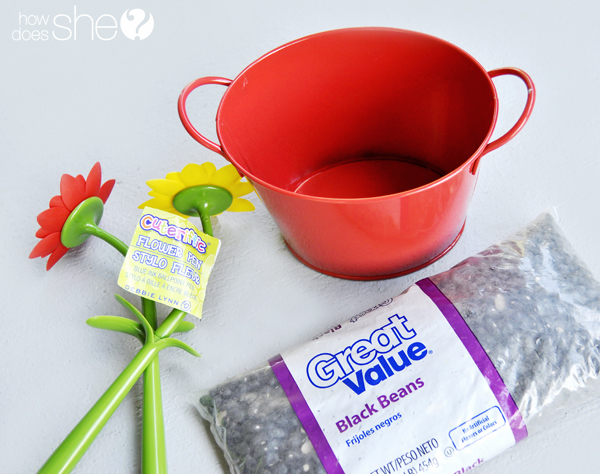 Start with a small pot and a few flower pens.  I left the tag on one of the pens so you can see it's called "Cuteriffic Flower Pen" by Debbie Lynn.  Again, the pens and the pot were from the Dollar store.  Just fill the container with one bag of dried black beans and you're all set to "plant" your pens.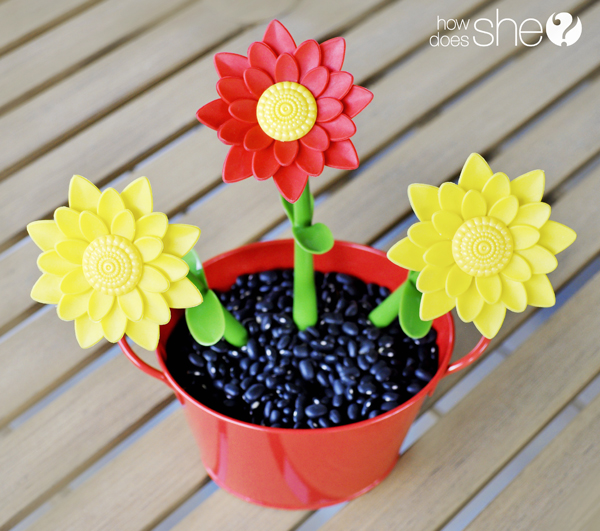 This gift was my daughter's favorite, as you can see!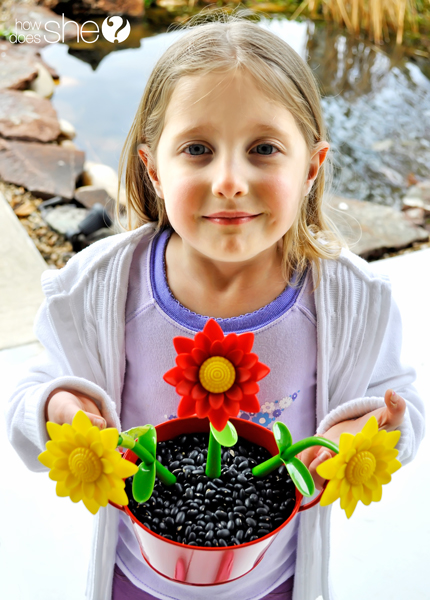 Idea #5 – Fresh Flower Bouquet in Mason Jar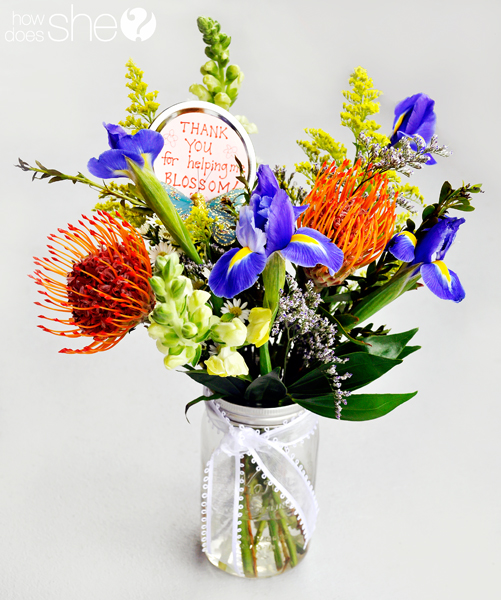 Fresh flowers always make me smile.  I can't take credit for this lovely display; it was a gift from my friend Wendy.  (Thank you, Wendy!)  I loved how she arranged the flowers in a mason jar because in my house, we use mason jars as drinking glasses.  She left the metal ring screwed onto the top of the jar, but took the round lid insert and clipped it to one of the flower stems.  Then she wrote a note on the lid with a dry erase marker…  So clever!  Since I couldn't resist using the floral arrangement in this post, I cut a post-it note into a circle and wrote "Thank You for Helping Me Blossom", as another variation on the theme.
Here's a close up of the little butterfly clip that held the lid to the arrangement (the clips are available at Michael's craft stores).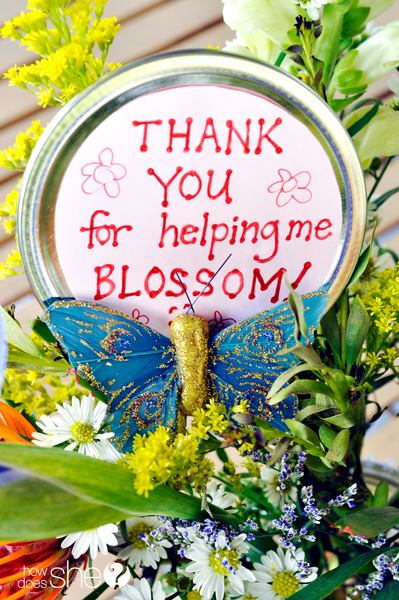 Small containers like the ones below are available and various craft stores and are ready to be filled with whatever you choose whether it be fresh flowers, a plant, flower pens, notecards, seeds, or another idea you might have that I didn't cover here.  If you have an idea of your own, please feel free to share in the comments!
Whatever you do, don't miss the opportunity to say "Thank You"!
Happy Gift Giving,