We are pleased to welcome our guest, Sara Watkins, who is back to share some insights on fostering emotional intelligence in our children. What is emotional intelligence? Read on!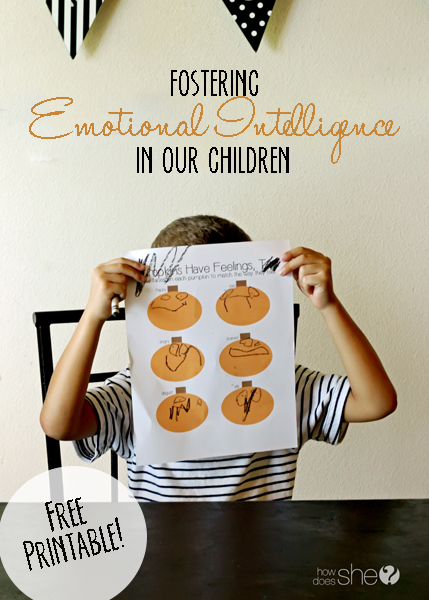 My mother is a therapist. Growing up I was not a fan of her career choice. She was always talking about feelings. And not just with me, with my friends, my family, my teachers, my classmates, even the grocery store clerk, everyone. Talk about embarrassing. I had no idea what I was going to be when I grew up but one thing was certain, I would not be a therapist.  Flash forward 15 years & here I am with a Bachelor's in Psychology & a Master's in Social Work; the exact same degrees that guided my mother to her career in therapy. My poor little boys have no idea what they are in for.
We psych-types love to talk about feelings & emotions (yes, there is a difference-but we'll save that talk for another day). Our inner workings play a huge part in determining what goes on in the rest of our lives. Especially, when it comes to kids. That's why I find it so important to teach children about emotions & to help them understand their emotions. Emotionally intelligent children are often times more academically successful, socially comfortable, & psychologically content than other children their same age.
What is emotional intelligence, exactly? It's the ability to recognize & identify your own emotions & the emotions of others. It includes having the power to control your thoughts & behaviors regardless of your emotional state. Basically, your child should know the names for different emotions, how to recognize emotions in other people, how to label the emotions he feels, & okay ways to express emotions.
There are a few things you as parents can do to help your children develop emotional intelligence:
Be a good example: Identify your own emotions in front of your child: "I'm feeling a little sad today because I miss grandma," "I'm frustrated right now because the pipe broke," etc. Tell your children how you feel then model appropriate behaviors that match your emotions. Also, it's so very important that you demonstrate empathy in front of your children. Empathy comes naturally to most children with time & good modeling.

Allow expression. Teach your child that all emotions are normal & perfectly acceptable. Help her accept her joy, anger, sadness, & all the other emotions that are natural parts of life. Listen to your child & validate her when she wants to talk about how she feels but don't force a conversation (as my mom often did)-wait until she is ready.

Teach appropriate responses & behaviors. It's okay to feel angry but it is not okay to yell & scream & hit. It's natural to feel sad, it is not natural to sob on the bathroom floor for two days. Children are going to feel a range of emotions they need to know what to do with them.
I put together a fun little Halloween printable to help spark the topic of emotions during this autumn season. It's pretty easy: print the coloring sheet, ask your little one to draw the appropriate facial expression to match each labeled emotion. Afterwards, talk about how each emotion feels & looks. Together practice using different facial expressions to demonstrate emotions you sometimes feel. The goal is to help kids recognize and identify what different emotions look & feel like. 
Download your free copy of this fun printable activity for your kids here:
I wish you all a happy, or silly, or exciting-whichever emotion fits your holiday best- Halloween!
Sara is just your average girl trying to survive in an all boy world. Between three energetic, athletic, very active sons & a former NFL player as a husband her life is full of spectating, cheering, refereeing, & supplying massive amounts of food. She is an adventure junkie & can never hike, paddle board, swim, surf, or travel enough. She loves living on a little island in the middle of a big ocean-despite her phobias of shark attacks & tsunamis. 
 Do you need help with getting your kids to talk about their emotions, or would you love a little peek into the workings of their sweet little minds? Try out some of our favorite ideas: