Secretary Hutch Make-Over
First things first….
if you live anywhere near Boise Idaho, be marking your calendars for October 13th -14th  for the bi-annual Fancy Farmgirls Sale!
Why?
Because if you love beautiful home decor on a budget, you are going to want to be there!
Hi! We're Marg and Liz, the "Fancy Farmgirls"
We grew up farm girls and both continue to love farmhouse style.
Our favorite thing about farmhouse style?  Timeless and AFFORDABLE!
We also grew up with a mom who LOVED thrifting and taught us to find beauty in the "ugly".  Honestly, we see it everywhere and can't help but drag it home and love it back to new life, usually through the remedy of paint!
We have both decorated our homes for pennies on the dollar by thrifting, yard sales, craigslist, and even curbside finds.
This cute secretary hutch we found on Craigslist.
It was love at first sight!
 Wood lovers avert your eyes!
 We updated it to our style by painting it a custom blend of 2/3 part SW Seaworthy and 1/3 part BM Hale Navy.
We mixed paint with some BBFrosch chalk paint powder and avoided the priming step.  This is a powder that turns any paint into chalk paint!
We love the pop of color against the backdrop of an all-white kitchen.
We started with a light sanding.  You can avoid this step with Chalk Paint but it just takes minutes and only adds to the durability of the finish.
Our favorite painting supplies we use, can be found HERE
We're loving the white dishes against the dark wood backdrop.
Wanting white dishes?  Thrift stores are FULL of them.  We'll even paint dishes white if we like the shape but not the color (for display purposes only).
Add in cute little pumpkins and some sprigs of berries from the yard and it's immediately "fall-ified" 😉
This piece will be heading to our Fancy Farmgirls Barn Sale!
We love to mix and change things in our homes and when you know you've only invested $20 dollars in your coffee table, etc.  along with paint and elbow grease, it's guilt-free re-decorating at it's best!  It's all about the transforming power of paint!
Don't like your furniture, but feel like you can't upgrade?  Upgrade it with paint!  Farmhouse style is a perfect style that can be achieved affordably.
Case in point:  This $8 dollar buffet.  Eight dollars!  I strapped myself to that one till the sold sign was on.
See scary "before" pics. HERE
Dressers:  who doesn't have dressers?!  Give them the farmhouse treatment with a chippy paint finish.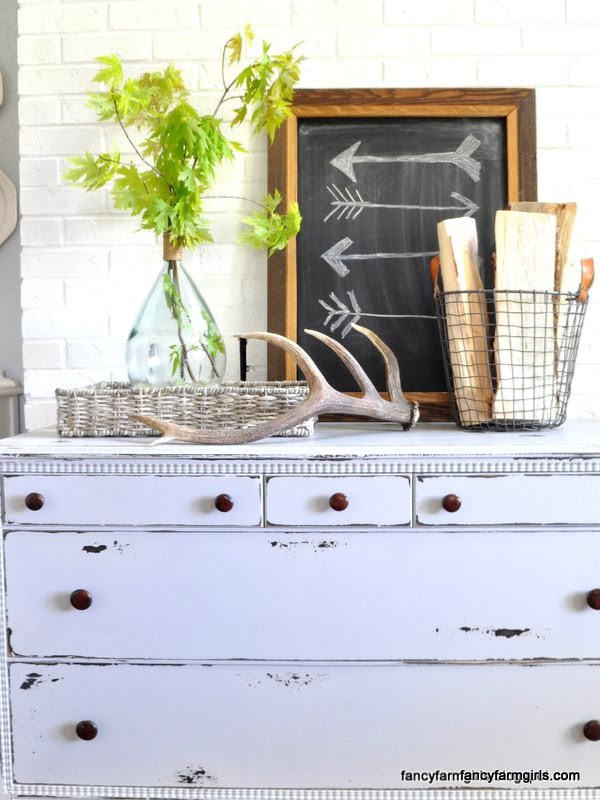 Or go a little more modern farmhouse and bring a fun punch of navy into your decor.
If you can afford a can of paint, you can afford to add some farmhouse flair to your home.
For a piece by piece price breakdown of the farmhouse decor in our own past farmhouse see THIS post.
Live near the Boise, Idaho area?
We'd love to see you at our bi-annual Fancy Farmgirls Sale!
 Were loaded to the rafters with farmhouse goodness, vintage treasures, signs, furniture, along with multiple vendors!  You don't wanna miss it!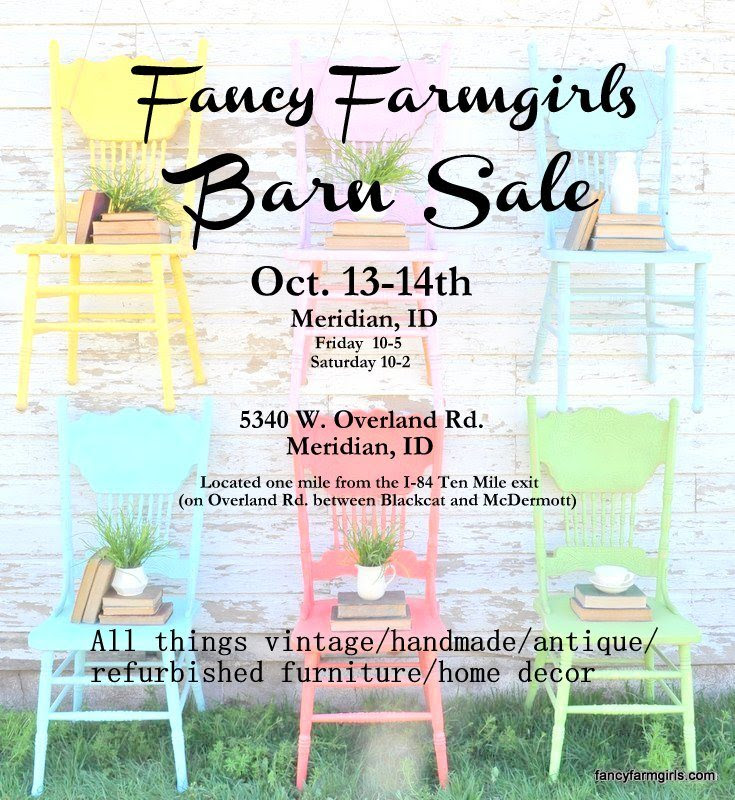 Follow our projects HERE
And our day to day projects on Instagram HERE