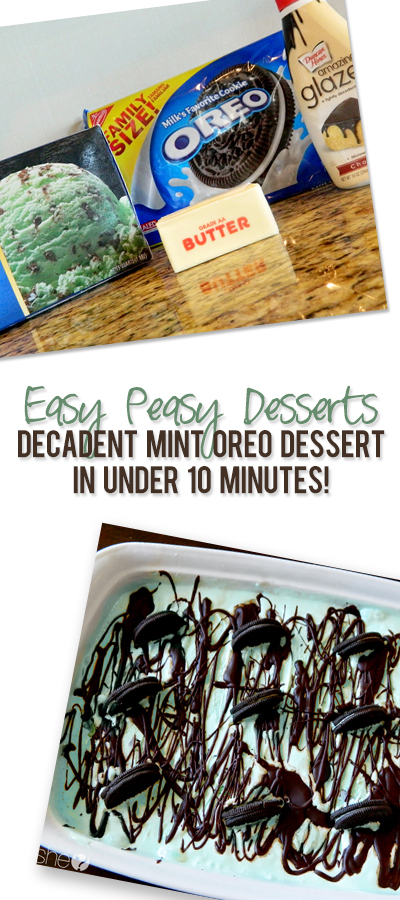 Looking for a dessert that is the perfect 10?  It's delicious and perfect for any occasion— impressive parties, potlucks, or Monday night Bachelor guilty pleasures.  Oh, and it only uses FOUR ingredients.  A child could literally throw it together in 10 minutes.
This dessert has been a family favorite for many, many years.  This year, I introduced it to my husband's family and not only did they devour it in as long as it took to make, but they begged me to make it TWICE in one week!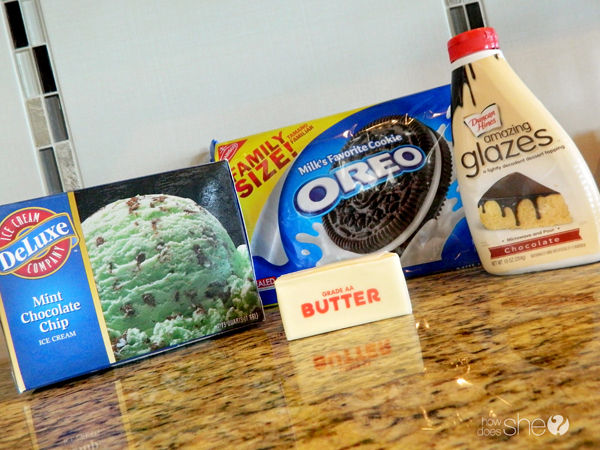 Four ingredients:
One package of Oreo cookies
One cube of butter, melted
One container of softened mint chocolate chip ice cream (*hint: buy the square container)
Hot fudge topping
Three easy steps:
Crust, ice cream, and toppings…then freeze!  How's that for easy peasy?
I love recipes that I can make with my kids.  Sometimes it's twice the work and three times the mess, but it's totally worth it…this little guy is going to be a great cook some day.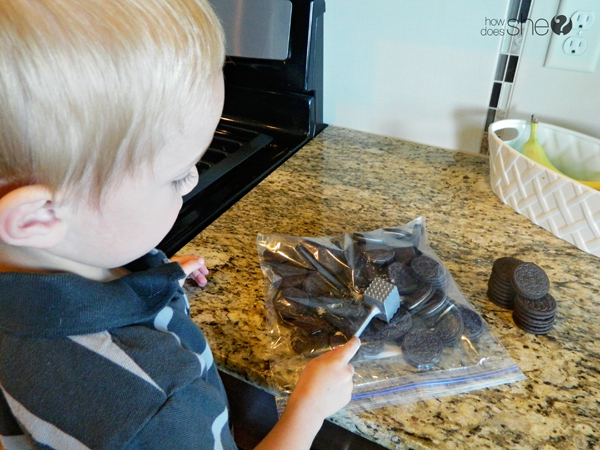 Layer 1, the crust: Set aside 6 Oreos, then crush the remaining cookies into course fragments.  I use a freezer bag and a mallet, pan, or other heavy object.
You don't want the Oreos too finely crushed.  Leave some nice chunks in there for texture.  Mine look something like this.  Transfer the crushed cookies to a mixing bowl.  Pour the melted butter over the Oreos and stir to combine.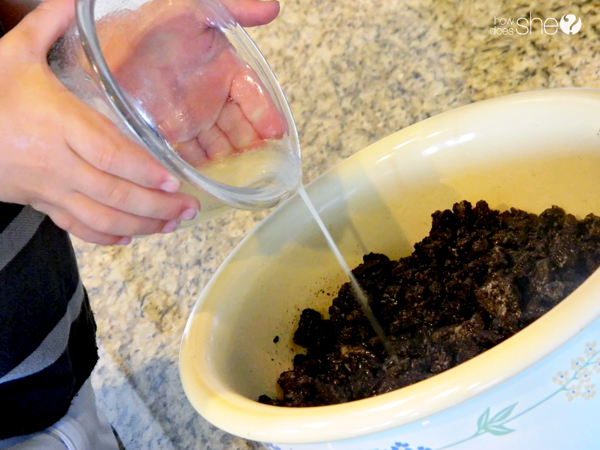 This will form a beautiful crust for the bottom of the dessert.
 Pour the crust into a 9 x 13″ baking pan and pat it down until even and compact.
Layer 2, the ice cream:  the trick to making this dessert so easy is to buy the square container of mint chip ice cream and let it soften just a bit so that you can easily cut it with a knife.  Use a large knife and cut the block of ice cream into rectangular sections, then place them over the crust.  This is so much easier than spooning it out.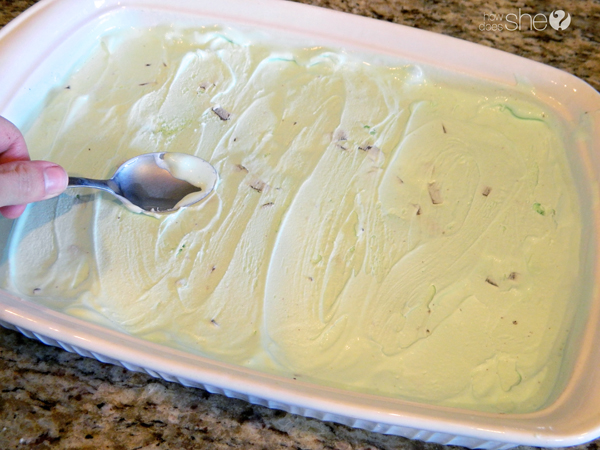 Smooth out the ice cream so it makes one nice, even layer.
The licking part of the process is totally mandatory.  How could I say no to my little sous-chef ?
 This face can cook with me any day.
Layer 3, the toppings: Finally, drizzle that delicious hot fudge topping all over the top of the ice cream. Take the remaining Oreo cookies you set aside, split them in half, then place them on top.
And voila!  That's it!
Freeze overnight or until completely hard.
I made this tray for a backyard barbecue and it was inhaled in minutes.  Some prowler (I'm pretty sure we're related) even found the last piece I had carefully wrapped in tin foil and hid in the back of the freezer for a profile picture and a midnight snack.  So sorry, no yummy profile picture for you.
But you can snack on this cute little face one more time.
  Hope you enjoy this recipe as much as we do and that it becomes a quick, go-to dessert in your family!
Easy Peasy Mint Oreo Ice Cream Dessert
Ingredients
1 package Oreo cookies
1 cube butter (1/2 cup), melted
1/2 gallon mint chocolate chip ice cream, softened
Hot fudge topping
Instructions
Set aside six cookies. Crush the remaining cookies into course chunks (do not form crumbs). Combine melted butter and crushed Oreos and pour mixture into a 9x13 inch pan. Press crust until even and compact. Using a large kitchen knife, cut softened ice cream into 1-inch slices. Place sliced ice cream on top of the Oreo crust and then smooth with a spoon until even. Drizzle hot fudge topping over the ice cream. Take the remaining six Oreos and split them in half, topping the dessert with the cookie halves. Serves 12.