Every year, my family has a gift-giving tradition where everyone makes something handmade for each person in the family.  It's not elaborate, nor does it cost much, but these gifts are easily my favorite gifts of Christmas.  There have been yummy goodies, hand-made cards, crafts, and the guys even get involved building home decor rods or garage storage hooks.
When you know someone has poured their thoughts and time into a gift, creating instead of buying, it becomes incredibly special.
This year, after watching an episode of Project Runway, I was adoring one of the contestant's scarves.  I'd never seen anything like it and I started searching the web for someplace to buy it.  I figured it was probably some high-end designer scarf that I couldn't afford.  Well, to my pleasant surprise, it was completely hand-made from old t-shirts, making it free!  Thus I set out making my handmade gift.
If you are looking for a quick, super easy gift that doesn't cost a thing, this designer-inspired t-shirt scarf is perfect!
Materials needed:
old t-shirts (large or X-large) and  fabric scissors (yep, that's it!)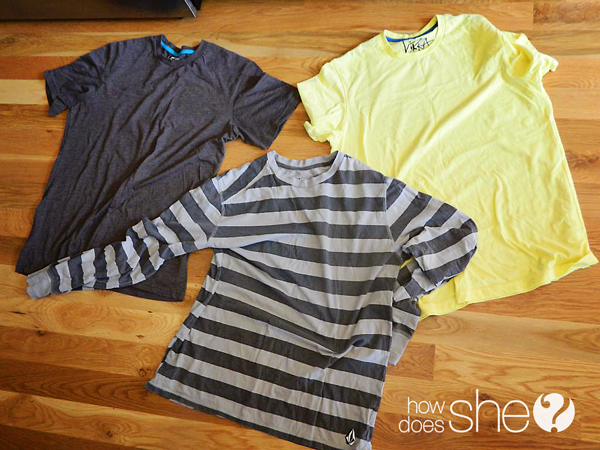 My hubby had an abundance of t-shirts that I knew he'd never miss (until he found the scraps in the garbage and groaned, "Hey, I loved that shirt!"  Right, since he hadn't worn it in years!
 First, cut the bottom hem off the shirt, then cut right under the armpit.
 Next, fold it in half (hot-dog way) so that the seams meet each other.  Then cut 1″ or 1.5″ slits on the seam side.  My cuts are 1.5″.   Then cut all the way across the t-shirt at each slit.
After cutting, you should have fragments like this.
 Take each segment and stretch.  It will naturally curl, which is what you want.
 After stretching, your pieces will look like this.  Line them up with the seams together.
 Since you don't want the seams to show, wrap another scrap of t-shirt around the seams to resemble a small knot.
 And, viola!
 It can be worn long, or wrapped once around for a more bulky look.
It is fun playing with different color combinations.  Get creative and bring out the inner designer in you!
 I like this look, with braided t-shirt strands.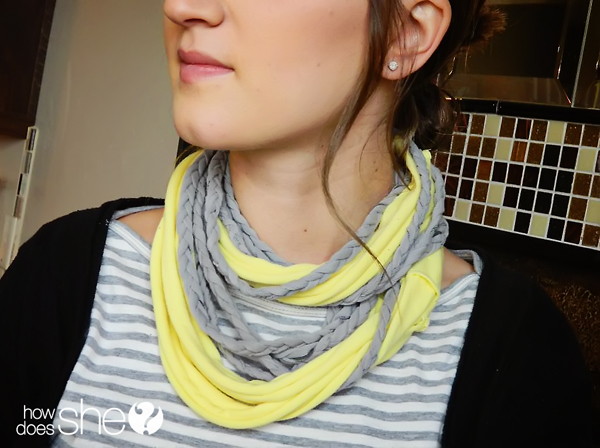 This great hand-made gift is surprisingly easy, fashionable and comes from the heart.
Happy creating!