Over the years I have asked many teachers what their favorite gift from their students was, whether it be for a holiday, teacher appreciation or end of the year. The response was overwhelmingly consistent. First and foremost their favorite gift – a letter of appreciation from their students or even their parents. Their next favorite gift: gift cards.  Want to create the ultimate gift for a teacher? Make a letter of appreciation with an accompanying gift card!  Here are some creative gift card ideas for teachers – with free printable!
By the end of the year, you should know your child's teacher(s) pretty well and you probably have a pretty good idea as to where they would enjoy a gift card to.
Home Depot Gift Card
Those who know me well  know that a Home Depot gift card will always make me happy and I can never collect enough of them. I know several teachers in the same boat.
Bath and Body Works Gift Card
For other teachers, it might be the pampering from Bath and Body Works that they enjoy.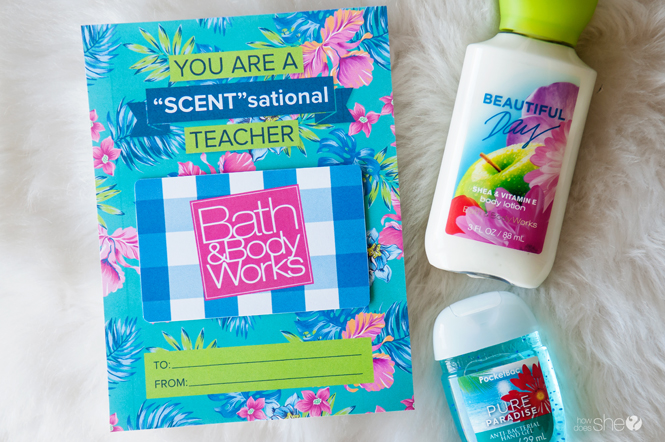 Target Gift Card
Others will enjoy the practicality of Target or even being able to shop their latest home collection. (Their home collection always seems to suck me in, regardless of the fact that I only entered the store for diapers!)
Whatever the teacher's interest might be –  we've got you covered. Give the gift that teachers want by downloading the free printable and add a gift card – don't forget the letter of appreciation!
Download creative gift cards for teachers here.

See more of my adventures and projects at www.lifewithfingerprints.com
Spoiling the special teacher in your (or your child's) life is so important – they work so hard and sacrifice much time and effort to teach the next generation. Let's show they how much we appreciate all they do with even more ideas for the teacher in your life:
Our Favorite 10 Teacher Gifts That Don't Require You to Leave Your House
A Clean Teacher Appreciation Gift Any Teacher Will Love!
Free TEACHER APPRECIATION Printables