My husband is pretty adventurous when it comes to making things.  He'll just get an idea in his head, this plan of something he wants to create, and he'll see if he can find a way to do it.  This week he decided he wanted to make a Zip Line in our backyard for our kids!  And he did it for less than $10.
So, here it is: "How Does (S)He Build a Zip Line?"
First you'll need something for a handle.  We had this dowel sitting around so we used it.  You could buy something similar for probably around $1-2.  Drill a hole in the middle of it.
Next, a pulley.  This one cost about $3.
And a rope.  We tried this with a nylon rope which we found to be a bit too stretchy (our zip line was gradually becoming lower to the ground each time it was used and we had to keep tightening it).  So, try to find a rope that is not too stretchy and is meant to handle the weight of your child!!
Pull a piece of the rope through the hole and tie a strong knot.  (I'm told this is a "granny" or "square" knot)
Secure the other end of the rope to the pulley.  (We decided to attach the pulley by rope rather than screwing it right to the handle, so that if the child made the handle twist, the pulley wouldn't be pulled off of the rope)
You could also use cable management products to help secure the pulley.
Then use a longer piece of rope to run through the pulley, and attach to something up high,  on either side of your zip line.  We used a fence.  You could use a tree or whatever else is available in your yard.
Once it's all assembled, you'll have something like this:
We were making ours for little kids, so we didn't make it very high off of the ground (the little one was never more than inches from the ground and the older one had to lift her legs up).  It was definitely a hit and thrilling enough for our little girls, though (and Daddy was always close by to hold the 3 year old and help her).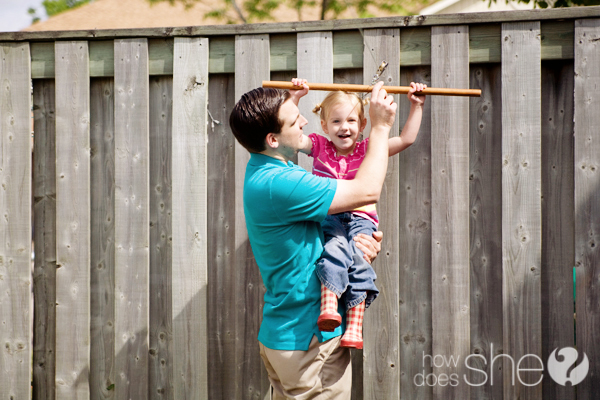 Oh, the fun that was had!  It really didn't take very long to make and it was so fun & easy!
This is her, "let's do it again!" face 🙂
Have you ever built something really fun for your yard?
Tell me about it in the comments, I'd love to hear your ideas!

P.S.  Come see what else we're up to at Raising Memories Blog!