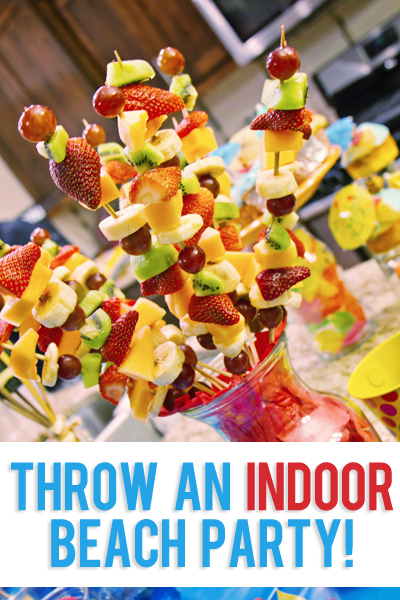 Come February, whether or not the groundhog sees his shadow, I start longing for summer;  for back-yard grilling, tangy lemonade, Bermuda shorts, popsicles, and the pool.   So, to beat the winter blues around here, we threw an indoor beach party!
Despite the 30 degree weather, guests were asked to wear complete summer attire from head to toe.  Captain's hats, sunglasses, tie-dyed shirts, swim trunks, and Hawaiian maxi dresses were a welcome change from drab winter colors.  And the kids absolutely loved wearing their swimsuits!
The sign on the door said, "No shoes, No shirt, No Problem!" and as guests arrived, they each got a lei.  The Beach Boys were bopping and you couldn't help but dance.  The furniture in the living room was pushed back to accommodate beach towels, umbrellas, and an inflatable pool filled with plastic balls for the kids to "swim" in.  We had mouth-watering "summer" food, games, and just had a great time pretending like it was summer.  If you've been feeling the winter blues, or are just in need of a good party, try throwing your own indoor beach party!
The Decor:
It's hard to find summer paraphernalia in the middle of winter, so I checked out Oriental Trading where they have a great Luau selection, and scored table-runners, grass skirts to go around the tables, tiki torches, and leis.  I also picked up a beach ball, sand buckets, and pinwheels at Walmart.  The inflatable pool was left from last summer, as were the beach towels, and umbrellas, so I suggest getting out all of your summer storage and using what you can.
Decorations list:
Oriental Trading decor found here
Beach towels
Beach balls
Beach umbrellas
Homemade signs that said, "No shoes, no shirt, no problem!" and "Reserved for…"
Beach Boys CD playing for ambiance
Swimming pool filled with plastic balls
A Hawaiian lei for each guest
Sand buckets and shovels
The Food:
Nothing beats the flavor of the grill, and why should you miss out just because it's winter?    Pull out all of your favorite summer recipes and get grillin'!  Our Indoor Beach Party menu consisted of:
Grilled beef and chicken kebabs with red and green peppers, onions, mushrooms, and pineapple.  I used this delish recipe.
Fruit kebabs with pineapple, grapes, kiwi, cantaloupe, and bananas.
Chips and salsa (I placed the chips in a sand bucket.)
Homemade Lemonade: this is my favorite "perfect" lemonade recipe.  Never fails and so simple!
Popsicles (Most grocery stores sell them all year long. I also placed these in a sand bucket.)
Strawberry Spinach Salad from here, an ultimate summer fave!
Ocean Jello (you can find a lot of variations on the Internet, I used blue raspberry jello, Swedish fish, and gummy sharks in a clear cup. The umbrellas I found at the grocery store in the margarita mix section.)
Beach cupcakes: Use cupcake and icing recipe of your choice. Add blue food coloring to the icing.  Roll half of the cupcake in graham cracker crumbs to look like sand.  Add a margarita umbrella and a candy beach towel (I used "Rips" sour candy strips found in the candy aisle, but Fruit By the Foot or fruit roll-ups would work great too).  You can use Teddy Grahams to look like surfers, swimmers, or beach bums.
The Games:
Hula hoop contest
The limbo
Silent beach ball volleyball-  players sit in a circle and must be silent while the ball is passed back and forth to random players.  You can pass it volleyball style or just throw it.  If a player laughs, talks, or drops a catch-able pass, they are out.  The goal is to be the last one standing/sitting.
Fishing- for kids, or adults too if you like.  Get a long stick and string to resemble a fishing pole.  You can stick a magnet on the end of the string and have kids try to snag laminated fish with paper clips on them, or you can put a clothes pin on the end of the string and have them fish for prizes.
G-Rated Spin the Bottle-  this was a childhood favorite in our family.  Everyone writes down a sort of "Dare" on a slip of paper, folds it up, and puts it in a canning jar or other type of bottle.  Some of our dares look like, "Stand barefoot in the snow for 1 full minute" or "Drink a tablespoon of Dad's special concoction (usually a pretty nasty combination of pantry and fridge items!)."  Players sit in a circle.  With a lid on the bottle, spin the bottle and whoever it points to, that person opens the bottle and picks a paper.  They must complete the dare!
If you just can't get to the beach, bring the beach life to your own home.  An indoor beach party is guaranteed to bring those "Good, good, good, good vibrations."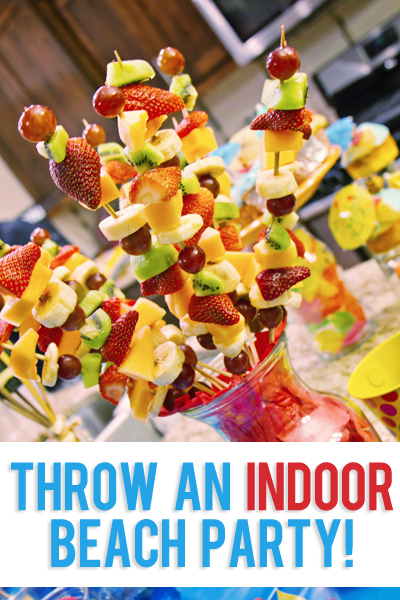 And if you want to add some "free" to your party, check out these "Fun in the Sun" FREE Summer Printables! These will add the perfect touch to your beach-themed party!