**This post is sponsored by Carter's and Collective Voice. All opinions are my own.**

My heart breaks just a little each August as 5/6 of my children pack up their little (or not so little) backpacks and hit the early road back to school. This year is particularly tear jerking as my oldest starts high school! As cliche as it sounds, time really does go fast!

One of our favorite back to school traditions is shopping for those confident boosting "first day" outfits. I still remember in middle school, calling my BFF to find out what she was wearing that epic first day and swapping notes. Now, several of my tweens are doing the same. My littles are more concerned about how fast their new shoes will make them run!

One place we've shopped through the years, from newborn to middle school, is Carter's. It's just a place I know I can go and get DARLING, age-appropriate styles, fantastic quality and of course, budget friendly options. Did you know that Carter's carries up to size 14? That covers most of the sizes we need in this house!

I'm so excited to show you a few things we got to get us ready for back to school! I let my 7 year old pick out her own outfits entirely by herself and she did AWESOME.
Now, the struggle will be WHICH do we wear the first day?




It's still hot when school starts, but I want them to get a little bit of longevity of wear so, I like to find items that will transition well into Fall.
This romper is just that! Wear it alone for now, and layer into the Fall with a denim jacket or a cardigan.

I love the bright floral print and the lighter weight, crinkly jersey fabric. It's comfy, but still "nice" for school. In fact, my daughter said it's as comfy as her pajamas! I don't know about you, but any clothes that look good and feel like PJ's are pretty much my dream!

You have to note all the pretty details too. From the cinched waist to the tied collar, it's all fantastic quality.




We also snagged this sporty outfit.
My daughter's style, as deemed by her, "sporty but cute". I love that because it's totally HER.
She's a spicy one out on the field or the court and won't back down to some friendly competition; hence, her clothing has to have her ready for anything!
She picked out this combo by herself and I'm here for it!

This athleisure combo is "her favorite outfit" because she can really move in it.
These dream "soft sport" shorts are so comfy and fit so perfectly true to size.
The top is a comfy active top. I love the ties at the bottom hem that add a nice touch.
This one will take them from school to practice without missing a beat!

Finally, she chose this darling Fall combo.



It's fun to see a NON skinny jean back in style for all sizes, and I was surprised she was immediately drawn to them.
I guess even the little ones are craving some leg breathing room!
These are actually pull-on style, and I was pleasantly surprised to see they fit true to size, and actually STAY on. We've had issues with other brands of pull on pants just slowing creeping down, but these didn't do that.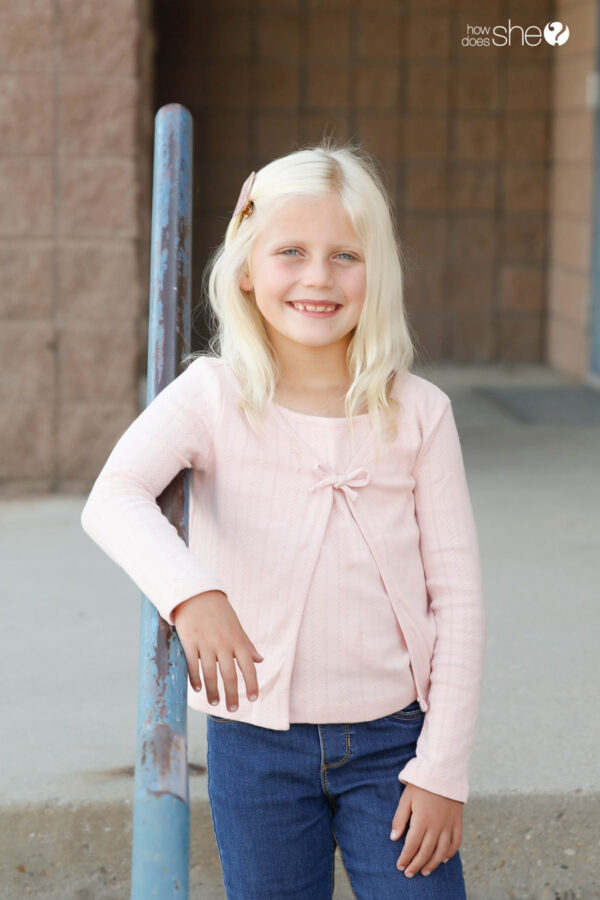 This top is actually 2 in 1! It comes with a spaghetti strap camisole style eyelet tank top, and is layered with a matching cardigan.
This is another fantastic piece for transitioning to Fall. It comes in cream too and I feel like it would pair well with just about anything from jeans to a skirt!



Now onto little brother.
He'll be starting preschool soon and he's the last of the 6 blonde kids! (My youngest starts preschool as my oldest starts high school. Not sure how I got here.)
P.S.: A little behind the scenes secret: These photos took A LOT of candy bribery.
I wanted to find him clothing that would work for church or school and I found just that!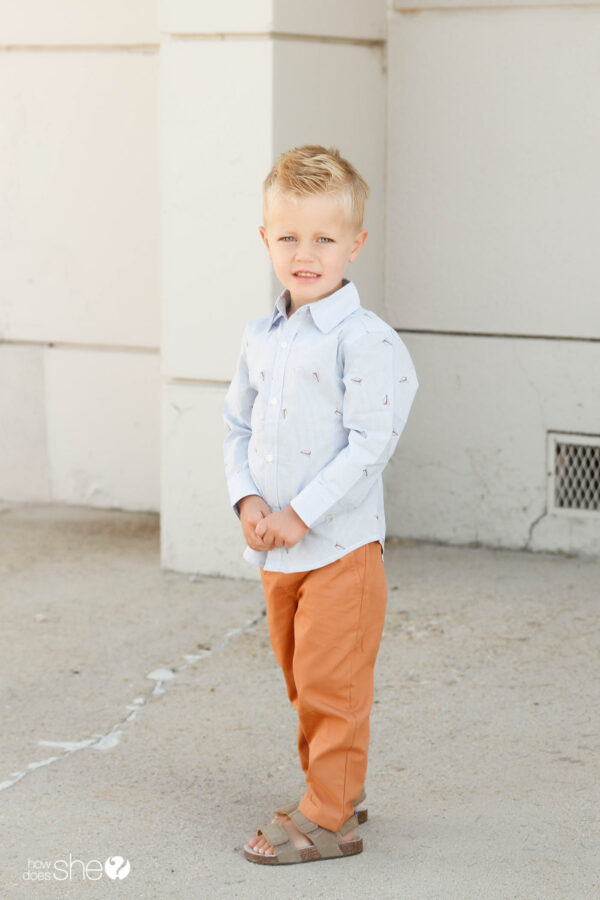 I mean, can you even?
This set caught my eye because wait till you see the darling print on the shirt.



PAPER AIRPLANES!
Stop it right now. So cute, right?
They coordinate perfectly with the color of the pants!
This is a "nicer" outfit, but still movement friendly. These pants are pull on style, so he doesn't have to worry about annoying buttons or zippers on those solo potty break.

We're ALL happy about that!




I'm a sucker for a classic polo and short.
I'm not an East Coaster, but I feel like this little guy looks he's ready for a day in the Hamptons. 🙂




These jersey polos are SO soft and wash well.
They're a classic option that will NEVER go out of style.




And I'm a HUGE fan of these flat front shorts because they look SO nice.
Great for a little guy that runs wild, but wants to look like he has it altogether!


---
We loved shopping at Carter's for all our back to school clothing.
It's always a pleasant experience because the kids find things they like, at prices and quality mom likes!


Bring it on school. We got this!