We all know just how powerful words are. That's why we protect children from profanity, verbal bullies, & content above his or her understanding. But have you ever noticed the labels you use when referring to your children? Have you considered the mental effects they can have? When a child is told something, it is pretty likely that they will believe it. And if they believe it, it is pretty likely that they will become it. That's why it's so important to learn how to reframe a negative label into a positive affirmation.
My youngest son is a spirited little guy. And for a while, during his terrible two's I referred to him as "hard". I didn't realize what I was saying. More importantly, I didn't realize what I was doing to him. Not until he came to me just a few months after his third birthday & said, "Mommy,why am always I so hard?" I was instantly overcome with guilt at the realization of what my poor verbal control & short-sighted word choice had meant for my sweet son.
What you say becomes your child's inner voice.
The words you use will be repeated in your child's mind more times than you will ever know. What you call him has the power to become what he will call himself. Wow. That's a heavy parental burden to bare.
It's almost natural to call a child lazy when she asks to watch yet another tv show, or rude when he says how disgusting dinner was, or moody when she throws her seventh tantrum of the day. But unless you want your child to become lazy, rude, or moody, you need to think twice & make sure you restrict & reframe your words to portray not just the person your child is but the person you want her to become.
We've all heard how we should phrase negative behavior as situational and not an inherent quality. The same idea applies here. It's ok to say, you are behaving lazy, or rude, or moody. But try your very best not to assign a negative put down to your child, rather come up with a positive affirmation. Every one of us has a unique personality, and when encouraged & affirmed even the worst traits can be strengthened positively.  Remember, everything you say counts.

Often, what is seen as a difficult characteristic becomes a good personality trait in the long term.
Reframing is one of the most powerful tools a parent can have in their verbal arsenal. Putting a positive twist on a seemingly negative behavior can literally change everything. If you tell a child that they are whiny, well, don't be surprised when you get to listen to that whine day & night. But if you really consider the root of the whining, you may discover an underlying trait leading to the behavior. And chances are, that trait is one you want to encourage. Whining can often be the result of persistence, endurance, & tenacity. Hello, positive affirmation! While we should never condone a negative behavior we definitely should not mislabel a bad behavior as a bad personality trait. Correct the whining behavior, discipline if you must. Just be sure to remind your child of their awesome persistence afterward.
I've included a cheat sheet to help jump start your new mindset: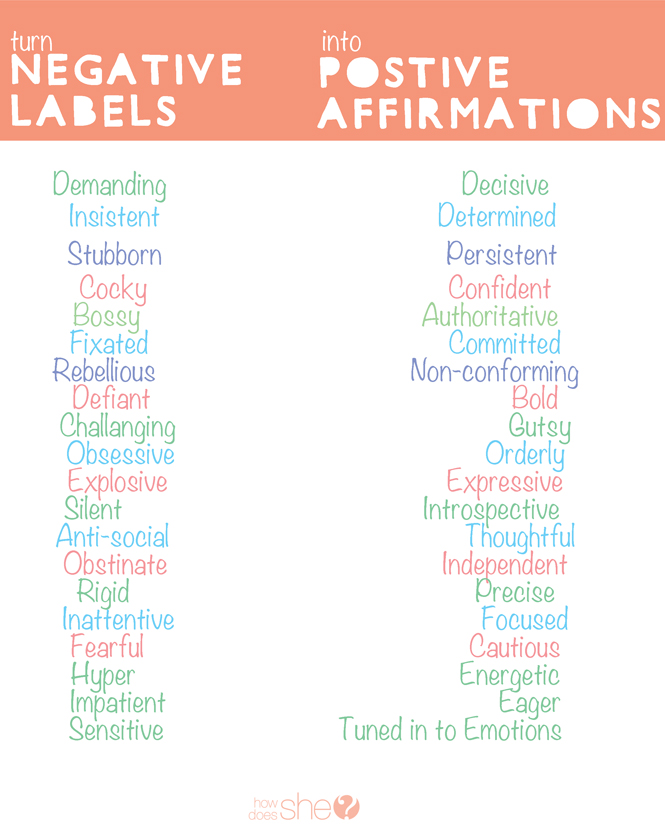 You get the idea. Once you can identify the positive foundation to your child's difficult traits, then you are able to help him gain control, grow, & become even better. And isn't that the whole goal of parenting? The moral of the story: don't give your child a label that you don't want them to fully live up to.
For even more parenting inspiration, we know you'll love these ideas we've shared: