Life isn't easy, is it? It is filled with ups and downs, times of peace and joy, and times of turmoil and strife. While these difficult times are wonderful tools for growth and progression, they can certainly be wearisome and hard on us emotionally. Sometimes we need a little boost – a reminder that we are loved, needed, and surrounded by strength and encouragement.
 Four years ago, we experienced possibly the most difficult year of our lives – in every way. Out of a difficult time came an inspired idea that changed my husband's life and perspective… a lot. This idea was so simple, but had a profound effect. Isn't it great when that happens? This idea was… the Box Of Love!
To read the whole story about how this idea came to be, you can pop by the Time Out For Women blog, where I am sharing the story. I really encourage you to take a moment to click over and visit Time Out For Women (TOFW). The TOFW blog has been a source of encouragement and inspiration, for me and thousands of other women, for a long time and I am thrilled to be sharing a piece of me with them. You will read about what I include in the box, and who I love to get involved in the process!
But for today,  I want to share a variation on the original Box Of Love idea, that I used for my daughter's baptism! Here is a little peek: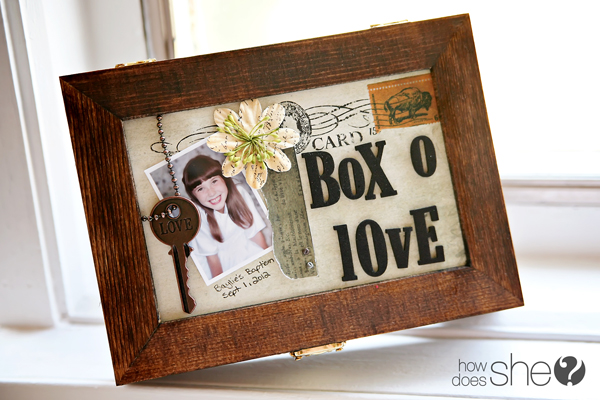 I used some basic supplies (remember, the most meaningful gifts do not need to break the bank!):
I bought a simple wooden box from the dollar store (these can also be found at Michaels and other craft supply stores). I also bought a small can of wood stain (it cost about $4 at Wal-mart, and there is enough left to make several projects!), some letter stickers, and other crafting supplies that I had sitting around the house. The version I am sharing on TOFW uses a different decorating technique that adds even more meaning!
After decorating the box, you can print out these free "Why I Love You" cards, which are made to fit inside a 4″X6″ box, like this one is.
We had the box sitting out on a table at her baptism, and while she was changing we asked all of the guests to fill out a card with a simple note of love and encouragement that she could keep as a memento from her baptism! Everyone was thrilled to do it, and the messages they shared were so special.
Baylie loved reading them – she could hardly wait to get home before opening her special box and reading the notes. Some were simple testimonies, others were words of advice, and others still were expressions of love and encouragement. She was giddy and the joy she felt while reading these notes was evident in the smile on her face.
This gift idea will work for so many other occasions, as well. Think of Christmas, birthdays, weddings, anniversaries, graduations, baptisms, etc! The list goes on.
Pop by Time Out For Women, to read about what inspired this idea and how it changed my husband's life! It can be a positive change for someone in your life, too!
If you aren't the "arts and crafts" type, check out how to create a "Box of Love" Memory Keeper box  through Paper Coterie, like Shelley did for an Anniversary gift!