We all know the air fryer is like, the hottest new kitchen gadget to come about since, well…maybe the Instant Pot. It's like the sexy, snazzy new way to eat fried food–get the crunch without paying for it in crunches. Your air fryer can crisp up classics like chicken strips, egg rolls, even Brussel sprouts. But did you know it could do eggs too? Here are some air fryer egg recipes that will change your breakfast (or lunch, or dinner) for the better!
8 Air Fryer Egg Recipes To Get Eggcited About
1. Eggs in a Basket
Just like that Cracker Barrel comfort classic, all in your air fryer, all at home.
This yummy dish features toast with a perfectly cooked egg right smack dab in the middle. Just preheat your air fryer to 330 degrees, line it with parchment paper, and cut a cookie-cutter sized hole in a piece of bread. Place the bread directly onto the parchment paper, crack your egg and drop it in the hole, sprinkle with salt and pepper and then cook for 4 minutes on each side, flipping once. (8 min total) Delish!
Find a great eggs in a basket recipe here.
2. Scrambled Eggs
Did you know you could make scrambled eggs in your air fryer? It's easy!
Preheat your air fryer to 350 degrees. Spray an air fryer-safe glass bowl with cooking spray. Combine eggs, a little milk or cream, and salt and pepper. (We like to add a little cheese!) Pour into the glass bowl and place the bowl directly into the air fryer cooking space. Cook for 10 minutes, stirring every few minutes until your desired doneness is reached.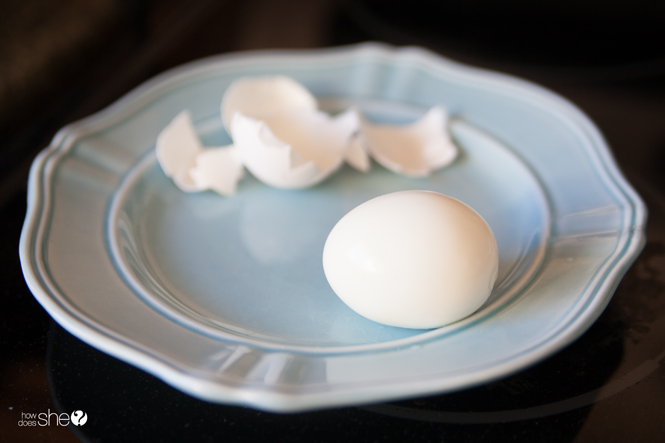 3. Easy Hard Boiled Eggs
The very term hard "boiled" insinuates that that's the only way to gett'r done, but that's not the case. You can indeed get gorgeous hard boiled eggs from your air fryer and here's how.
I've used this Food Network recipe before and it works like a charm. Preheat to 270 degrees, cook for 15 minutes, and I did find that putting them directly into ice cold water afterward prevented them from overtaking and getting that unappetizing gray ring around the yolk.
4. Baked Potato and Egg
My husband thinks it's crazy to add eggs to anything other than a breakfast, but I'd take an egg on pretty much anything! You can easily turn this yummy baked potato and egg recipe into an air fryer egg recipe by first preheating your air fryer to 400 degrees. Next, spread the potatoes with a little olive oil and salt. (This will give you those nice crispy potato skins!) Bake for 35-40 minutes, turning over halfway through.
Once your potatoes are baked through, follow the steps in this video and bake for 5-6 minutes longer to cook the egg. Now that's an easy weeknight meal!
5. Air Fryer Omelett
There's nothing better on a Saturday morning than a hearty omelet packed with veggies, protein, and cheesy goodness. And now that you have your snazzy new air fryer, it's time to test out omelets.
It's super easy actually, and when you use a glass baking dish sprayed with cooking spray–it's a very clean way to make omelets.
Mix eggs and milk or cream like usual. Sprinkle with salt and pepper and add desired toppings, like green peppers, sausage, onions, and cheese. Bake for 8-10 minutes at 350 degrees and you can walk away and have breakfast ready in a jiffy.
6. Poached Eggs in the Air Fryer
I've only attempted poached eggs once before, and they were so tricky with all their perfect swirling in steaming water that I haven't tried since. There must be an easier way.
Poached eggs in the air fryer seem like a spectacular idea, especially if you love eggs Benedict or perfectly poached eggs on your burgers or artisan salads (yum!).
Try this recipe.
7. Air Fryer Egg Cups
Egg cups are great to take as a breakfast on-the-go and we've packed them for early morning road trips before because they keep great in a cooler. Make up a batch of these (make sure you use silicone muffin cups) to have on hand for a quick breakfast.
8. Keto Avocado Baked Eggs
Love avocados? Love eggs? Why not marry the two in this delicious air fryer concoction called avocado baked eggs. Doesn't it look delicious?
If you need me, I'll be trying out all these air fryer egg recipes.