Easter is coming and if you're tired of the same old colored eggs, here are 50 fabulous ideas to take those eggs from "meh" to eggcellent!
Creative Uses for Easter Eggs
1. Easter Egg caterpillars and Easter Egg matching game
2. Who knew you could mail plastic Easter Eggs?
3. Be cool and grow your own Easter grass!
4.  Too much candy?  Try these 40 non-candy Easter Egg fillers.
5. Paint swatches + string = a perfect Easter Egg garland
6.  Turn eggs into musical shakers.
7.  Tell the Easter story with this special egg countdown.
8. Use onion skins to create beautiful, sophisticated eggs.
9.  Yummy homemade chocolate eggs and mousse for Easter dessert
11. The best potato salad recipe we've ever had!  (perfect use for all those hard boiled eggs)
And more…
Favorites from our Pinterest Easter Board
18 Ways to decorate Easter Eggs you may not have thought of before.
Chalkboard eggs…brilliant!
These pretty eggs use creative supplies like washi tape, temporary tattoos, scrapbook supplies, markers, and feathers!
Egg-shaped chocolate fudge candies
Oh, yum.  I want these now!  Luckily, all the ingredients are right in my pantry.
Make your family in Easter Eggs
Dad, mom, brother, sister–they're all there in you egg family!
Yummy jello Easter eggs here or here.
Always and forever, a classic.
Lovely Martha Stewart glittered eggs
Take it up a notch with a little glitz and glam.
Kids will love you forever!  Do it for your own kids, grandkids, nieces, nephews, playdates, or preschool.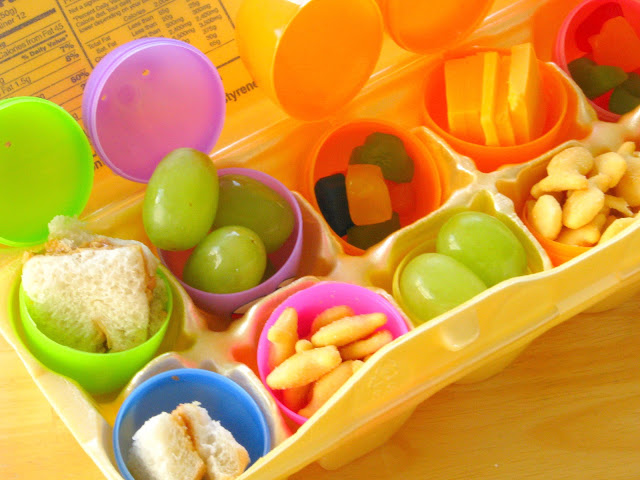 No need to cool your eggs with this nifty trick that melts crayons right onto the egg!
And you can find even more fabulous Easter ideas, including treats, decor, and menu ideas here on our Pinterest Easter Board!