The weekend is here and it's time to get ready for date night with your special someone!  What better way to change your  look than by adding long thick eyelashes to your daily makeup routine? It will keep you batting your eyes and flirting with your honey all day long!
We not only have ONE but THREE lovely How Does She ladies putting THREE different methods to the test and showing you how to achieve longer and more dramatic eyelashes!
#1 False Eyelashes
Not only are these affordable but they take less than 10 minutes to apply!
First thing is first! Head to your local drugstore and buy a 5 dollar pair of eyelashes. You can spend a lot of money on expensive brands but I have found that I love the cheaper lashes just as much! There are so many different styles to choose from- from crazy double thick lashes to simple every day lashes. I recommend getting  a few to see what you like best.  I also recommend buying some eyelash glue which is also very inexpensive.
Apply your eye makeup as you usually do. It is not reccomended to do your eyeshadow after you put your lashes on because it it can get stuck in the lashes and they may not last as long. You should get a good 5-6 uses out of your lashes!
Once your makeup is on then…
1. Peel the lashes of carefully.
2. Measure them to your eye and cut off any additional lash.
3. Apply glue to a flat surface for easy application- I like to use my tweezers.
4. Dab a thin and even layer to the lash. Make sure to get the corners really good because they are the first to lift up.
5. Let the glue sit for at least 30 seconds while it gets tacky.
6. During this time I like to bend my lashes a bit to make them easier to apply.
Sometimes I give it a little blow as I wait for it to get tacky. I am not sure if that makes a difference- but I like to think so. 🙂
Then when it seems ready- I start by putting the middle of the lash across the lash line. Some people like to use tweezers to put it on- but I prefer my fingertips. Also, don't be alarmed if you see white glue- it dries clear!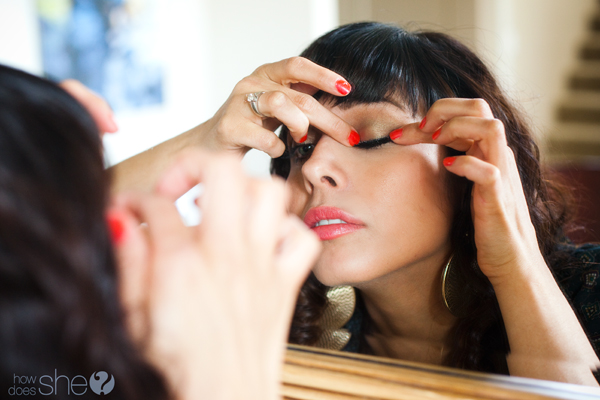 I like to press it down and make sure that every part of the lash (especially the ends) are touching the skin.
Then, I blend the lash line with some eyeliner or  by dabbing black eyeshadow on the edge of the lashes…and
then there you go! Like magic- you have just created a dramatic look without too much fuss!
#2 Eyelash Extensions
There are some definite pros and cons to extensions.
Pros:
They look naturally fuller and longer than any other method
They are water-resistant so no smeared mascara ever
No need to remove mascara at night!
They are easy, you wake up looking like you have already applied your makeup!
Cons:
Cost anywhere from $75 -$400
Fall out with your natural lash cycle which can be as early as 2-3 weeks.
They must stay dray for at least the first 48 hours
Initially takes about 2 hours to put on
The process is quite amazing. With two tweezers she glues a fake eyelash to each of your own individual eyelashes.
Now for some before and afters! Missy had these put on so you could see the difference.
Before
After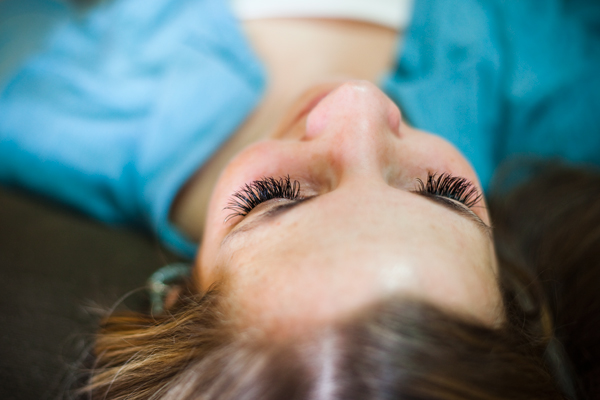 And one more for fun.
#3 Magic
Last but not least we have Shelley who recently fell in love with LiLash. What is LiLash? It's basically magic in a bottle. LiLash is a purified eyelash serum that is applied like eyeliner. Within a few short weeks, magic happens. Shelley's eyelashes went from…
to this…
and one more time…
Yes those are her real eyelashes.  LiLash is a physician formulated serum that is applied daily until you are satisfied with your lashes. Then you apply it twice a week to maintain their look.  Shelley's lashes took about six weeks to achieve.
LiLash is physician formulated, but requires no perscription. LiLash is a little spendy ($140), but one bottle lasts about 6 months. Not too shabby! After Shelley's new found lashes, she sent a little "FAN MAIL" to LiLash, to see if we could get an exclusive discount for our readers. They delivered. LiLash is offering 10% off, plus free shipping using code: HOWDOESSHE.  Best part, they have a 90 day money back guarantee. I love that it's RISK free. If you aren't satisfied with your lashes, get your money back. If you decide to Experience the magic of LiLash, I want to see some before and afters!
Three different ideas!
Now go and beautify your lashes and report to us on how it went!
For more makeup tips visit me at: www.trulymodlydeeply.com 
xo,

{We're linking up to these great parties}//