Why is homemade better?
I have become a bit of a salad dressing snob. I blame some of my best friends. They shared these 3 better than store-bought, homemade salad dressing recipes and I'm never going back! Why homemade? You mean besides the amazing flavor boost? I love knowing exactly what is going into my body and this really helps. Not only that, it's cheaper, my friends! I love how I can customize to my taste, as well. When you've made these a few times, you can start to play with the amounts of the different flavorings and find the combination that suits your taste buds to a T!
Making your own salad dressing is super easy, you guys. In fact, the process is the same with all three of these. Gather your ingredients and mix them together. That's it! In fact, I'm going to jump right into said ingredients right now:
Buttermilk Ranch Dressing:
Ingredients:
1/2 cup mayonnaise
1/2 cup sour cream
a 1/2 cup buttermilk
1/2 tsp onion powder
1 tsp dried chives or 1 Tbsp fresh chopped chives
1/2 tsp dried parsleuy
a 1/2 tsp garlic powder
1/2 tsp dried dill weed or 1/2 Tbsp fresh dill
Eggless Caesar Dressing:
Ingredients:
1/2 cup mayonnaise
1/4 cup extra virgin olive oil (EVOO)
3 Tbsp finely grated parmesan cheese
2 Tbsp ranch dressing (can use some of your fresh you made!)
1 Tbsp red wine vinegar
3 cloves garlic, minced
1 tsp lemon juice
1/2 tsp dry mustard powder
4 dashes worcestershire sauce
2 dashes tabasco sauce
Catalina Dressing:
Ingredients:
1/2 cup Vegetable Oil
1/2 cup EVOO
a 1/2 cup Red Wine Vinegar
1/2 tsp Worcestershire Sauce
1/2 cup Ketchup
a 1/2 cup granulated sugar
1 tsp paprika
1 tsp onion powder
salt and pepper, to taste
A couple of tips!
When making a dressing that involves sugar – try heating up the vinegar slightly in the microwave, then add the sugar to that and stir until the mixture becomes almost clear. That makes it nice and smooth and it works like a charm!
Also, while you can serve these babies right after mixing, I find that the flavors taste even better after sitting and infusing overnight.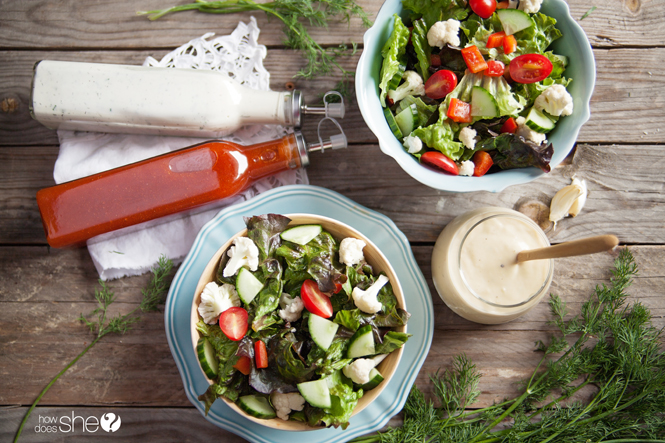 I hope you enjoy these family favorites and try your hand at making homemade salad dressing recipes! What's your family's go-to dressing recipe?
For each dressing recipe, mix all ingredients in a glass bowl and stir until well combined. Store in an airtight container in the fridge for up to 2 weeks.
For more homemade salad dressing tips and recipes, check out these other delicious options: