Spring is finally here! After a long winter, it's time to enjoy the warmer weather and get outside for some fun outdoor activities. Spending time outdoors is not only a great way to have fun, but it's also good for your mental health and can improve your overall well-being. In this post, we'll explore some of the best outdoor spring activities to help you make the most of this beautiful time of the year.
15 Fun Ways to Spend Time Outdoors in Spring
Take a nature walk
One of the best things about spring is the arrival of new season and signs of spring all around us. The fresh air, the different colors of spring flowers and green spaces all around can be breathtaking. Taking a nature walk is a perfect way to appreciate the beauty of the great outdoors. You can grab a nature journal to keep track of everything you see and hear along the way, or even try a nature scavenger hunt with the whole family.
Explore new trails
Spring is the perfect time to explore new hiking trails. Many local hiking trails that may have been closed for the winter are now open, and there are often new trails to discover. Make it a goal to visit a new trail each week, and challenge yourself to see how many you can explore by the end of the season. You can even pack a picnic and make it a day trip!
Ride your bike
Spring weather is great for bike rides! Take your bike out for a spin around your own backyard, or explore a local park or bike trail. Riding a bike is not only a great form of exercise, but it's also a fun activity that people of all ages can enjoy.
Plant a vegetable garden
Spring is the perfect time to start planting your own vegetable garden. You don't need a lot of space, just a small plot of land or even a few containers on your patio or balcony. You can start with easy-to-grow veggies like lettuce, spinach, or radishes, and then work your way up to more challenging crops like tomatoes and cucumbers. Not only will you have a fun activity to look forward to all season, but you'll also have fresh produce to enjoy. Planting and gardening are great ways to spend time outdoors in spring.
Spend a day at the farmer's market
The arrival of warmer temperatures also brings the opening of farmer's markets. This is the perfect place to spend a day with the whole family. You can enjoy fresh produce, homemade baked goods, and other delicious treats. You can even pick up a few things to take home and try your hand at cooking something new!
Create a mud kitchen
Kids love playing in the mud, and creating a mud kitchen is a perfect way to keep them entertained outdoors. With a few simple items like old pots and pans, a plastic bag, and some water, you can create a fun and messy play area that will keep them occupied for hours. Bonus points for making mud pies!
Have a nature scavenger hunt
Nature scavenger hunts are a fun way to get kids interested in the outdoors. Create a list of things to look for, like pine cones, flowers, and bugs. You can even add a competitive element by seeing who can find everything on the list first. Here's a fun city scavenger hunt we've done with the kids. You can get creative finding ways to spend time outdoors in spring.
Play outdoor games
Outdoor games like soccer, frisbee, and tag are a great way to have fun and get some exercise. You can play in your own backyard or head to a local park to enjoy some open field. You can even get creative with sidewalk chalk and make your own game board on the pavement. It might not be warm enough for a full-out water fight, but you can cut up sponges and have a sponge ball fight!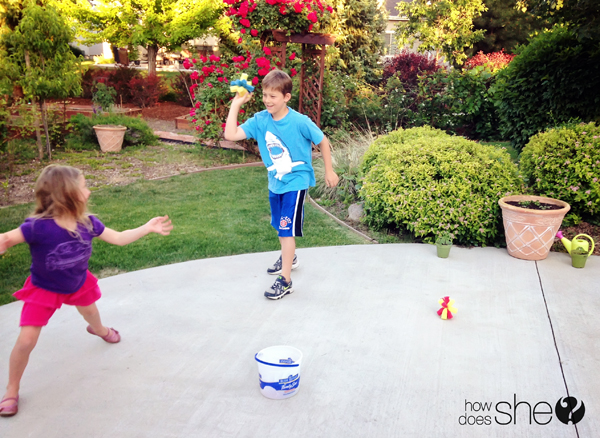 Build a DIY bird feeder
Building a bird feeder is a fun activity that can also attract a variety of beautiful birds to your yard. You can use items you already have on hand, like a plastic bottle or a cardboard tube, to create a simple feeder. Hang it from a tree or near a window where you can watch the birds come and go.
Visit a botanical garden
Spring is the perfect time to visit a botanical garden and enjoy the beauty of spring flowers in full bloom. Botanical gardens often have a variety of exhibits and events, so check their schedule and plan a visit. It's a perfect place for a date, or just to spend some quality time with a good book.
Go on a road trip
If you're up for a bigger adventure, spring is the perfect time for a road trip. Pack some sleeping bags and hit the road to explore a new state park or other beautiful destinations. You can enjoy scenic drives, hikes, and other outdoor activities along the way. Travel and exploration are perfect ways to spend time outdoors in spring.
Do some spring cleaning
Spring cleaning doesn't have to be a chore! Use it as an opportunity to get outside and enjoy the warm spring weather. Take on tasks like washing the windows or cleaning the garage, and you'll get the added benefit of fresh air and exercise.
Volunteer at an animal shelter
If you're an animal lover, consider volunteering at your local animal shelter. Many shelters are in need of helping hands, and you can spend some time outdoors playing with dogs or cats, walking dogs, and cleaning up their living spaces. It's a great way to give back and spend time with some furry friends.
Blow bubbles
Blowing bubbles is a simple activity that's always fun, no matter your age. It's a great way to enjoy some time outside in the sunshine and can even be a great stress reliever. You can make your own bubble solution or pick up some bubbles at your local store. Check out these amazing DIY bubble blowers you can make out of empty water bottles!
Go on a bug hunt
Kids love bugs, and going on a bug hunt is a great way to get them interested in the natural world. First apply some good bug spray then look for different types of bugs, count how many you find, and even make a bug house to keep them in.
There are so many fun ways to spend time outdoors in spring! Whether exploring new trails, playing outdoor games, or simply spending time in your backyard, you can enjoy the warmer weather and all the beauty that spring has to offer. Hey, you can even bring the karaoke machine outside and perform your own outdoor concert! So get some much-needed vitamin D and enjoy some quality time outdoors!