Thanks to QVC and Collective Voice for sponsoring this post. Lots of fun June deals!
If you survived May and all its madness, then June should be a breeze. Now that my kids are out of school and we can relax on regimens and structure a little bit (not to mention SLEEP IN!)…it's time to let the good times roll. For my family, that means making snow cones, jumping on the trampoline, and pool hopping to various friends' and neighborhood pools to stay cool. Speaking of cool, here are my favorite QVC deals for June to add to cart!
10 Fave QVC Deals for June
And here are a few goodies for new QVC shoppers to use to sweeten these deals even further:
New Customers: Use code SURPRISE for $10 off any order of $25 or more
Second-time Customers: Use code HELLO10 for $10 off any order of $25 or more
Now let's reveal this month's deals!
I had to start with the BEST first! If you have kids, grandkids, or are in charge of youth groups…THIS shaved ice machine is the greatest purchase you will ever make! I'm not kidding. We have this exact model and I thought my kids would only use it in the summer, but it gets major love all year round! Exceptional quality–near commercial quality I would say. It's easy to use (my kids can do it themselves) and the ice is finely shaved…not chunky.
Need extra shade in your back yard patio or pool area? Then this deal is for you! This LARGE sun shade sail gives off three times as much shade and is down from $65 to $39.99 through 6/11. So useful for outdoor entertaining!
Save big by ditching your regular shampoo and conditioner routine and adopting the WEN way. This luxury cleansing conditioner takes the place of shampoo and does both jobs exceptionally in one. And now is a great time to try it out with a QVC deal that's unbeatable! $69 for two jumbo-size bottles (reg. $84).
Summer smoothies are my jam in the summer and even my kids will make their own. Vitamix just cam out with a smaller, commercial-grade smoothie blender that is PERFECT for protein shakes and healthy summer treats. And QVC has them on MEGA DEAL the month of June for $179 (reg. $249).
Our family takes 2-3 camping trips a year and this NEW heated chair would be a game-changer. Snag it as a Father's Day gift he'll use year after year (and of course you'll reap the benefits too!). But HURRY, the promo price on this one ends 6/8!
If you've never tried ELEMIS Pro-Collagen Marine Cream products, you are in for the most luxurious treat. Incredibly moisturizing with a soft sea scent, you can just feel the difference. And my skin loves this day cream–it comes away dewy and glowing. Try out this travel set that's valued at over $318 for just $138 this month at QVC. What a bargain!
Bring the party to your nearest pool or hot tub this summer with the COOLEST floating speakers! These babies will instantly invite the vibe and the music floats where they do. A must if you have your own pool!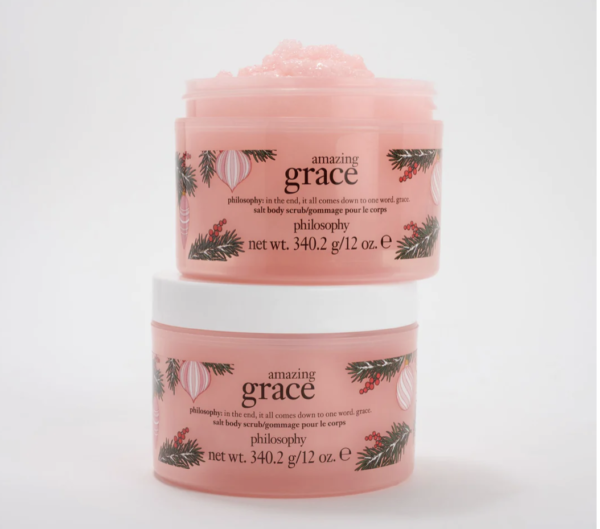 philosophy grace & love scrub & emulsion duo
Body scrubs are all the rage and the second I saw that philosophy had their own, I knew it would be incredible. And QVC is my very favorite place to buy philosophy products…they're always the JUMBO sizes and usually come in sets of TWO for the price you'd pay for one anywhere else. You literally can't beat that!
Don't mind the holiday shoutout…Forget the Filler glosses are INCREDIBLE year-round!! I will keep buying bottle after bottle of this glossy lippie whenever I run out because I love it that much. Makes my ordinarily flat lips look MUCH fuller and healthy. And since I don't love lipstick, the colors on this gloss are just enough extra color that look so beautiful without the overboard painted look. These three colors are personal favorites!
ELEMIS Pro-Collagen Cleansing Balm Spring Trio
Last but not least, I've heard a lot about cleansing balms and have been dying to try them. They're an oil-based "cleanser" that is supposed to be 2x more effective at removing makeup than other cleansers. This trio is on DEEP discount at QVC and you know the smells are going to be amazing. Totally worth a try!
So head to QVC where you'll find Today's Special Value (a daily deal that changes at midnight every day), and tons of other sizzling deals that bring the fun this summer!