This past December marked my husband's and my 12th wedding anniversary and we wanted to do something fun without blowing the bank on an extravagant vacation. We were looking for a cool city we hadn't been to before that we could easily visit in a weekend—a quick trip that felt exciting and new. After browsing a few options, Seattle stood out, like the city on the Puget Sound was calling.
My main frame of reference for the city came from the Saturday afternoons I'd spent as a 12-year-old watching Sleepless in Seattle on my grandma's sofa. The city and I deserved a real life encounter and I'll admit, I found myself looking for Tom Hanks in every Starbucks we passed there. After three days, I'd fallen fast for this city with spiring high-rises juxtaposed against haunting waterfront and the spine of the Olympic mountains resting in the background. Seattle is nature in the front and urban in the back and it's an amazing place to visit. When the fog rolls in off the water in the morning and vendors toss fresh fish from gloved hand to gloved hand at Pike Place Market, you realize just how special this city is.
 From restaurants to art to unique attractions, Seattle, Washington is a bucket list city and here are just a few of the cool things you can see and do there.
10 Cool Things To Do in Seattle on a Quick Trip
1. Pike Place Market
The iconic Pike Place Market is a labyrinth of shops and eateries that will take you on a scavenger hunt of the senses. You'll go up stairs and down stairs, around twists and turns as you allow yourself to get lost in the bustle and vitality of this gritty, charming outdoor market. 
We entered Pike Place Market on intentional empty stomachs with the plan to try anything and everything in our path. (*Tip: bring plenty of cash!) That path led first to fresh sushi, laid out like artwork and rolled right in front of our eyes. Next we walked a few paces and passed a man churning out homemade donuts dipped in cinnamon and sugar and had to say yes.
As we walked along, weaving inside and outside, wandering upstairs and downstairs, we passed subway artists sketching bowls of fruit and turning people into caricatures. At one booth I had to stop and pick up fresh bars of lavender soap and dip my hand into a barrel of dried lavender granules. The smells in Pike Place Market are constantly surprising—one moment you walk by fresh floral bouquets and the next, crab and fresh fish laying on beds of ice, their scales still shining. 
Pike Place Market is also home of the infamous gum wall, the original Starbucks, and Pike Place Chowder (named America's #1 chowder).
I tasted the most incredible chocolate dipped cheesecake bite that I've had in my life at a little hole in the wall called The Confectional. It's the cheesecake I now compare every other cheesecake to.  
2. The Space Needle
You simply can't go to Seattle without visiting the Space Needle. It's like going to grandma's house and not staying for the meatloaf. Built in 1962, the Space Needle was an architectural phenomenon and has lived to become the symbol of Seattle.
The Space Needle is 605 feet tall and admission inside gets you an unforgettable (and safely harrowing) glass elevator ride 520 feet to the top where you will get breathtaking views of the city.
3. Seattle Center
Seattle Center is a 74-acre art and cultural center built originally for the 1962 World's Fair. Today it houses the Space Needle, the Bill & Melinda Gates Foundation Visitor's Center, Chuhily Garden and Glass (an exotically colored garden made of blown glass), restaurants, a skate park, and much, much more. 
It's a great place to spend an afternoon.
4. Ped around the city
One of the best ways to see a city, in my opinion, is to walk, bike, or moped it. Rather than catch an Uber, we walked the majority of the city that was in reasonable walking distance. And Seattle has so many cool things to see that you would quickly pass by on via car.
Get some exercise and visit Pioneer Square (Seattle's original downtown where you can take cool underground tours of the city's first buildings), Belltown district (4th and Blanchard) and the giant popsicle sculpture, and many of Seattle's top attractions.
(P.S. We visited Seattle in December and the weather was fair and in the low 50s.)
5. Visit the Fremont Troll
You've heard fables about the troll under the bridge when you were a child, but Seattle actually does have a troll living under its Aurora bridge. The Fremont troll is a commanding stone sculpture with an eery, shiny hubcap for an eye. The hubcap comes from the Volkswagen Beetle the troll is crushing under his left hand. And yep, it's an actual VW Beetle. 
The sculpture was built in 1990 and you are welcome to pose with the Fremont troll as long as you are respectful to him and his belongings.
6. Eats and Sweets
One of my favorite things to do on vacation is eat, especially when there are so many unique eateries and local cuisines. My number one rule on vacation: never eat at a chain restaurant. We relied on Yelp and local recommendations to choose from the many eats and sweets in Seattle, and there are a ton!
Some of our favorites were right there in Pike Place Market. For authentic West Coast chowder, Pike Place Chowder tops the list on both Trip Advisor and Yelp. 
You can also check out favorites in Downtown Seattle, Belltown, and Chinatown-International District. To satisfy your sweet tooth, check out Seattle's local donut destinations.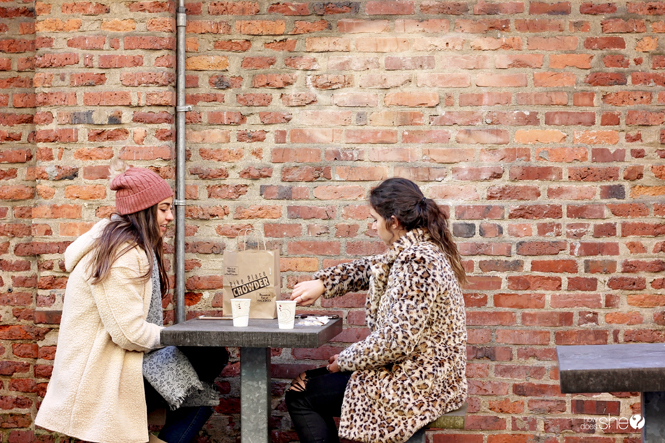 7. Olympic Sculpture Park
If you're looking for something free to do in Seattle, the Olympic Sculpture Park is an excellent option. It's an extension of the Seattle Art Museum and is open to the public. This free park is only a mile from the waterfront and makes for a great stroll.
8. Attend a concert or professional sporting event.
Seattle has two major professional teams with venues right in the heart of city.
Grab some peanuts and cracker jacks and catch a Seattle Mariners game at Safeco Field or vie for insanely coveted Seattle Seahawks tickets at CenturyLink Field.
My husband and I took in a Jay-Z concert at Key Arena right in the heart of Seattle and central to Seattle's exciting night life.
9. Take a Washington State Ferry.
This one we did not get to, but it's at the top of my list for next time. The quintessential Seattle trip always includes a ferry ride across the glassy Puget Sound. You can take a Washington State Ferry across the sound to nearby Bainbridge Island where trailheads and mountain picnics await.
10. Take a spin on the Seattle Great Wheel.
When you're atop the Space Needle, looking down on the Seattle city skyline, you'll notice Seattle's Great Wheel, a giant Ferris wheel that's 175 feet tall with climate controlled and enclosed gondolas. It's great for a romantic spin or a memorable ride with the kids.
 Visiting Seattle was a breath of fresh ocean air from a city that's on the cusp of nature and metropolis. And although we didn't get to even half of the things there are to do, that's just more the reason to go back.