Thanksgiving is a time for recognizing blessings, sharing gratitude, and spending time with people you love the most. It can also be a valuable time to teach your children how to be thankful. We talk about it, but sometimes showing it can be way more impactful. Here are some great thankful activities to bring a spirit of gratitude into your home this holiday season.
This is a great list of service projects, practices, and activities that you can do in your families or with youth groups to help make the holiday special!
Thankful Activities to do this Thanksgiving Season
Service Projects for the Whole Family
Volunteer at a local soup kitchen or food bank. This is an easy way to give back to the community and help those in need. It's a good way to get older kids involved in service projects that are hands-on. Most shelters will have you serve food or clean up. Food banks will have you organize or pack up boxes to be distributed.
Collect donations for a local food pantry or homeless shelter. Talk with your neighbors and have them donate canned and packaged food that they don't plan on using. This is one of the best ways to get lots of people involved in something without taking too much time or money away from your neighbors. Growing up there was a family that would do a service project like this in our neighborhood each year and they became known for it!
Rake leaves for elderly neighbors or those who can't do it themselves. Start a new family tradition of raking leaves and taking a treat to the elderly people in your neighborhood. This is an easy way to get the whole family involved.
Get out and do:
Make and write Thanksgiving cards for religious leaders, teachers, first responders, community service members, or veterans. Who wouldn't love a handwritten note expressing gratitude for the service they have given?
Help decorate your school or community center and hand-make the decor. You could go and offer to decorate a classroom at your child's school or the senior center in your local area. It could be as simple as a poster or garland that you make with your kids!
Organize a Thanksgiving service project at your church or place of worship. Do service on your local church building if it needs repairs, offer to help drive elderly members to the church, or help clean up the chapel after a service.
Gift thanksgiving dinner for someone in need. When I was a kid we had someone gift us a box filled with thanksgiving dinner ingredients when we kids and my parents were struggling financially. I will remember this my whole life. So look outside your family and see if there is someone that could use some ingredients or a turkey this year!
At Home Thankful Practices
Start a thankful tree in your home. All you need is construction paper, tape, scissors, and markers. Cut out a tree trunk and paper leaves. Have people write things down as they pass by each day during the month of November. Grow your gratitude tree even more by having friends add to it as they stop by your home throughout the month. This is a great way to physically see how much there is in your life to be thankful for.
Invite your kids' friends to the dinner table on weeknights and show your gratitude for their friendship. Last year we started doing this, and it was a fun way to get to know who my kids were spending time with a little better.
If you have younger children get them involved in a simple service project like making treats and dropping them at a neighbor's. Try our delicious pumpkin roll recipe if you need an idea!
Practice an attitude of gratitude. Establish this for yourself and/or your family this November. Try and spend time doing this daily practice of listing a few things that impacted your day for good, and what makes you grateful for today.
Start a gratitude journal or gratitude jar. Start writing even just one thing you are grateful for each day. You'll be amazed how fast this list grows and its a cool way to look back on the past year.
Start doing simple things for those around you – think of meaningful ways that person positively impacted you today. Or express something that they did that you're grateful for by leaving them a note.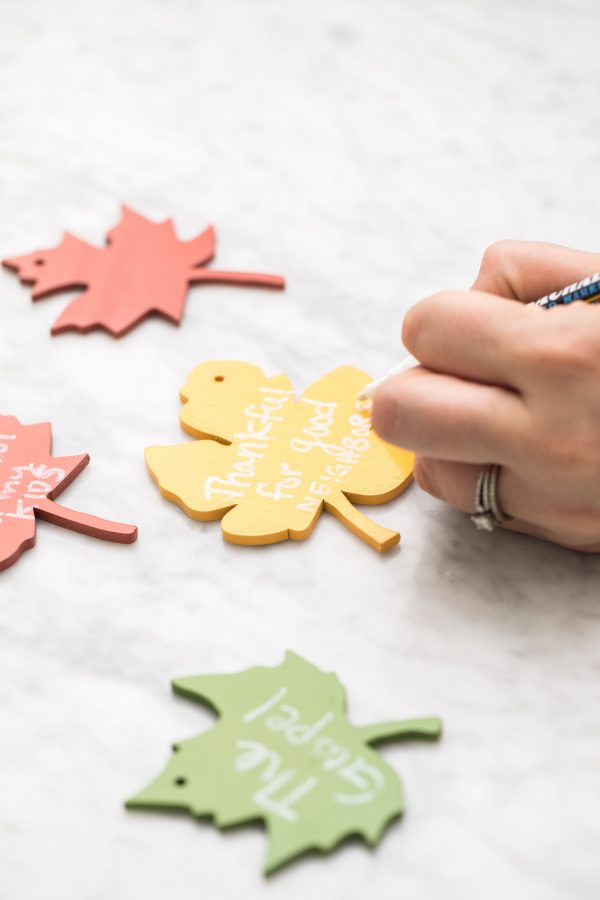 Fun Activities
Make a simple craft. Have them work on these easy thanksgiving crafts. This is a great activity to keep little hands busy during the fall season, plus it makes for great decor in their rooms!
When your family gathers this thanksgiving, invite other people that may not have family near on Thanksgiving Day. We have this older neighbor that never got married that we've invited to thanksgiving dinner before. This is a great way to get to know someone new.
Make these fun thanksgiving themed treats. My young kids love cooking, so this is a fun activity to do with them.
This is the perfect time of year to work on being more thankful for the life that you have and seeking the positive. What are some of your favorite things to do during the Thanksgiving season? Share them with us in the comments below! These are just a few ideas but there are endless possibilities when it comes to meaningful thanksgiving activities.