Stories are a POWERFUL tool in connecting and understanding our children. Not to mention, they are fun and interactive.
 Kill summer time boredom by playing a game that I like to call "Story in a Bag."  It is a game that I use as an assessment tool  in my therapy work with children that can easily be modified and played at home or while in the car on a long family vacation! First thing you need is a bag. Any bag. You can see how I made my own
here.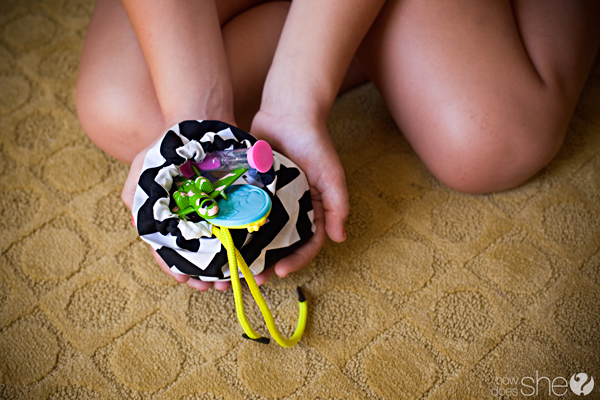 Then, you need to fill the bag up with random images or objects like this:
Here's how you play:
1. Choose who goes first and have them  take out 3 to 5 items (no peeking) out of a bag full of random objects or images.
2. Have them come up with a story that is completely made up on the spot. The story must have a beginning, middle, and an end.
3. After they are done with the story- have them tell you what the moral or lesson of their story. There is no wrong or right answer to this.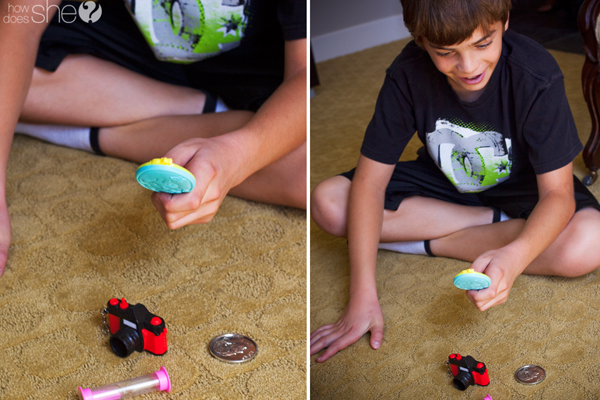 It is fun to see what everyone comes up with and how they find a way to incorporate all the objects and end their individual story.
If your kids give you a blank stare when you tell them about the game, then volunteer to go first. Here is an example of a story that I  literally  made up right now while writing out this post using the four objects seen in the photos above.
"Once upon a time there was a magical princess who was given the challenge of finding a special blue and yellow mirror that would guide her to the ancient lost camera. This camera was really important to the kingdom because it held important records of their history and people that were once lost. The princess was worried because she was only given a certain amount of time before the time ran out and the camera would be destroyed forever…"  and so on and so forth. Then I could end the story and say what I thought the moral of the story could be. An example of a moral could be- if you are persistent and listen to guidance you can have positive results. Pretty easy right?
Sharing and listening to stories will:
-Provide us with information about how your child may view their world, and their place
-Provide us with a way to model positive thoughts, feelings, and behaviors
-Help communicate with them at their level
-Build relationships
-Promotes creativity
If you are interested in knowing more about using stories for more of an assessment tool in understanding your child- I will be explaining more here on my blog weedstowishes.com this week!
xo