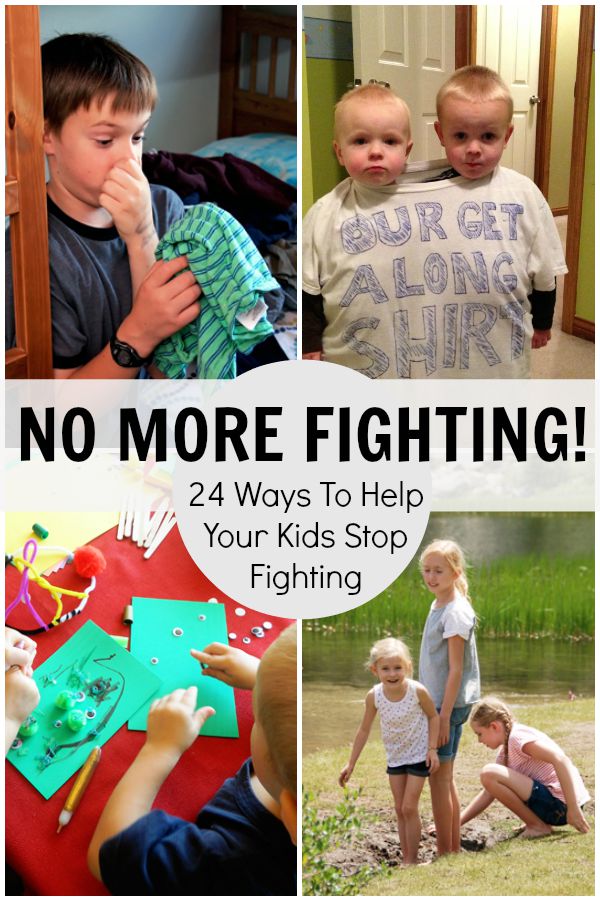 I don't know if it's the ages my kids are right now, or the fact that we've been in close quarters together for way too long, but my four kids have been fighting like crazy!  As a mom, the fighting, bickering, and teasing drives me crazy.  So I turned to our HowDoesShe Facebook page to get a few friendly tips on how others handle fighting in their house.  Wow, it turned up nearly 200 great ideas!  F Hope something helps!
24 Ways To Help Your Kids Stop Fighting:
Give them chores.  When the fighting starts, the chore list comes out.  Looks like they need something to do, and chores serve as adequate punishment for fighting as well as much-needed help for parents!
Three strikes you're out.  Just like in baseball, give kids three opportunities to turn their behavior around.  The first sign of fighting gets "Strike one."  If you get two more strikes we can't go to the pool today like we'd planned."  And so forth.  Hopefully you won't get to strike three, but if you do, make sure to follow through with the punishment you decided on.
To mediate or not to mediate, that is the question.  Do you step in at every little scuffle, or is it healthy to let your kids figure it out every once and a while?  With a little guidance, ask your children to figure out a solution to their problem on their own.  But when fists start flying, it may be time to step in and become Bouncer Mom.
Time Out.  Some people like it, some people don't; but taking kids away from a heated situation and giving them a little time alone, on a chair or in a separate room is a good way to diffuse their anger, and give you a second to get composed.
Loss of Privileges.  Take away screen time in 15-minute increments for each skirmish, or another activity or toy they enjoy.
Be Consistent!  Whatever method you use, be consistent in it every time and with every child.  Don't let little Lucy off the hook and then come down hard on little Henry.  The key to stopping the fighting is being consistent.
Separate them.  Split up the fighters to have some "alone time" in separate rooms.  Absence makes the heart grow fonder.
Send them to grandma's house.  Get a change of scenery and go visit grandma.  Or you can drop off the instigator of all those fights at home and let grandma spend some special one-on-one time with him.  Maybe a little attention is all he needed.
Do an activity 

with

your children.  Sometimes children start fighting because they just crave a little attention from mom or dad.  Stop what you're doing, gather the kids together, and do an activity together like playing a game or doing a craft.
Have them problem solve a solution.  Ask, "Why do you think you are fighting?" and "How do you think we can all get along better?"  When I asked my 4 and 5-year-old this, they agreed that giving each other a kiss would help.
Swift and certain punishment for bullying.  If you see or hear it, stop bullying in its tracks immediately.
Have them come up with the consequences.  If you're sick of being the mean guy and concocting creative ways to punish fighting, have your kids come up with some fair consequences of their own.  This way it's not mom or dad being "mean," but the product of their own devices.
Hug it out.  

"

Lately, every instance of negative behavior towards each other is meet with one full minute of hugging each other. My boys get along pretty well and we are a family that hugs. It is a delayed consequence as we have them do their "hug time" before our e

vening family prayer. They seem to be having less issues with each other since we started this method, but I know all kids are different and what works for some can totally backfire for others."—

Kelli E

The Get-Along-Shirt.  I've never tried this, but I'm tempted…even if it's just for a great photo op like this one!  (Uploaded to Reddit)
Choose your own punishment.  Give kids a little say in the matter by giving them a choice of punishments: cleaning the shower drains or missing out on that party on Friday.
Time for a distraction.  Sometimes being in close quarters can cause annoyances and bickering.  Take a walk, go to a park, or even just get in the car and drive.
Hold hands by the mailbox.  When visiting my aunt, I looked out across the street to see two children holding hands in front of their mailbox.  When I asked about it, my aunt replied, "Oh, they've been fighting again.  They have to hold hands in front of the mailbox until five cars pass."  Too funny!  I'll have to give that a try.
Creatively engage their minds.  When kids get bored, they can get feisty.  Engage their minds with something creative, like a puzzle, a project, something you need "fixed," or a craft.
Serving one another.  "

I did two things when they got older: 1) made them write out a report of the offense and told them we world go over it at 7 pm. They hardly took the time to write the report and without the report you lose your review. 2) I would make the offender serv

e the other. So they would have to do the others chore or wait on the other hand and foot.




We had seven and it worked pretty good. It would be miserable if they couldn't figure out the right thing to get along and I had to mediate. I wouldn't tolerate cruel or disrespecting one another."—

Ruth G.

Take away the object they're fighting over.
Make a list of 20 reasons they love each other.  Have them read it to one another when they are finished.
Go pick weeds at the neighbor's house.  This will give them some much-needed time away, offer an adequate punishment, and help out your neighbor!
Compliment each other.  "This tip is solid gold worked for my two boys. They laugh about it now and love and respect each other. As adults. Every mothers dream! When they were 10 or so and bickering I made them compliment each other. That's it. Couldn't be about superficial things like cloths ect. It had to be about the person. First compliment. Sounded like this.. Your pretty good at baseball."—Joy H.
Wear them out.  If your kids have just had one of those days when they're at each other's throats, try wearing them out.  At the first sign of fighting, make them stop and give you 30 jumping jacks, etc.  I love how this mom did it:  "I used to make them run hills or jump on the trampoline a certain amount of time until they were too tired to fight."  —Mishelle M.
Have any more brilliant ideas to help stop fighting?  Feel free to share them below!