Can you believe it's that time again? Back to school…back to school (cue Billy Madison).
I can almost smell the glue and pencils and new notebooks. Ahhhhh….
Yep, I still get excited and it's been a few years since I went to school. 😉
With the excitement often comes a little bit of stress. Getting those kiddos out the door and meeting all their individual needs can be a bit overwhelming. We feel you.
A few of our contributors and readers have shared some of their favorite, must-have back to school items. Whether it be a cool new gadget your teen claims EVERYONE has or something which can make things run just a little bit smoother for mom – we LOVE this stuff and depend on it to get us through the academic year (and longer!)
Everything just looks better with a label!
Kids lose things left and right – especially at school. What better way to keep your life organized than labeling?
Mabels Labels are our go to source for quality labels…that look super stylish as well! They offers custom labels for everything you can imagine. Stick them to your kiddo's toys, bottles, cups, pacifiers, lunchboxes, and coats (that are inevitably going to be left on the playground at least once! Their back to school combos are the PERFECT set for a young, or older, student.
  So take advantage of that free shipping before school starts!
Our readers said a cute, backpack  which can withstand the test of time and abuse, a necessity  We found some of our favorites at Zappos. They have an awesome selection and anytime shopping involves free shipping and free returns, I'm all about it.
We're a little in love with this SkipHop backpack. Can't you just picture your little 1st graders skipping into their classroom with this on their back?
Are your kids hot or cold lunch eaters? Either way, a quality lunch box is a necessity and has to reflect your child's personality.What about this lunch box? Again, a Zappo's find and perfect for your pre-teen girl to take with her to the junior high lunchroom daily.
We are also big fans of Planet Box. These handy, dandy metal lunchboxes are perfect for the kids who don't want their food to touch! Easy to clean, with right sized compartments made out of high quality stainless steel, PlanetBox is the smart lunchbox that guides you in packing a well-balanced meal quickly and easily.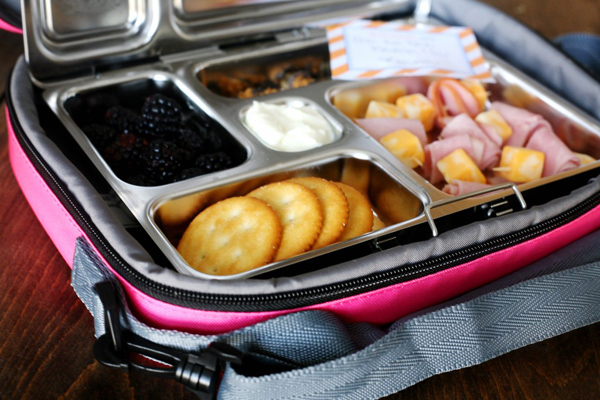 4. ABC Mouse
Obviously, THE most important support of your child's education is what goes on in your home. We have a great source of help for your preschool/kindergarten age child. ABC Mouse is a fun, easy to use, academic website which is a huge hit in our home. Learn all about it in this post.
Several of our readers suggested a planner kept them sane during the craziness of school activities and projects. This Mom's Ultimate Family Organizer is a favorite as it enables you to not only organize your calendar, but everything else from meal plans to kids projects. It's a bigger size (think..binder) with pockets, which means you can fit all your papers in it as well!
6. EverNote
Anything that helps me keep myself and my family efficient and organized is a good thing in my book. And, if you're more into the electronic way of organizing, EverNote is a program which allows you to take every element of your life and organize it into electronic "folders". We're talking photos, documents, recipes, emails, audio, everything. Then you can sync all these folders to your Ipad, smart phone, and computer.
Can you say ULTIMATE organizing tool? We found this incredible little book which breaks it all down for you and helps you to more efficiently use your time. You aren't going to forget ANY PTO meeting or soccer practice. A more organized mom means a happy mom.
And we're all about happy moms.
I have a child learning to read and I swear by these books. He's learned to sound out words and most importantly, it's built up his self esteem. He's telling everyone he can "read books". I love that Bob Books have different levels so they can grow with us  and remain familiar to my kids.
A pencil is just a pencil you say? Not if it's a Ticonderoga! Our readers swear by Ticonderoga pencils... and specifically requested by our teachers…by name 🙂 They hold up like no other writing ute utensil and at a great price!
Even if you have a large, high quality camera or a cell phone camera, a little Canon Powershot pocketsize camera is a lifesaver. Several of you mentioned being sure to document your child's first day and subsequent milestones of the year via photography. So many times I don't want to lug my big camera with me and my kids and the pictures from my phone aren't that awesome. This camera is perfect to stick in your purse and snap a quick shot of your big 4th grader.
Have you struggled getting your kids out the door in the morning or to bed at night? I try to tell my kids they only have so much time to get ready in the morning and they have a LOT to do first! They struggle gaging how fast time passes, especially the little ones. I hear myself saying the bus is coming in 10 minutes!..in 5 minutes!…in 1 minute! But it doesn't seem to work. ENTER this VISUAL timer. With this the kids can SEE time passing and know that when the red is gone, it is time to go. Hoping it helps with bedtime as well. 🙂
They just give whatever you might be doing a little "cherry on top". Back to school is covered! Print these now so you are ready for day ONE!
We hope you like our picks and find something just right for your kiddo/you. Will you share with us below in the comments if you have any other ideas to add?