National Carrot Cake Day
How many times have you thought that something was so delicious that you could just eat it all day?  Wouldn't it be fantastic if there were so many different ways to eat that food that you could actually eat it at every meal?  Well, if you love carrot cake as much as we do, we've got you covered!  We set out to find ways to eat carrot cake at every meal and we've got a wide variety of yummy recipes to share with you.  By the time you are done reading about our 21 ways to eat carrot cake at every meal, I have a feeling you are going to be hungry!
2. Another healthy breakfast option Carrot Cake Couscous Breakfast Porridge
3. If you prefer waffles we've found these delectable Carrot Cake Waffles with a mascarpone maple cream!
4. You can even drink your carrot cake with a Carrot Cake Smoothie!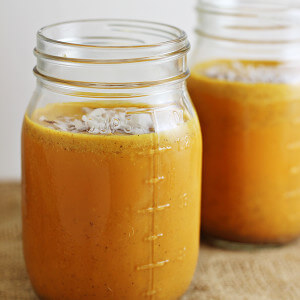 5. Carrot Cake Scones are delicious with a cup of tea or coffee for a mid-morning snack
. 
6. A little Carrot Cake Jam and cream cheese on a cracker make a divine treat.
7. When you need breakfast or a snack on the run grab a Carrot Cake Breakfast Cookie.
9. Enjoy these Carrot Cake Muffins plain or go all in and frost them with cream cheese frosting.  You can even make this recipe into a loaf.
10. Bring these Baked Carrot Cake Donuts to the office and watch your popularity soar!
11. Carrot Cake Swirled Cream Cheese Bars are a tempting combination of carrot cake and cheesecake.  I'm officially drooling at this point.
12. Switch out your usual bowl of Netflix-watching popcorn and make some Carrot Cake Popcorn!
13  Everyone loves Carrot Cake Cupcakes, right? Don't these look amazing?
14. We've had a breakfast cookie, now how about some scrumptious frosted Carrot Cake Cookies.
15. Make this Carrot Cake Dip for your next party and serve it with graham crackers.  Amazing!
16. These Carrot Cake Cups are filled with cream cheese icing
17. For the ice cream lovers, we have Carrot Cake Ice Cream for a yummy dessert.
18. You can make Crockpot Carrot Cake with Cream Cheese Frosting and come home to a delicious treat waiting for you! 
19.  This Carrot Cake Soup is made with maple syrup and is a sweet soup.  
20. And Carrot Cake Salad makes a wonderfully crunchy lunch.
21. This Creamy Skinny Carrot Soup is a savory soup and pairs wonderfully with a grilled cheese sandwich, also. 
National carrot cake day
There you have it, 21 ways to eat carrot cake at every meal on national carrot cake day!  What are your favorites from our list?  Are there any that you would add?  Let us know in the comments!