Spring is in the air, so what do my kids want to do??
Fly A Kite!
It is definitely kite season.  Just yesterday at Costco they were selling the cutest kites.  My girls wanted to buy one so bad, but they didn't have enough money. So we did the next best thing–I told them we could make our own for cheaper and take them to the park and get some exercise.
We planned out how the kite would look and then we went to the craft store to purchased everything we needed.
Things you will need:
1. Ribbon
You don't even have to buy it.  Just use what you already have lying around your house.  I had a bunch of ribbon in my craft room that we used to hang on the bottom of the kite for decoration.
2. Yarn
You can use yarn or string to hang on the bottom of the kite to fly it.
3.  Paint, Crayons or Markers
Let your children personalize their kite with paint, crayons or markers.
4.  Tape
I bought colorful tape to make the kites look fancy.  They have so many different colors. And they really made the kids pop with color.
5. Sticks or Dowel Rods
My girls didn't want their kites to fall apart so I used 6 sticks on each kite.  You really only have to use 2.
6.  Banner paper or Brown paper bag
We used white banner paper but you can also use a brown grocery bag and cut it into a kite shape.  Or, you can just use what ever you have around the house.
Let's get started
Step 1
Trace and cut the banner paper into a kite shape.
Step 2
Tape the sticks to the kite.  We had 6 sticks because my kids didn't want their kites to break. But 2 are fine like in the picture below.
Step 3
Tape the yarn or string on the back of the kite
Step 4
Paint or color the kite.
Step 5
Add the ribbon to the bottom of the kite for decoration
Now that your kite is finished and ready to fly..
Let's go fly a kite and get some exercise.
KITE RELAY
  They took turns running through each cone and back to the next person in the line.  Once they touched the next persons kite they could go.  The first team back and sitting down is the winner.
 KITE RUNNER
On your marks, get set, GOOOOOO.
The person who can run with their kite to the cone and back to the finish line the fastest is the winner.
JUMP AND SKIP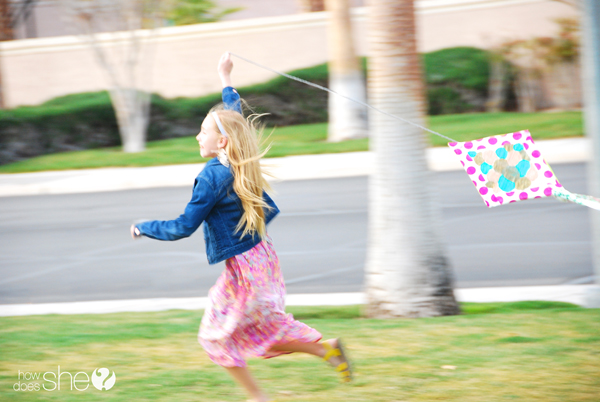 Jump, skip, trot, or run backwards with your kite.
I had no idea that my kids would have so much fun with a homemade kite.  We were at the park all afternoon by a play ground and they just wanted to play and exercise with their kites.
It feels good teaching children to get outside and be active and to enjoy the small and simple things in life.
I hope you find time to fly a kite this Spring break.
What activities will you be doing to keep your children in shape this Spring?